RELEASE DATE:

2020-02-17 11:26
Brief
:
With the rapid development of economy, the number of cars in China continues to grow rapidly, passenger safety, especially child passenger safety is becoming more and more regulated and market attention. Child restraint system is an important safety protection for child, therefore, international organizations or countries have put forward different technical requirements and conformity assessment methods for c

hild restraint system

, in addition to mandatory regulations or standards, there are also a large number of corresponding industry/association standards. ATIC launched the global certification solution for automotive child restraint system to summarize and sort out the hot national/regional mandatory certification requirements and common industry certification requirements, testing frameworks, certification types, and certification backgrounds applicable to automotive child restraint system.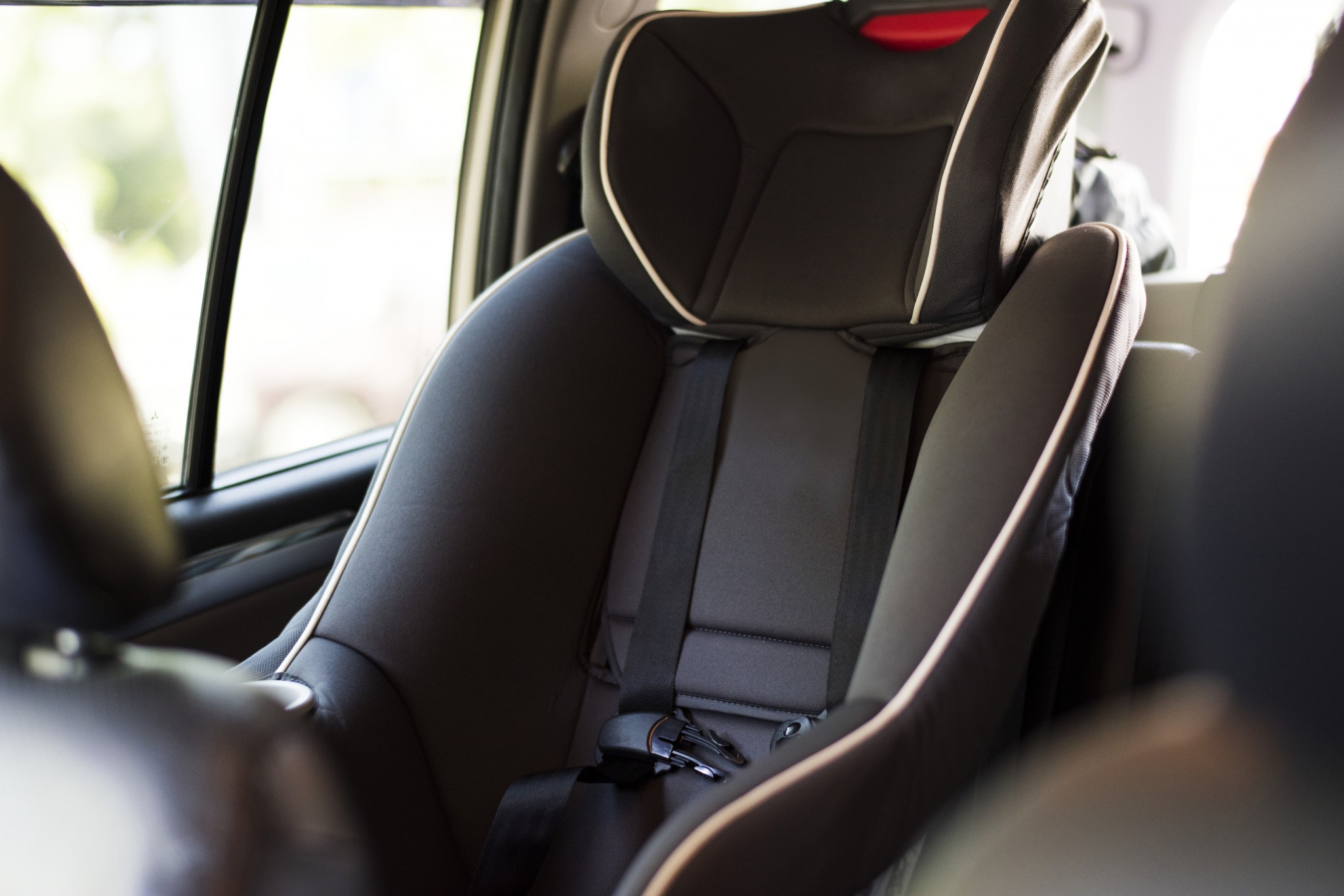 GLOBAL CERTIFICATION SOLUTION
Based on the multi-country certification experience that has served a large number of Child Restraint System manufacturers in recent years, ATIC has sorted out the global certification matrix for Child Restraint System as follows: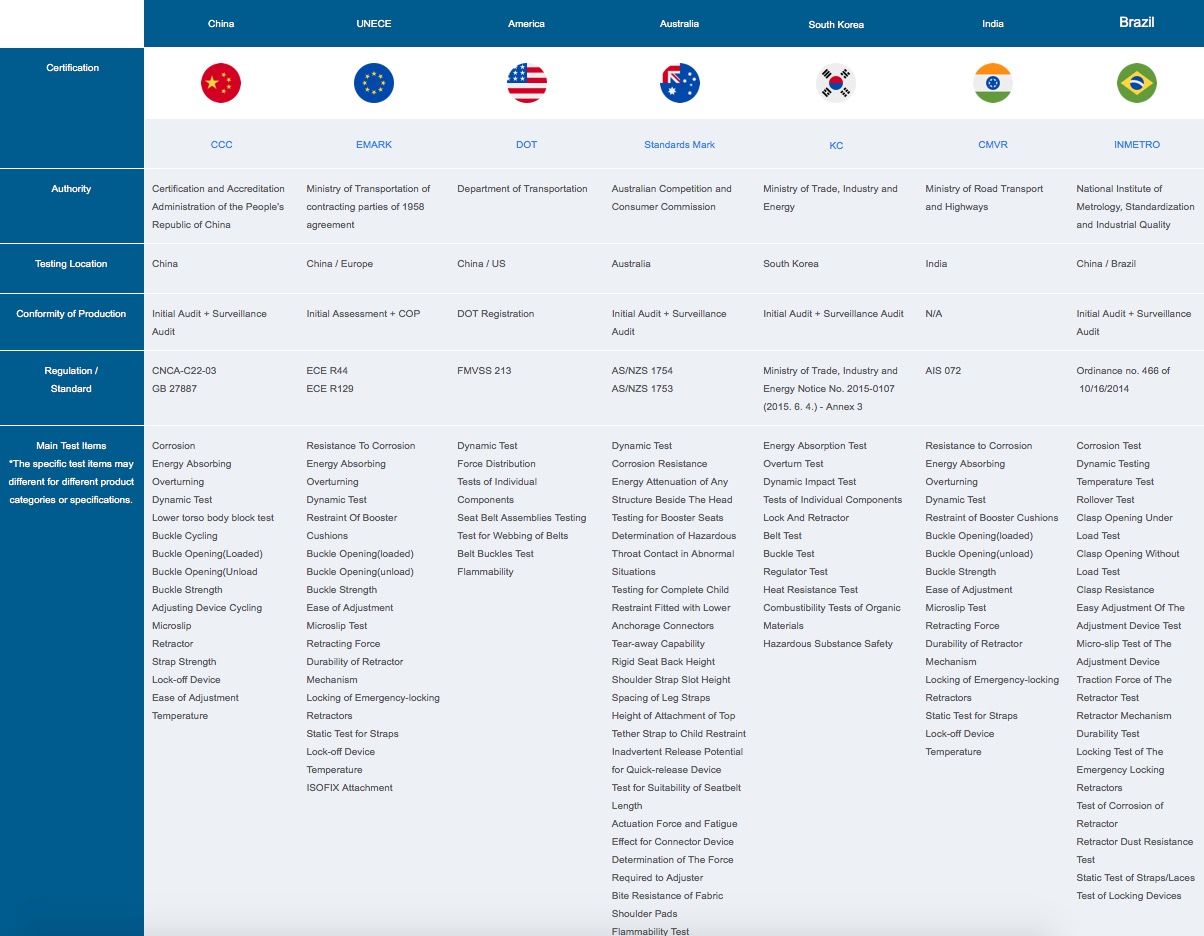 China: Child Restraint System product should apply the CCC compulsory certification according to CNCA-C22-03. CNCA-C22-03 applies to child restraint systems which are suitable for installation in power-driven vehicles having three or more wheels, and which are not intended for use with folding (tip-up) or with side-facing seats.

ECE: E-mark certificates for Child Restraint System are recognized in many countries and regions, and the corresponding technical regulations are UNECE R44 and UNECE R129.

UNECE R44 applies to Child Restraint System which are suitable for installation in power-driven vehicles having three or more wheels, and which are not intended for use with folding (tip-up) or with side-facing seats.


UNECE R129 applies to the following Enhanced Child Restraint System for child occupants of power driven vehicles:
(a) Integral Universal ISOFIX Enhanced Child Restraint Systems (i-Size);
(b) Integral Specific vehicle ISOFIX Enhanced Child Restraint Systems;
(c) Non-integral Universal Enhanced Child Restraint Systems (i-Size booster seat);
(d) Non-integral specific vehicle Enhanced Child Restraint Systems (specific vehicle booster seat).

ATIC can provide customers with E24, E49, E57 certificates of UNECE R44 and UNECE R129.

DOT of America: All the Child Restraint System product should fulfill the requirement of FMVSS 213, and the Child Restraint System product manufacturer should be registered in DOT. And the corresponding DOT mark and product label should be printed on the products.

Standard Mark of Australia: Regarding the product safety, the mainstream certification service is put forward by SAI GLOBAL, normally including Standard Mark, Code Mark, Water Mark, Gas Safety Mark. And the Child Restraint System should be tested according to AS/NZS 1754 and certified by Standard Mark.

KC Certification of Korea: KC Certification, a kind of compulsory certification system for product safety, applies to the products including vehicle components, child safety product, electric product and house products. Child Restraint System should fulfill the requirement of the Safety Standard for Automotive Child Restraint System Product and apply the KC Certification.
ATIC has a deep cooperation with Korean accredited test labs and certification bodies, providing one stop service for KC Certification.

INMETRO of Brazil: INMETRO Certification, regulated by the Brazilian National Institute of Metrology, Standardization and Industrial Quality, according to Ordinance No. 466/2014, is compulsory for Child Restraint System.

CMVR certification in India: From 1991, CMVR regulations require that motor vehicles and their parts and components need to apply for type approval in accordance with CMVR regulations before entering Indian market. Child Restraint System product should be tested in Indian domestic test lab and certified by CMVR, according to AIS-072. .


GLOBAL CERTIFICATION SERVICE PROVIDED BY ATIC

ATIC's vehicle certification experts have an average experience of more than 10 years in motor vehicle certification. ATIC experts are familiar with homologation processes, local/international regulations, and testing requirements. ATIC cooperates with international official organizations and integrates high-quality testing and certification resources, to provide a global one-stop certification service for manufacturers. ATIC helps arrange full-life time product compliance including certification application, documentation preparation, regulatory analysis, compliance training, pre-testing and test arrangement, etc. With the best service and the fastest efficiency, ATIC assist the manufacturers to enter the global market with one-stop certification.


ABOUT ATIC
ATIC is a young technical service company from China, established in 2015. ATIC is committed to integrate domestic and international regulations, testing and certification resources with a global perspective in the context of globalization, and establish a new, specialized regulation research, testing and certification platform. With innovative Digital Reporting System (DRS), Customer Service Platform (CSP) and self-developed Global Vehicle Regulation Database (GVRD), ATIC's compliance service covers more than 54 countries/regions globally, testing and certification service covers more than 30 countries/regions worldwide. ATIC serve more than 3,300 manufactures each year.


CHILD RESTRAINT SYSTEM GLOBAL CERTIFICATION PLEASE CONTACT
Charlie Li
Component Homologation Department
ATIC Component Homologation Product Line Manager/BDM (Western China Region), Technical Expert accredited by European Authorities, Lead Auditor for Brazil INMETRO.
Rich experience in vehicle and component compliance, testing and certification for markets including EU, America, Japan, South Korea and India etc..
Phone: +86 020-82510156
Mail: cs@atic-cn.com