RELEASE DATE:

2019-11-01 20:08
Brief:
Motor vehicle lighting and signaling devices are one of the important aactive safety components of motor vehicles, and their performance is critical to vehicle safety. In order to ensure vehicle safety and road traffic safety, many countries around the world have mandatory certification requirements for automotive lighting and signaling devices.

There are different regulations and standards for mandatory certification of motor vehicle lighting and signaling devices in various countries. The main test items are color test, photometric test, environmental test, shape and size. Due to the different geographical features and climate in different countries, there are also other tests, such as waterproof test and dust test, etc.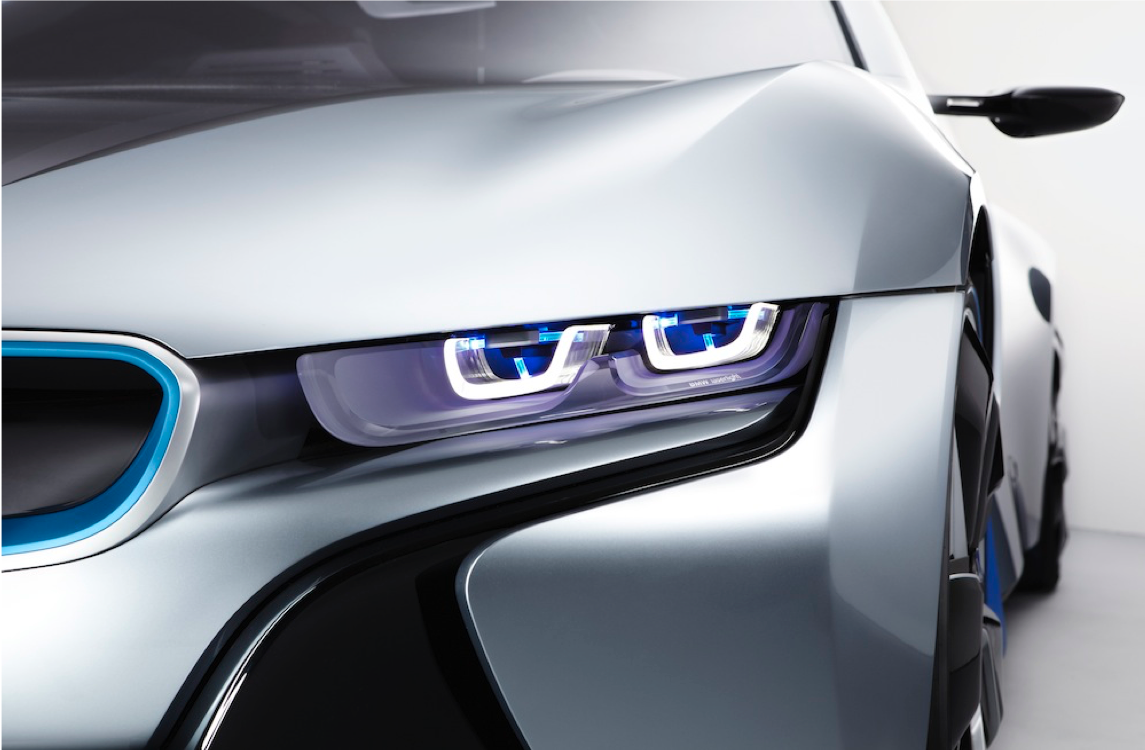 MOTOR VEHICLE LIGHTING AND LIGHT SIGNALING DEVICES GLOBAL CERTIFICATION
ATIC combs out the global certification matrix of the motor vehicle lighting and signaling devices, from national regulations/standard requirements, regulatory authorities, certification processes, test items, etc.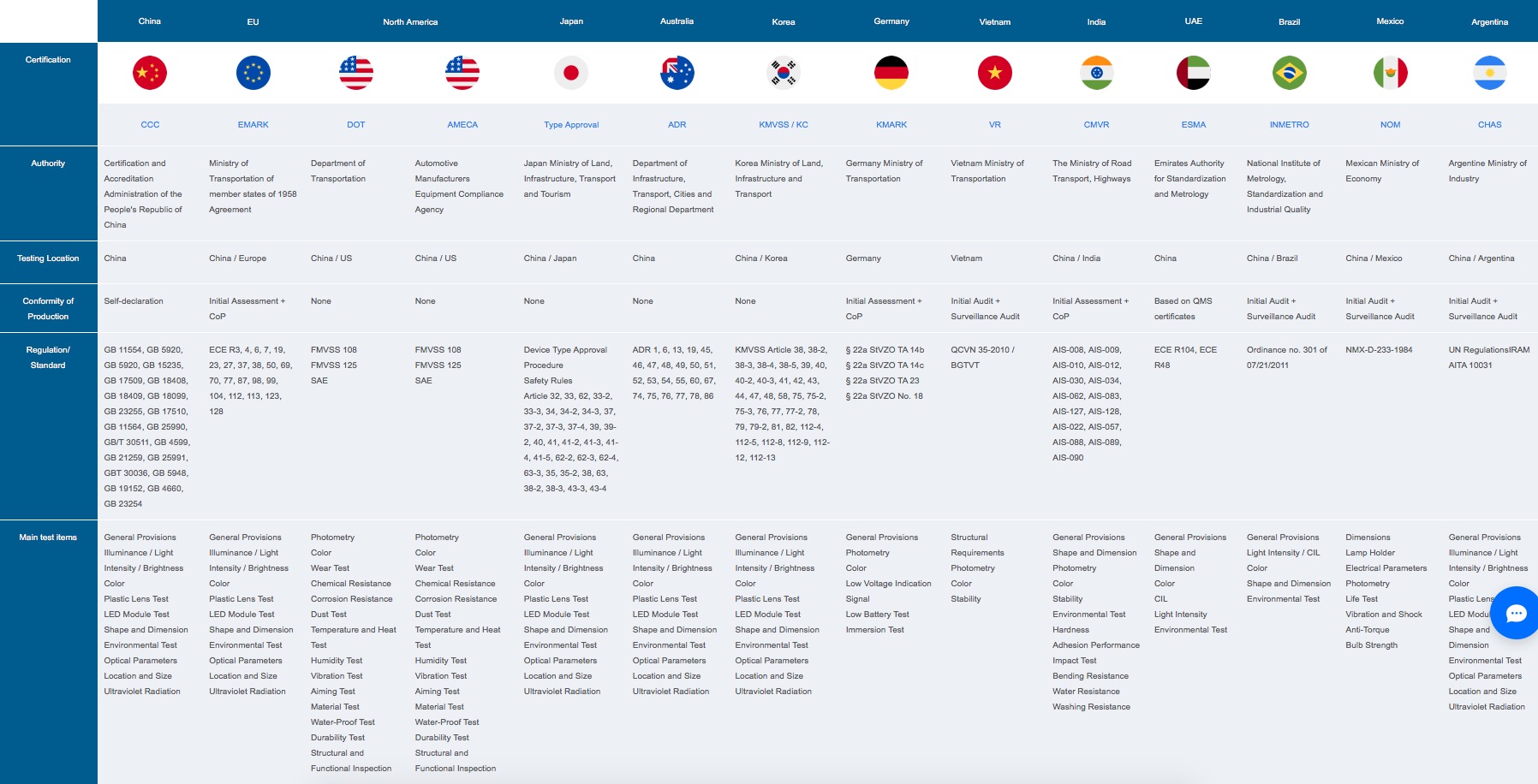 A BRIEF ANALYSIS OF NATIONAL CERTIFICATION IS AS FOLLOWS
China: CCC certification, according to the implementation rules of the Certification and Accreditation Administration: CNCA-C11-07 < Motor Vehicle Lighting And Signaling devices> and CNCA-C11-13 <Motor Vehicle Body Reflective Tape>, motor vehicle external lighting and optical signal devices need to be compulsory certification.

EU: E-Mark certification, all automotive vehicle lighting and signal devices need to comply with EU/UN regulations to enter the EU market, the test items include general regulations, illumination / light intensity / luminosity, color, plastic lens test, LED mode Group testing, shape and size, environmental testing, photoelectric parameters, position and size, UV radiation etc.

America: DOT certification, all automotive vehicle lighting and signal devices must meet the test requirements and be registered in DOT, and the corresponding DOT mark is printed on the product. In addition, the manufacturers may also consider US industry-certified AMECA certification.

Japan: The motor vehicle lighting and signalling device must meet the <Security Baseline> and <Device Type Designation Regulations> in the certification of the following vehicles. The technical compliance is mainly achieved by meeting the requirements of the <Security Standards>for vehicle performance and system. According to the Device Type Specification Procedure, Japan's certification framework for most systems and components is consistent with the ECE.

Australia: ADR certification. According to Australian ADR regulations, the certification process includes documentation preparation, testing, rectifying (if need), registering, and completing registration.

Korea: KC certification, there are 13 auto parts need KC certification according KMVSS, of which the automotive vehicle lighting and signal devices are subject to mandatory KC certification.

German: K-MARK certification. StVZO is a German national standard. The lamps installed in bicycles and small electric vehicles are installed with the whole vehicle or used in the after-sales market, which are necessary to carry out mandatory certification according to StVZO when they enter German market.

Vietnam and India: VR certification and CMVR certification. The certification requires factory audit and sample delivery to local laboratory testing.

Emirates: ESMA certification, there are 15 auto parts need ESMA certification according UAE Standard, of which the automotive vehicle lighting and signal devices are subject to mandatory ESMA certification.

Mexico: NOM certification, NOM certificate is one of the necessary conditions for Mexican goods access. Goods which hold NOM certificate can hold customs clearance and sell in the market. Mexico does not recognize other national certificates and only recognizes its own NOM certificate.

Brazil: INMETRO certification, mainly according to the Ordinance no. 301 of 07/21/2011, the car light bulb of passenger car and commercial should comply with the related standards.

Argentina: CHAS certification, based on the UN Regulations and IRAM AITA 10031standard, the automotive vehicle lighting and signal devices should comply with the related standards.

CERTIFICATION SERVICE PROVIDED BY ATIC
ATIC's vehicle certification experts have an average of more than 10 years of experience in motor vehicle certification, and are familiar with national automotive vehicle lighting and signal devices certification processes, local regulations, and testing requirements. ATIC cooperates with multinational official organizations and integrates high-quality testing and certification resources, to provide a global one-stop certification service for manufacturers to complete the certification cycle, including certification application, documentation preparation, regulatory guidance and training, and pre-testing and test arrangement, etc. With the best service and the fastest efficiency, AITC assist the manufacturers to enter the global market with one-stop certification.

MOTOR VEHICLE LIGHTING AND LIGHT SIGNALING DEVICES GLOBAL CERTIFICATION PLEASE CONTACT
Yvette Yang
GVRR / Vehicle Homologation Line Manager
Yvette graduated from Shanghai Jiao Tong University with a master's degree.She now, as one of the European authority recognized expert,
is the Vehicle Homologation Product Line Manager of ATIC and Manager of the Global Automobile Regulation Research Deapartment.
She is responsible for the operation of ATIC Vehicle Homologation Product Line, Product Digital System and Global Regulation Database development.
Phone: +86 020-82510156
Mail: cs@atic-cn.com