RELEASE DATE:

2020-01-06 13:40
Brief:
Automotive seating systems, such as car seats and headrests, bus seats, school bus seats, agricultural vehicle seats, etc., have mandatory certification requirements in many countries/regions. For a

utomotive seating systems

, it is generally necessary to follow the vehicle through the seat strength, energy absorption test, seat anchor point strength, luggage impact and other performance and safety tests, and for bus seats and school bus seats, many countries have separate mandatory testing and certification requirements. In recent years, ATIC has provided compliance and certification services for more than ten seat manufacturers, including BYD, Meiguang, and Yanfeng Adient. Based on the project experiences, we summarized the certification requirements and processes for seating systems in hot countries.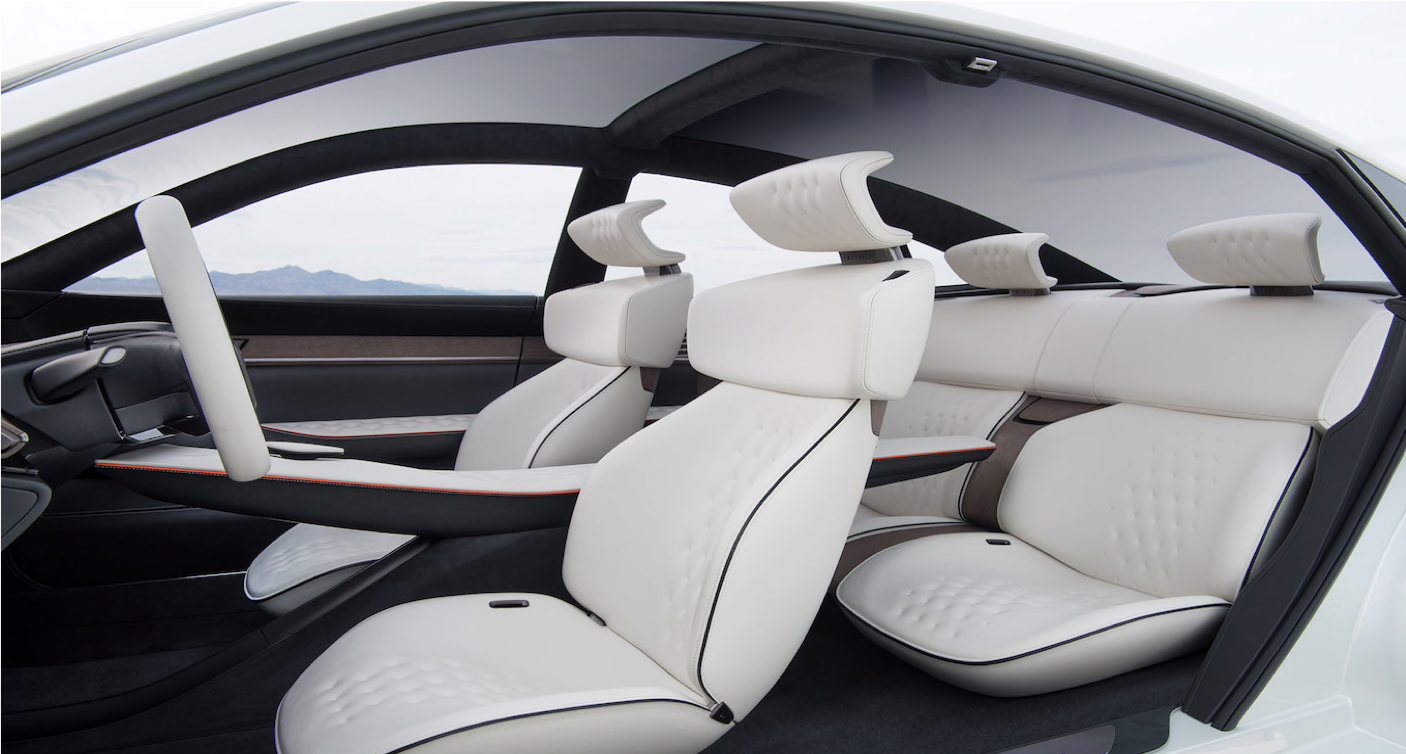 GLOBAL CERTIFICATION SOLUTION
ATIC sorts out the global certification matrix of seating system from the requirements of national regulations / standards, regulatory authorities, certification processes, and test items as follows: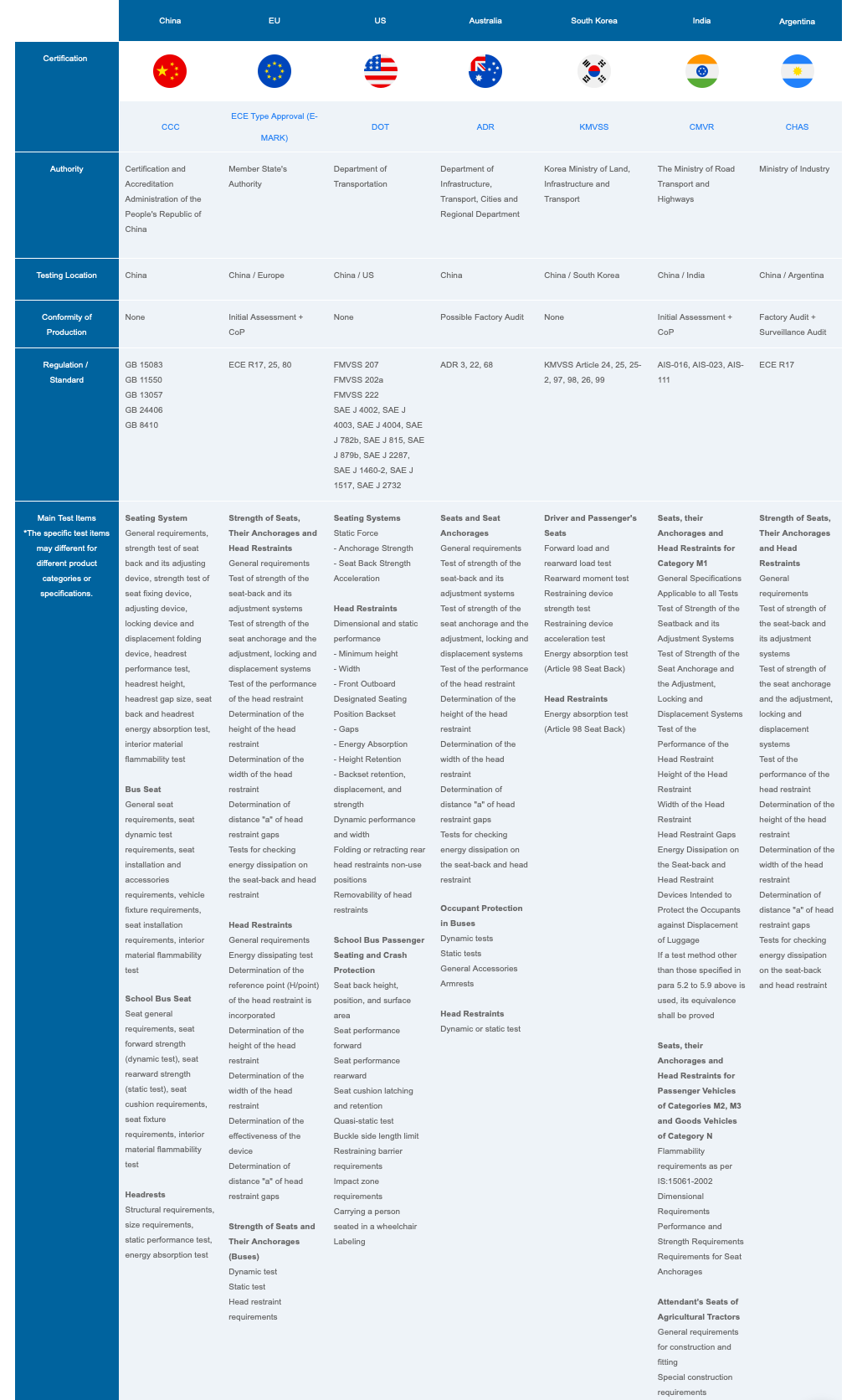 China: Car seats and headrests are subject to compulsory certification in accordance with the implementation rules of the CNCA: CNCA-C11-12 "Car Seats and Headrests". In addition, according to the National Certification and Accreditation Regulatory Commission's Announcement No. 44 of 2019, car seats and seat headrests are included in the list of self-declaration evaluation methods applicable to compulsory product certification.

European Union: United Nations Economic Commission for Europe 's seat system regulations include ECE R17, ECE R25, and ECE R80, which provide regulations for car seats, headrests, and bus seats, respectively, for vehicle seating system, headrests, or bus seats are tested and issued with a type approval certificate.

North America: According to regulations of the US Department of Transportation, all vehicles and key component products exported to the US market must fulfil FMVSS standards and have the corresponding DOT mark engraved on the product. FMVSS has specific regulations for seats, headrests, and school bus seats. In addition, SAE also has a number of related standards.

Australia: Australia has specific ADR regulations and certification requirements for automotive lamps, rear-view mirrors, seat belts, brake hoses, glass, tires, retroreflectors, filament bulbs, coupling devices, car seats, etc. There are relevant ADR regulations for seat and their anchorages, bus seats, and headrests.

South Korea: Korean Automobile Management Act and Korean Motor Vehicle Safety Standard (KMVSS) have specific certification test requirements for driver's seat, occupant seat, foldable seat, headrest and seat back and headrest. Manufactures shall fulfil all the standards before commercialize their vehicle to Korea market.

India: Indian automotive regulations are very comprehensive. There are special regulations for M1 car seats, M2 / M3 / N car seats, and co-pilot seats for agricultural vehicles that require testing and certification of complete vehicles and components.

Argentina: The Argentina CHAS certification directly uses ECE R17 for seats. Manufacturers' products need to be tested in accordance with ECE R17, and finally obtain the CHAS certificate.


GLOBAL CERTIFICATION SERVICE PROVIDED BY ATIC
ATIC cooperates with multinational official organizations and integrates high-quality testing and certification resources, to provide a global one-stop certification service for manufacturers to complete the certification cycle, including certification application, documentation preparation, regulatory guidance and training, and pre-testing and test arrangement, etc. With the best service and the fastest efficiency, AITC assist the manufacturers to enter the global market with one-stop certification.
SEATING SYSTEMS GLOBAL CERTIFICATION PLEASE CONTACT

Yvette Yang
GVRR / Vehicle Homologation Line Manager
Yvette graduated from Shanghai Jiao Tong University with a master's degree.She now, as one of the European authority recognized expert,
is the Vehicle Homologation Product Line Manager of ATIC and Manager of the Global Automobile Regulation Research Deapartment.
She is responsible for the operation of ATIC Vehicle Homologation Product Line, Product Digital System and Global Regulation Database development.
Phone: +86 020-82510156
Mail: cs@atic-cn.com