RELEASE DATE:

2020-12-02 16:42
Brief:
Nowadays, smart cars are changing towards connected and automated vehicles. By equipping vehicles with on-board sensors, controllers, actuators, and integrating modern communication and network technologies, information exchange and sharing between vehicles, roads, people, and clouds are realized. Smart vehicles are capable of achieving complex environment perception, intelligent decision-making, collaborative control and other functions.
This comes with significant cybersecurity risks, as hackers seek to access electronic systems and data, threatening vehicle safety and consumer privacy. WP.29 issued two new UN Regulations on Cybersecurity and Software Updates which help tackle these risks by establishing clear performance and audit requirements for car manufacturers.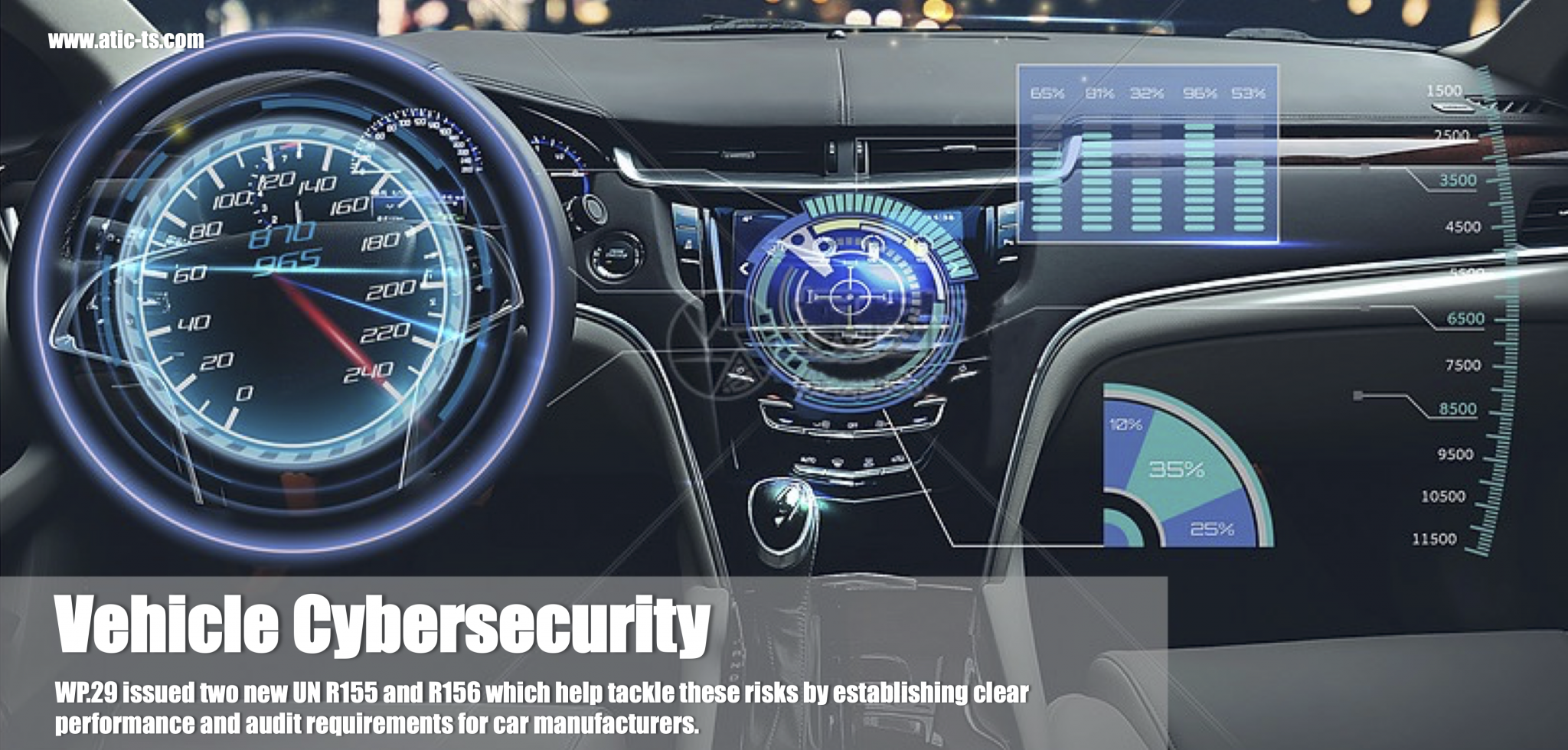 SCOPE
1. This Regulation applies to vehicles, with regard to cyber security, of the Categories M and N.
2. This Regulation also applies to vehicles of Category O if fitted with at least one electronic control unit.
3. This Regulation also applies to vehicles of the Categories L6 and L7 if equipped with automated driving functionalities from level 3 onwards.
The application for approval of a vehicle type concerning cybersecurity shall be submitted by the vehicle manufacturer or by their duly accredited representative. When applying for approval, the applicant should obtain the Certificate of Compliance for CSMS issued by the approval authority.
EFFECTIVE TIME
This regulation will enter into force in January 2021. In the European Union, cybersecurity will be mandatory for all new vehicle types from July 2022 and will become mandatory for all new vehicles registered from July 2024.
ATIC together with European partner CETOC to establish an international cybersecurity team to provide compliance and homologation service for Chinese OEMs, service modules including:
1. Gap Analysis
2. Definition and documentation of cybersecurity management processes
3. Support for the implementation of cybersecurity management processes
4. Integration of cybersecurity management processes into the company's Quality Management System (ISO 9001 / IATF 16949)
5. Support for the development of products according to cybersecurity standards
5.1 Verification (with penetration tests performed by specialists)
5.2 Integration of cybersecurity measures into functional safety architecture
REFERENCE STANDARDS COVERAGE
5. ECE/TRANS/WP.29/78/Rev.6 - Consolidated Resolution on the Construction of Vehicles (R.E.3) (Annex 6)
6. UN R 155 - Vehicles cyber security and cyber security management system
7. UN R 156 - Software updating
VEHICLE CYBERSECURITY TEAM
ATIC and CETOC create an international vehicle cybersecurity compliance team
Renato Librino
(Roma, Italy)
Born in 1950, Mr.Librino graduated in Electronics Engineering and joined Fiat Research Center. After an initial phase as an electronics designer for space applications in collaboration with MBB, ESA-ESTEC, and NASA, he was involved in the research and development of electronic systems for automotive products. Mr.Librino was the National Coordinator of the research for the development of automotive components for Active Safety and the leader of the National Committee Corivamia for the coordination of the Italian research initiatives for hybrid and electric vehicles. Now, Mr.Librino is researching advanced mobility concepts basing on advanced ADAS systems and automated guidance.
Bruno Dilecce (Roma, Italy)
Born in 1959, Mr. Dilecce was awarded a Ph.D. in Electrical Sciences in 1989. He has extensive experience in the management of innovation processes and the R&D process. Mr. Dilecce's expertise includes operational know-how of product development processes from a concept/feasibility phase to final product development, with particular skills in optimizing cost and competitiveness. Mr. Dilecce has profound knowledge of current Electrical/Electronic systems and components, as well as of new developments and innovation trends in electrical energy management, including system architecture and components for hybrid-electric powertrains and vehicles. Now Mr. Dilecce focuses on ISO 26262 Standard and SAE J3061 and ISO/SAE DIS 21434.
Yvette Yang (Guangzhou, China)

Graduated from Shanghai Jiaotong University with a master's degree in mechanical engineering, specializing in research on global automotive technical regulations and standards framework and access procedures, focusing on compliance consulting in the automotive field. She has served Huawei, SAIC, Geely, FAW, BAIC BJEV, BYD, AIWAYS, SVOLT, etc.
Echo Liu (Guangzhou, China)
Master's degree in circuits and systems, MBA from South China University of Technology, more than 7 years of R&D experience in chip companies, she is a researcher in ATIC now, specializing in the research of automotive electronics and communication systems. She has served Huawei, SAIC, Geely, FAW, BYD, etc.
ATIC is a young technical service company from China, established in 2015. ATIC is committed to integrate domestic and international regulations, testing and certification resources with a global perspective in the context of globalization, and establish a new, specialized regulation research, testing and certification platform. With innovative Digital Reporting System (DRS), Customer Service Platform (CSP) and self-developed Global Vehicle Regulation Database (GVRD), ATIC's compliance service covers more than 54 countries/regions globally, testing and certification service covers more than 30 countries/regions worldwide. ATIC serve more than 3,300 manufactures each year
VEHICLE CYBERSECURITY

PLEASE CONTACT
Echo Liu
IoV Expert
Echo holds master's degree in circuits & systems and MBA from South China University of Technology. After 7 years service for chip company as algorithm engineer Echo joined ATIC. At present, Echo focuses on automotive ICT, E/E, CSMS and SUMS homologation
Phone: +86 020-82510156
Mail: cs@atic-cn.com