RELEASE DATE:

2021-03-02 16:00
Brief

:
Today it's commonplace for cars and mobile devices to connect with one another. To make sure the good match and safety, the software certification of the compatibility between the vehicle and the connected devices has become very important. Apple and Google require manufactures to certify the implementation of CarPlay and Android Auto before production.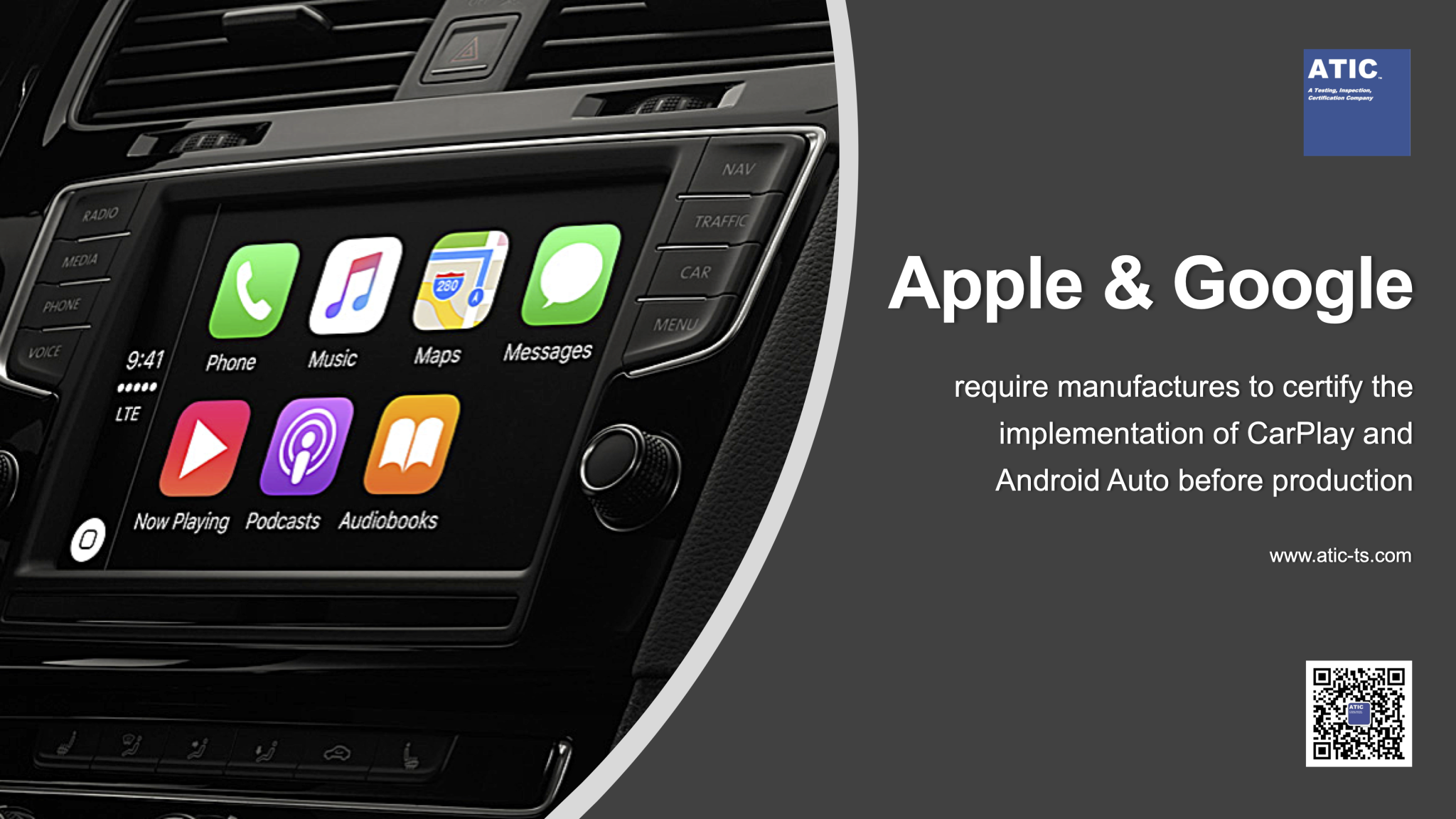 CARPLAY
CarPlay is a way for users to use iPhone safely while driving. It puts the information with the user's iPhone on the car's built-in display easily and practically. The iPhone's contacts, messages, phone calls, music and some applications can all be used on the car display. CarPlay with Siri voice control is specially designed for driving scenarios. CarPlay also works with the car's controls — knobs, buttons, touchpad, or touchscreen. CarPlay can provide users with applications such as getting directions, making calls, sending and receiving messages, music, audio, EV charging, parking, etc.
CarPlay is part of the MFi Program. Apple Inc.'s MFi Program ("Made for iPhone/iPod/iPad") is a licensing program for developers of hardware and software peripherals that work with Apple's iPod, iPad and iPhone. The MFi Program includes third-party hardware accessories that use MFi licensed technology to connect electronically to Apple devices. Join the MFi Program and get the technical specifications, hardware components and badge artwork needed to develop and manufacture electronic accessories that connect to Apple products using licensed technologies.
According to the MFi program, the CarPlay system must be certified before mass production, and applicants must meet all MFi certification requirements. When applying for the MFi program, the applicant shall supply the company information, address, contact person, payment account, etc.
For the CarPlay systems, the testing including USB performance, location information, bench test, ITU-T telephony audio quality, Siri audio quality, and additional tests for non-CarPlay features must be performed and the test results must be submitted. Meanwhile, the CarPlay design documents, certification system and self-certification test cases must be submitted. Excluding the hardware available, the recommended process cycle is about 10 months.
ANDROID AUTO
Google, the current holder of the Android "brand", has a number of applications and services that run on devices with Android OS. Android Auto provides a driver-optimized app experience for users with an Android phone and the Android Auto app, but who do not have a vehicle that uses Android Automotive OS (Android Auto is only compatible with phones running Android 6.0 (API level 23) or higher.). If a user's car or aftermarket stereo system supports Android Auto, they can use your app directly on their car's display by connecting their phone.
With Google Assistant on Android Auto, keep your eyes on the road and your hands on the wheel. Use your voice to get help with your day. You can find routes, play your favorite songs and even check the weather. Users can get this service by saying "Hey Google", pressing steering wheel button, taping app icons or mic icon.
To ensure that these requirements are met, Google has manufacturer's requires certification of the product to be marketed. The certification procedure includes the following steps:
1. Submit application: the application information includes company name, brand information, product sales plan, target sales area, contact person, etc.,
2. Signing an agreement: Google reviews the application information and sign an applicable Android Auto agreement with the manufacture;
3. Product development and testing: the manufacturer implement the standards and perform the internal testing.
4. 3PL test: testing in the approved test houses;
5. Review and Approval: Google reviews the product plans, specifications and test results submitted by the manufacturer, and then the product is approved.
ATIC GLOBAL HOMOLOGATION RESEARCH AND VEHICLE CERTIFICATION DEPARTMENT
ATIC Automotive Regulation Research and Automotive Homologation Team is dedicated to global automotive regulation research, homologation procedure research and homologation project management. Based on ATIC digital platform, our team provides a series of automotive compliance services including market access solutions, technical verification, regulation interpretation, regulation database and update, training and Q&A, etc. ATIC automotive experts are nominated by European technical service and authorities covering all EU/UN regulations for M/N/O/T/L/NRMM category vehicle, system, component and separate technical unit. Authorities includes Netherlands (e/E4), Sweden (e/E5), Luxembourg (e/E13), Ireland (e/E24), Cyprus (e/E49) and San Marino (E57).
CARPLAY AND GOOGLE ANDROID AUTO CERTIFICATION PLEASE CONTACT
Echo Liu
IoV Expert
Echo holds master's degree in circuits & systems and MBA from South China University of Technology. After 7 years service for chip company as algorithm engineer Echo joined ATIC. At present, Echo focuses on automotive ICT, E/E, CSMS and SUMS homologation
Phone: +86 020-82510156
Mail: cs@atic-cn.com