RELEASE DATE:

2021-05-06 17:01
Brief

:
A
s the EPA AMCC (Aftermarket Catalytic Converters) Policy does not address or contain demonstration or performance requirements for vehicles equipped with OBD-ll (On-Board Diagnostic Systems), and after analysis, EPA believe that California AMCC/OBD-II procedure is at least as stringent as the EPA AMCC policy, and probably is more stringent. Therefore, EPA allow the sale and installation outside of California of AMCCs that have been approved by California under their AMCC/OBD-II procedures policy, EPA don't issue separate approvals of these AMCCs. However, manufacturers of these AMCCs must submit to EPA copies of the California approval, and copies of all information required to be submitted to California under their procedures.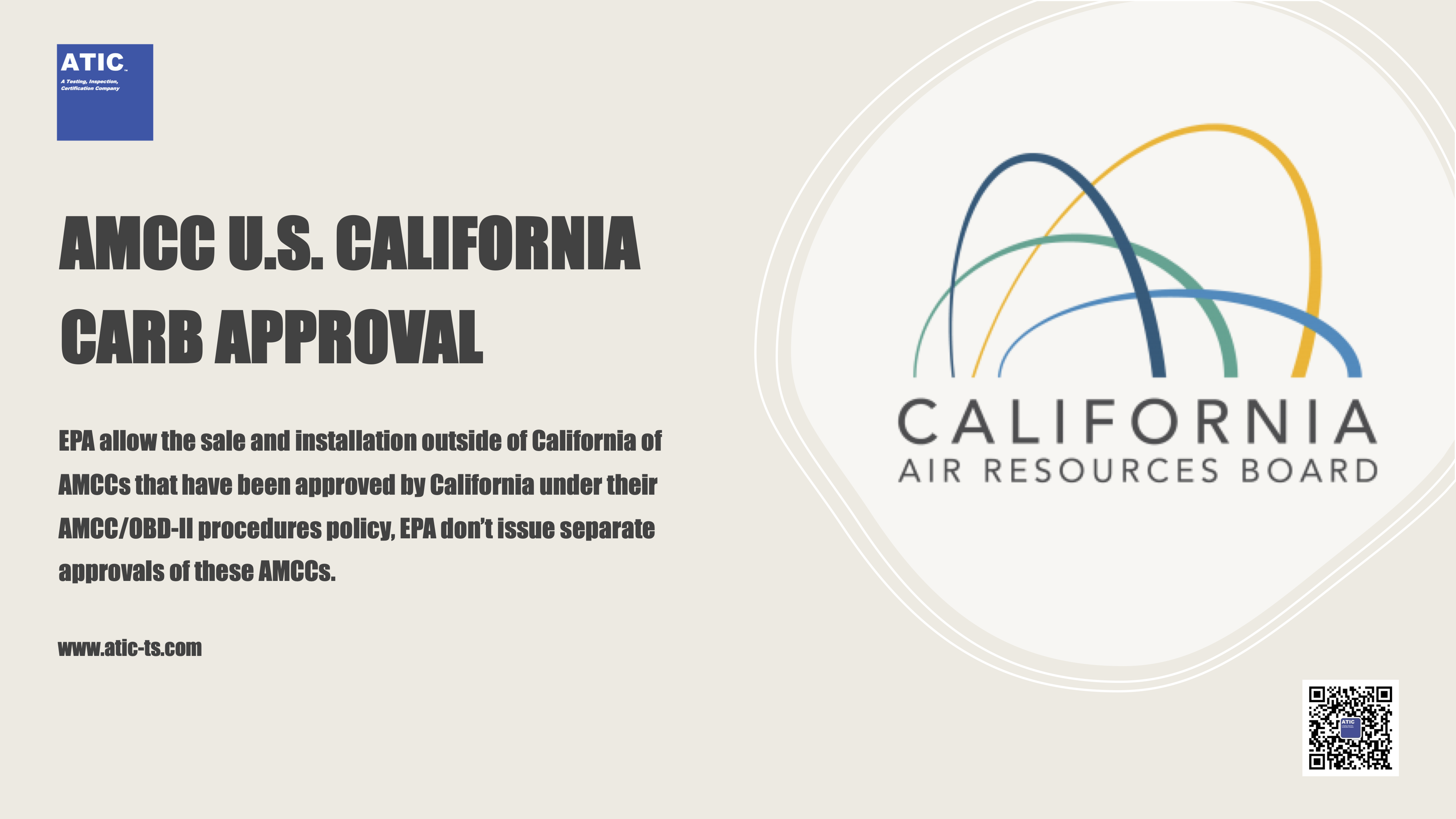 CALIFORNIA CARB APPROVAL
AMCC is managed by CARB(California Air Resources Board) in California. According to California Evaluation Procedures for New Aftermarket Catalytic Converters, An ARB exemption is required before any new aftermarket catalytic converter can be advertised, sold, offered for sale, or installed on a motor vehicle operating in California on or after January 1, 2009.
A manufacturer seeking an exemption must submit information demonstrating that the converter complies with the emission performance, durability, and other requirements.
The manufacturer shall submit a vehicle application list to ARB, which shall identify the vehicle make, vehicle model, vehicle model year, vehicle engine family (or test group), engine size, and emission standard for each vehicle. ARB shall select one or more representative test vehicles from the vehicle application list. ARB shall, to the extent practical and at its sole discretion, designate the same worst case vehicle model for all manufacturers to use.
APPROVAL PRECEDURE
1. Submition of information (including vehicle application list)
2. Selection of test vehicles
3. Testing
4. Submitting an aplication
5. Evaluation and approval
TEST ITEMS
Aging of Catalytic Converters for Testing
Emission Performance Testing
Demonstration of OBD II System Compatibility
Confirmatory Testing
LABEL REQUIREMENT
D-XXX-XX - EO number issued by ARB.
YYYYYY - part number (designated by the manufacturer).
ZZZZ - month and year of the manufacture (i.e., "0105" represents January 2005).
Arrow - the directional flow arrow
RENEWAL / SURVEILLANCE PROCESS
The ARB may select up to five new aftermarket catalytic converters per manufacturer each year for audit testing.
If one or more of the aged converters fails to meet the applicable FTP emission standards in an applicable test vehicle, ARB may rescind a previously granted exemption for the failed catalytic converter, request further analysis and data from the manufacturer, or require additional catalytic converters (from the same catalytic converter model as the failed parts) to be procured and sent for aging at an ARB- approved independent test facility. Such additional aging shall be limited to no more than five catalytic converters.
ABOUT ATIC
ATIC is a young technical service company from China, established in 2015. ATIC is committed to integrate domestic and international regulations, testing and certification resources with a global perspective in the context of globalization, and establish a new, specialized regulation research, testing and certification platform. With innovative Digital Reporting System (DRS), Customer Service Platform (CSP) and self-developed Global Vehicle Regulation Database (GVRD), ATIC's compliance service covers more than 54 countries/regions globally, testing and certification service covers more than 30 countries/regions worldwide. ATIC serve more than 3,300 manufactures each year.
CARB APPROVAl
PLEASE CONTACT
Component Homologation Department
ATIC Project Manager for South America Business, Auditor for Brazil INMETRO, Kerwin graduated from Harbin Institute of Technology with a bachelor's degree, he served as R&D engineer in a well-known OEM. He now is responsible for the regulation and homologation procedure research & homologation business of automotive and consumer goods for South American markets
Phone: +86 020-82510156
Mail: cs@atic-cn.com