RELEASE DATE:

2022-08-15 17:18
Brief
:
.In order to protect Nepal's tourism resources, reduce the burden of foreign exchange expenditure, and at the same time give full play to Nepal's abundant hydropower resources as a high-mountain country, the Nepalese government is adopting various methods to encourage and promote the use of electric vehicles and seek the transformation of electric transportation.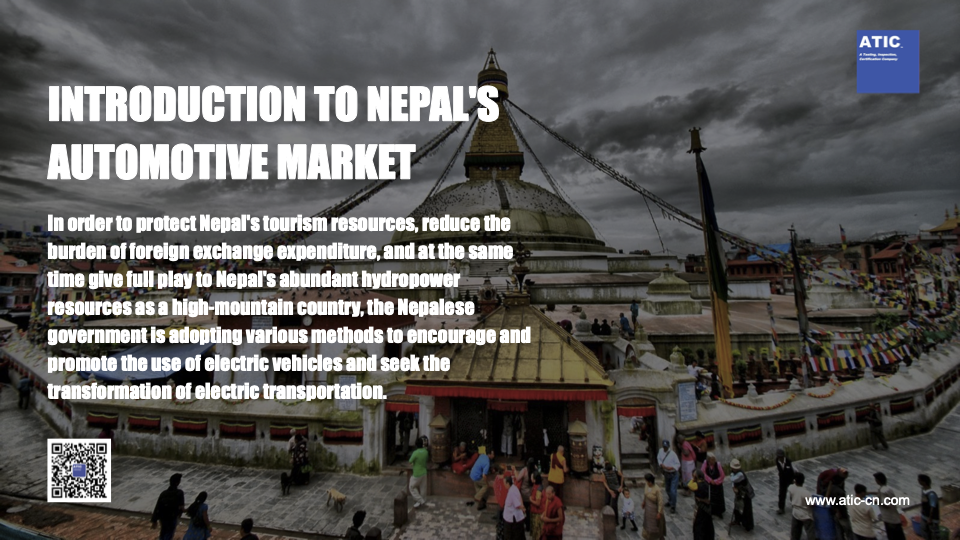 INTRODUCTION TO NEPAL

Nepal, a country with a population comparable to Malaysia and similar in size to Liaoning Province, is located at the southern foot of the Himalayas, bordered by China's Tibetan Plateau to the north and surrounded by India to the southeast and west.
NEPAL'S AUTOMOTIVE MARKET
The only national car brand, HULAS (micro pick-ups and jeeps), has a diesel engine from China. Almost every international car brand in the world is available in Nepal", says the secretary general of the Nepal Automobile Dealers Association (NADA), but the country is also known worldwide for its expensive cars. This includes customs duty, excise duty, VAT, roads, etc., resulting in one car in Nepal costing almost as much as three cars in China.
In terms of brands, there is a huge disparity between the rich and the poor in Nepal and a wide range of consumption levels. A wide range of car brands are available in Nepal, but there are very few high-end cars on the market, followed by mid-range cars and mostly low-range cars. The most common mid-range and high-end cars are the Japanese Toyota and Nissan, and the Korean Kia and Hyundai.
Indian-made cars have long dominated a significant part of the Nepali market, especially in the lower and mid-range segments, with Tata vans and small cars being the main varieties. At present, the two largest automobile groups in Nepal are the South Korean Hyundai Group and India's largest automobile group - Tata Group.
In terms of demand, Nepal relies mostly on road transport, which accounts for more than 80% of all trips, so the Nepali car market is growing rapidly despite the huge tariffs imposed on Nepali cars. Meanwhile, Nepalis are open to new knowledge and ideas, have more advanced consumer attitudes, and are willing to pay for automotive features.
In terms of vehicle types, due to Nepal's poor transport infrastructure, the roads in the valley are often long and narrow, and the local population prefers to buy two-wheelers and small, low-end, inexpensive vehicles to meet local demand for short-haul micro-transportation, which is also more suitable for the rough roads in the valley.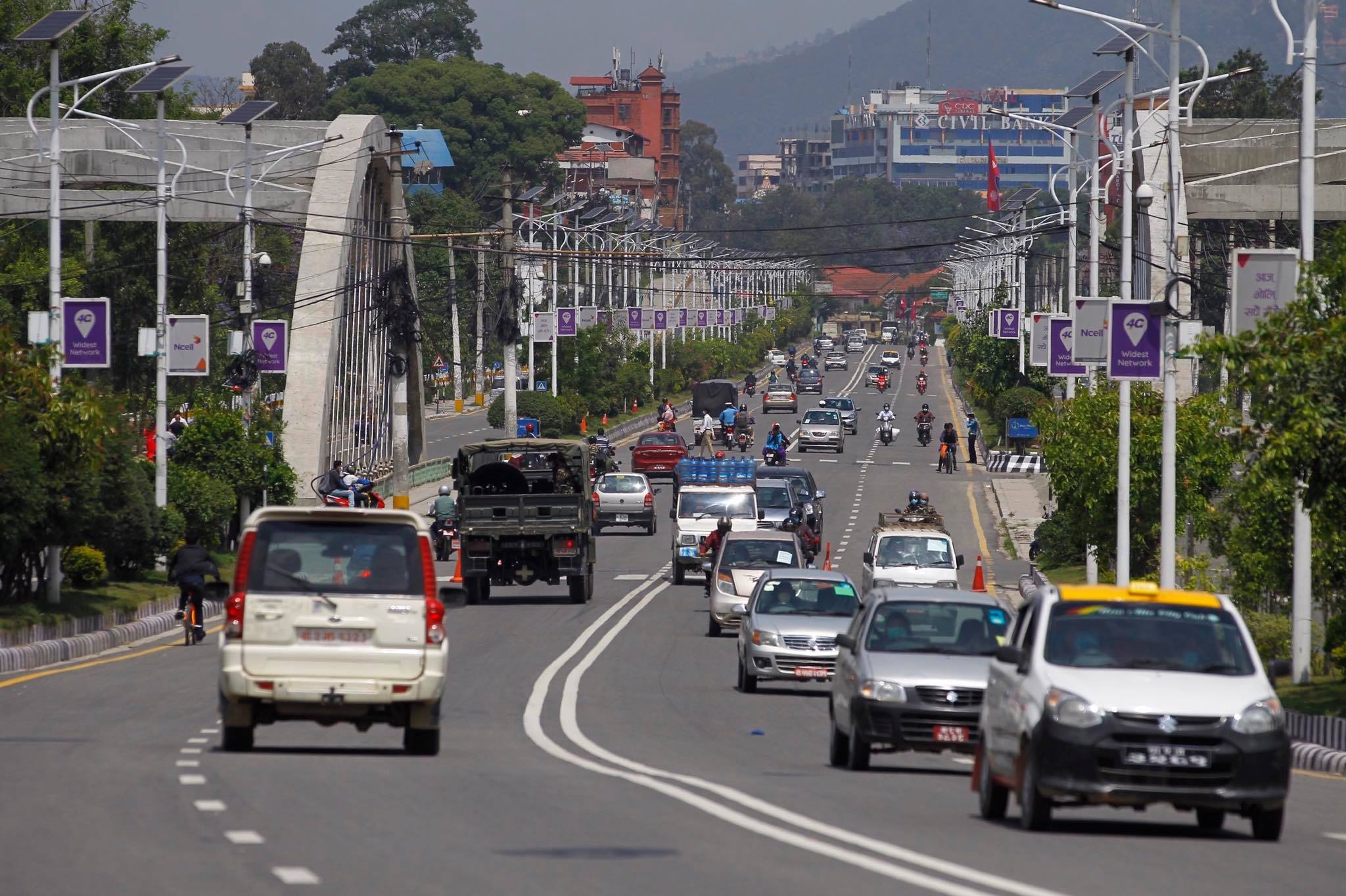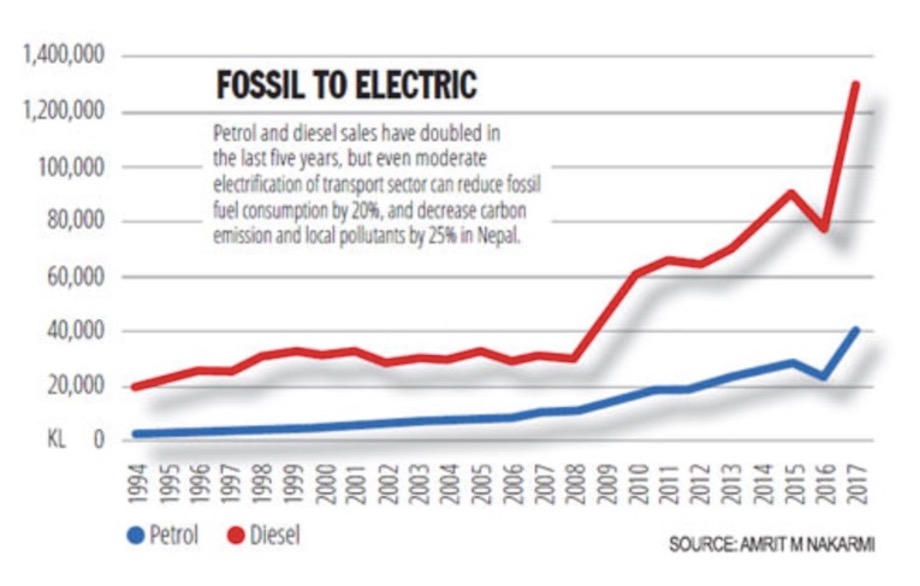 NEPAL'S GOVERNMENT SEEKS TO TRANSFORM ELECTRIC MOBILITY

Nepal does not produce oil and the government spends a large amount of its annual budget on importing oil, and the government has said that the over-reliance on fossil fuels for public transport and private vehicles not only places a huge burden on the government's finances, but also has many negative effects on the local population due to pollutant emissions.

According to data published by Numbeo, the world's leading data site, Kathmandu, the capital of Nepal, has the fifth highest pollution index in the world. In fact, Nepal is the closest country to paradise, a 'holy land' for mountaineers worldwide, and has a rich cultural and religious heritage with many fine classical buildings for Hindu and Buddhist pilgrims, and tourism accounts for approximately 29% of the country's gross national product. Air pollution has had a strong impact on the local climate and human landscape, and will certainly threaten the country's mainstay industries.
The development of an electric vehicle industry is therefore an 'urgent' priority to protect Nepal's tourism resources, reduce the burden of foreign exchange spending and take advantage of the country's abundant hydropower resources as an alpine country. In 2018, President Oli proposed a National Action Plan for Electric Mobility, with the goal of reducing dependence on oil imports by more than 50% by 2050.
Currently, Nepal's electricity sector has built 52 charging stations in different parts of the country to encourage the electrification of transport. Currently, the retail price of petrol and diesel vehicles in Nepal is 261% higher than the cost, while electric private cars are only subject to 10% excise duty, 13% VAT and 10% customs duty, and are exempt from road tax, compared to Rs 30-50,000 per year for oil vehicles, making Nepal the only country in the world with such a huge relative tax difference. Nepal is the only country in the world where the relative tax differentials are so large, and is a good indication of the government's commitment to the electrification transition. transition to electrification.
In the face of the opportunities brought by the Nepalese government's new energy vehicle development strategy, many car companies have also jumped at the chance to enter the Nepalese market. In October of the same year, Fujian New Longma signed an order for 100 electric micro-trucks and micro-vanes with SEV Group in Nepal.
Although there are some actions, but at present our domestic cars in Nepal accounted for a small share, relying on China's electric car manufacturing advantages, as well as the convenience of the Zhangmu port, and even the future opening of the China-Nepal railway, these will give China's auto industry exports to provide great convenience and lower transport costs, it can be seen that China's auto industry exports to Nepal and assembly cooperation still has a lot of room for further access to the local market.
ATIC PROVIDES AUTOMOTIVE GLOBAL HOMOLOGATION SERVICE
ATIC's vehicle homologation experts have an average of more than 10 years of experience in motor vehicle certification, and are familiar with multinational certification processes, local regulations, and testing requirements. ATIC cooperates with multinational official organizations and integrates high-quality testing and certification resources, to provide a global one-stop certification service for manufacturers to complete the certification process, including certification application, documentation preparation, regulatory guidance and training, and pre-testing and test coordination, etc.

ATIC GLOBAL HOMOLOGATION RESEARCH AND VEHICLE CERTIFICATION DEPARTMENT
ATIC Automotive Regulation Research and Vehicle Homologation Product Line is dedicated to global automotive regulation research, homologation procedure research and WVTA homologation project management.
Based on ATIC digital platform, our team provides a series of automotive compliance services including market access solutions, technical review, regulation interpretation, regulation database and update, training and Q&A, etc.
ATIC homologation experts are nominated by European technical service and authorities covering all EU/UN regulations for M/N/O/T/L/NRMM category vehicle, system, component and separate technical unit. Authorities includes Netherlands (e/E4), Sweden (e/E5), Luxembourg (e/E13), Ireland (e/E24) and Cyprus (e/E49).
ATIC is long-term compliance and homologation service provider for GWM, GEELY, SAIC MOTOR, BYD, XPENG, NIO, RIMAC, Smart etc. top domestic and international OEMs, and HUAWEI, CATL, SVOLT, FINDREAMS etc. system and component manufactures.

NEPAL HOMOLOGATION PLEASE CONTACT