RELEASE DATE:

2021-08-25 14:11
Brief

:
There are only a few countries in the world that regulate bicycle lamps, and Germany is a country that strictly implements bicycle lamp regulations. Germany has a special regulation on road traffic safety, namely the StVZO regulation. Products that require StVZO certification include not only parts of automobiles and motorcycles, but also bicycle lamps. Bicycle lamps that have passed StVZO certification need to be engraved with the K-mark.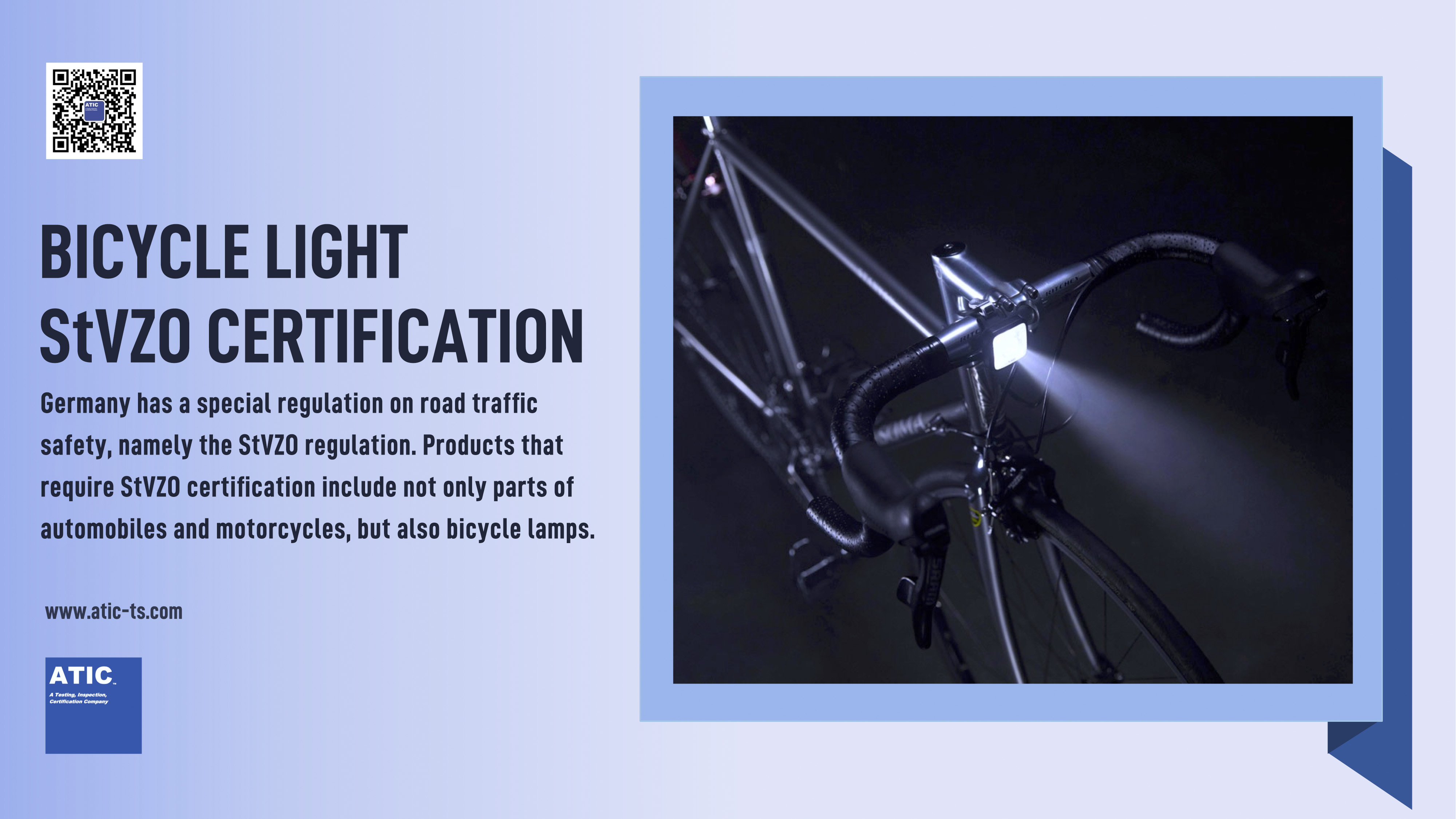 THE PROCEDURE OF CERTIFICATION
• Certification application
• Data and sample preparation
• Factory audit
• Product testing (pre-compliance testing and formal testing in German)
• Prepare report
• Submit for review
• Certificate issuance
TEST ITEMS
In order to ensure road traffic safety, bicycle lamps not only need to meet the structural and performance requirements of TA2, TA3, TA4, TA5, TA14, TA23 in the StVZO regulations, but also include the installation requirements of lamps described in § 67 of StVZO. The test requirements involve the following aspects:
• photometric test
• Chromaticity test
• Low voltage indicator signal
• Low battery test and photometric test
• Environmental testing
ABOUT ATIC
We are a young technical service company from China, established in 2015. We have a professional and passionate team, we strive to create the best environment to attract the best experts, returnees and outstanding graduates to join us. We are committed to integrate domestic and international regulations, testing and certification resources with a global perspective in the context of globalization, and establish a new, specialized regulation research, testing and certification platform. We serve more than 4,500 manufactures each year.
STVZO

CERTIFICATION

PLEASE CONTACT
Kenneth Feng
Component Homologation Department
ATIC Senior Project Engineer, He served in one of global top 500 company as testing and certification engineer. He is now focusing on the one-stop compliance, testing and certification solutions for EV key components and two-wheel vehicle
Phone: +86 020-82510156
Mail: cs@atic-cn.com