RELEASE DATE:

2021-08-04 17:00
Brief
:
The new Brazil INMETRO Ordiannce No. 239 of 08/07/2021 was issued and came into force on July 18, 2021. This ordinance approved the possibility of importers and manufacturers of measuring instruments to obtain authorization to issue a declaration of conformity to replace the initial verification.
Legal Metrology Board of INMETRO (DIMEL) is responsible for the development of Brazilian metrological the measurement accuracy is not falsified, to protect consumers, all products involving Brazilian metrology regulations and measurement standards to ensure the safety and accuracy of product measurement, as well as regulations and standards, except In addition to the Brazilian INMETRO/ANATEL certification, the Brazilian metrology requirements must also be met.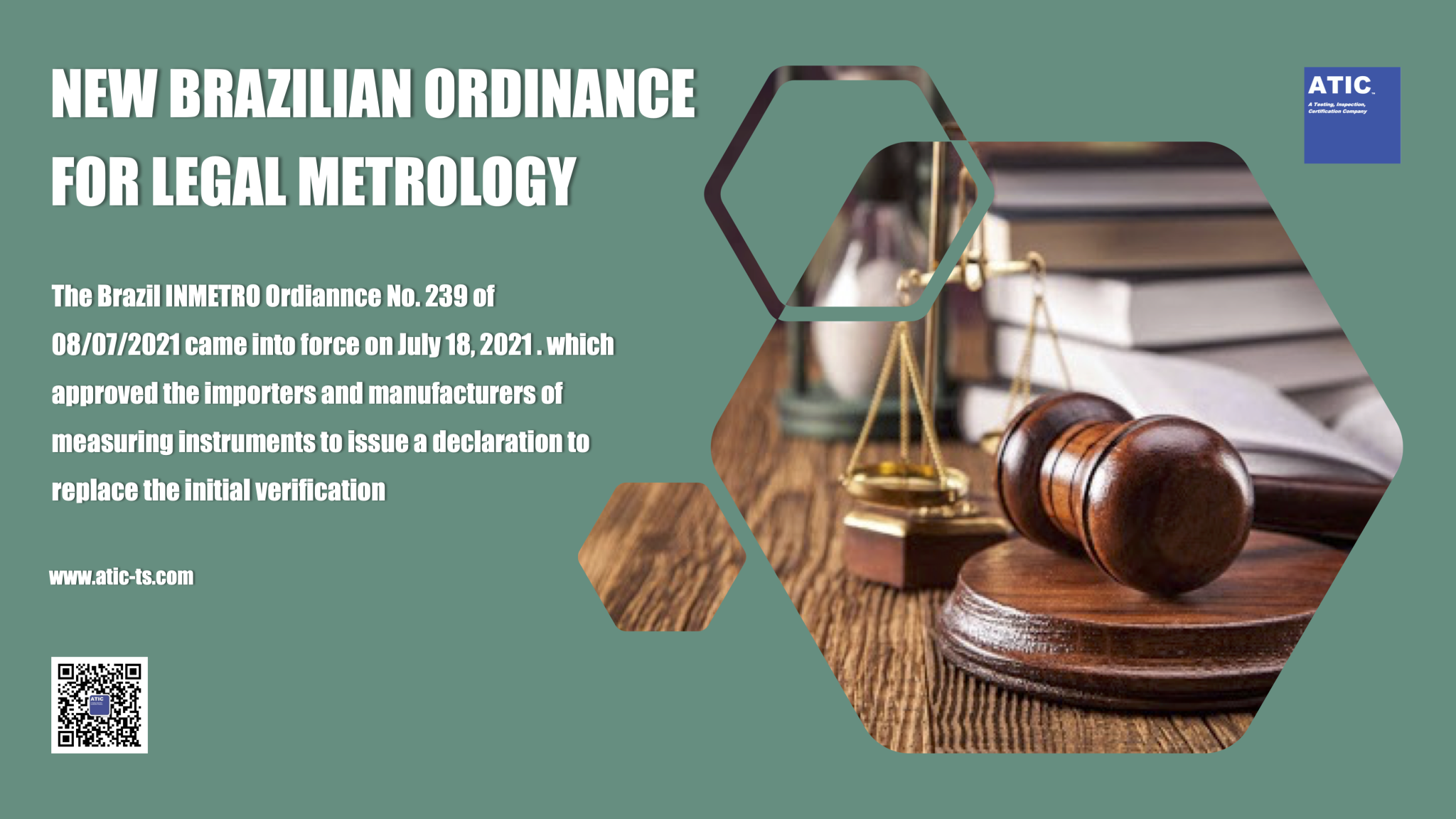 CONTENT OF NEW REGULATIONS
After obtaining INMETRO legal metrology type approval, a unit-by-unit initial inspection and certificate of conformity is required prior to sale. The new ordinance allows authorized importers/manufacturers to be exempted from the initial calibration by declaration, and the following requirements need to be met.
1. The importer and the manufacturer must use their own laboratories or that of third parties accredited by the General Coordination of Accreditation - Cgcre.
2. In the absence of a laboratory accredited by the General Coordination of Accreditation - Cgcre to carry out the tests of imported measuring instruments, the importer may use test reports issued by laboratories abroad that are accredited by ILAC (International Laboratory Accreditation Cooperation).
3. The manufacturer is exempt from using a laboratory accredited by Cgcre as long as it submits to an audit by INMETRO/DIMEL in order to confirm the implementation of the of ISO 9001 and other INMETRO requirements.
ATIC INMETRO CERTIFICAITON SERVICE
ATIC INMETRO certificaiton service scope covers: LED Light Sources, RoadLamps, Automotive Parts, Motorcycle Parts, Bicycle Parts, Dangerous GoodsTransportation, Child Seats, Photovoltaic Products, Pressure Vessels, HouseholdAppliances, Children's Toys and Supplies, Building Structure, PersonalProtective Equipment, Explosion-Proof Electrical Appliances, Medical Equipmentetc., a total of 155 categories of more than 700 products. ATIC provides factory audits and INMETRO certification services to morethan 400 Chinese manufacturers each year.
ABOUT ATIC
We are a young technical service company from China, established in 2015. We have a professional and passionate team, we strive to create the best environment to attract the best experts, returnees and outstanding graduates to join us. We are committed to integrate domestic and international regulations, testing and certification resources with a global perspective in the context of globalization, and establish a new, specialized regulation research, testing and certification platform. We serve more than 4,500 manufactures each year.
BRAZIL
CERTIFICATION PLEASE CONTACT
Component Homologation Department
ATIC Project Manager for South America Business, Auditor for Brazil INMETRO, Kerwin graduated from Harbin Institute of Technology with a bachelor's degree, he served as R&D engineer in a well-known OEM. He now is responsible for the regulation and homologation procedure research & homologation business of automotive and consumer goods for South American markets
Phone: +86 020-82510156
Mail: cs@atic-cn.com