RELEASE DATE:

2021-07-01 16:00
Brief
:
Currently, Mexico has established a relatively complete NOM certification system for only a limited number of product categories. Mexico has not specifically established a market access management system for automotive products in line with international practice. Certification programs for automobiles can be divided into safety, emissions, noise and other categories.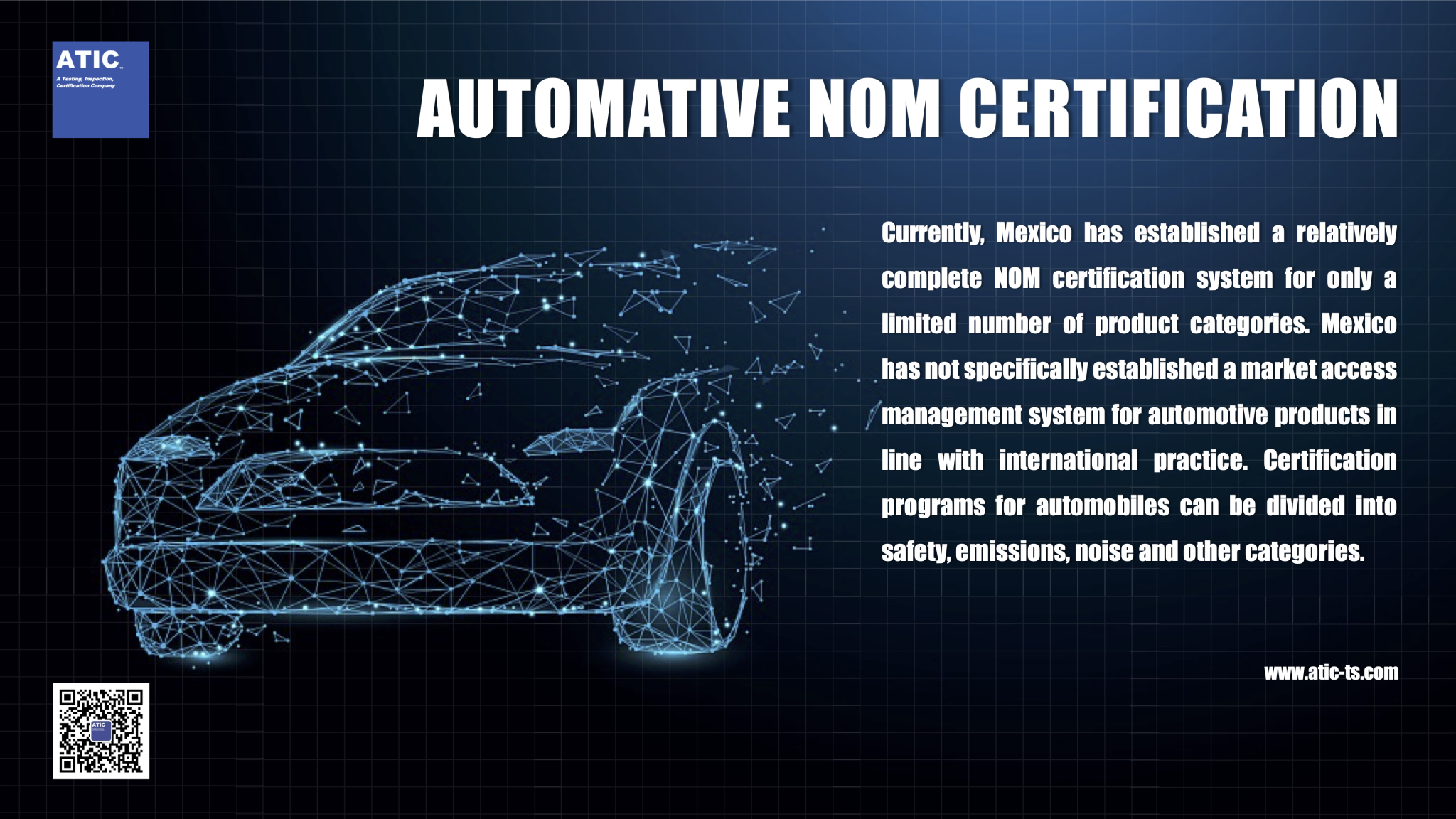 JURISDICTION FOR AUTOMOTIVE APPROVAL
SCT: Ministry of Communications and Transportation
SCFI: Secretary of Commerce and Industrial Development
SEMARNAT: Secretariat of Environment and Natural Resources
PROFEPA: Federal Attorney for Environmental Protection
CLASSIFICATION AND REGULATIONS
Mexico whole vehicle approval regulations and other countries are not equivalent, but the test requirements refer to mainstream international standards. Mexico mainly regulates the safety of four types of vehicles, its product classification and regulations are as follows.
1. New vehicles, whose gross vehicle weight does not exceed 3 857 kg - NOM-194-SE-2021
2. Trailers and Semitrailers - NOM-035-SCT-2-2022
3. Combinaciones vehiculares y de las grúas industriales - NOM-040-SCT-2-2012
4. Midibus - NOM-067-SCT-2/SECOFI-1999
In order to get the NOM whole vehicle approval, it is necessary to submit the certificates and reports of automative parts, and accept the Mexican officials on-site sampling and verification. ATIC has conducted in-depth research and development in this specialized field. ATIC provides professional NOM certification services with its global authorization network and experienced team of experts.
HOMOLOGATION PROCESS
1. Signing the homologation contract with ATIC
2. Submiting product technical documentation
3. Sample testing/verification
4. Reviewing documentation
5. Issuance of compliance report and certificate
ATIC NOM CERTIFICAITON SERVICE
As the partner organization of Mexico certification body in China, ATIC provides Chinese manufacturers with one-stop service of application preparation, product testing, submission of documents and certificate acquisition with professional and efficient service spirit and rich experience.
Mexico certification services. The scope of certified products includes: electronic, electrical, communication products, lighting devices, medical equipment, tires, toys, battery operated products, etc.
ABOUT ATIC
We are a young technical service company from China, established in 2015. We have a professional and passionate team, we strive to create the best environment to attract the best experts, returnees and outstanding graduates to join us. We are committed to integrate domestic and international regulations, testing and certification resources with a global perspective in the context of globalization, and establish a new, specialized regulation research, testing and certification platform. We serve more than 4,500 manufactures each year.
MEXICO
CERTIFICATION PLEASE CONTACT
Component Homologation Department
ATIC Project Manager for South America Business, Auditor for Brazil INMETRO, Kerwin graduated from Harbin Institute of Technology with a bachelor's degree, he served as R&D engineer in a well-known OEM. He now is responsible for the regulation and homologation procedure research & homologation business of automotive and consumer goods for South American markets
Phone: +86 020-82510156
Mail: cs@atic-cn.com