RELEASE DATE:

2021-09-02 10:41
Brief

:
The Brazilian National Telecommunications Agency - ANATEL (Agência Nacional de Telecomunicações) is the regulatory body for telecommunications equipment in Brazil, and communication products manufactured or imported in Brazil. Communication products, including antennas, batteries, coaxial cables, optic fiber and optic cables, telephone cables, cell phone chargers, connectors, broadcasting equipment, RF equipment and data communication equipment, are required to be certified by ANATEL.
According to the regulation Ato nº 7280, de 26 de novembro de 2020, as of June 1, 2021, the ANATEL certification process was implemented according to new rules, which add two new modes of self-declaration.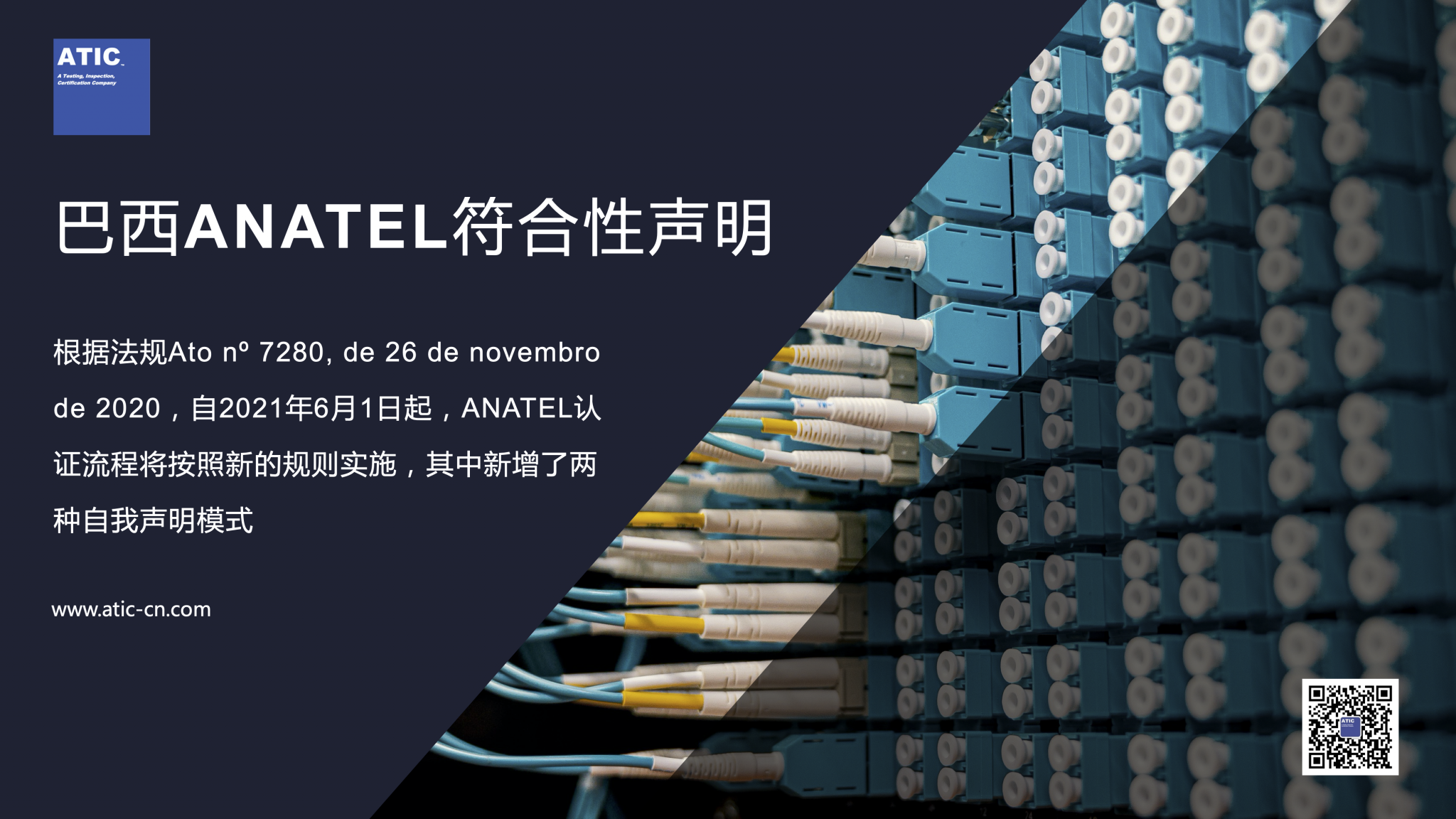 THE NEW REGULATION OF BRAZIL ANATEL
• According to ordinance: Ato nº 3939, de 01 de junho de 2021 - Declaration of Conformity with Testing Report. In this case, non-Brazilian test report was acceptable, and renewal process is needed for every 3 years.
Example of products: SART Transponder radar, Automatic identification ship transceivers, Earth station transmitter and Transceiver, etc.
• According to ordinance: Ato nº 5205, de 09 de julho de 2021 - Declaration of Conformity with Anatel Brand. In this case, non-Brazilian test report was acceptable, and no renewal process needed.
Example of products: Optical connectors, Terminal box, Terminal block, Optical splicing products, etc.
In this regulatory update, it is not mandatory to use the local laboratories in Brazil, and test reports from foreign laboratories can be recognized. The certification process has been simplified, and it is more favorable for manufacturers, especially non-Brazilian manufacturers to obtain ANATEL certification.
ANATEL CERTIFICATION INTRODUCTION
ANATEL: The Brazilian Agency of Telecommunications (Agência Nacional de Comunicações) is a special authority created by the general telecommunications law. Product manufactured in Brazil and other countries must be homologated by Anatel prior to sales into the Brazilian market.
CERTIFICATION PROCESS
Delivering Application
Samples and documentation preparation
Testing
Assessment of Factory Quality Management System or Providing Valid ISO 9001 Certificate
Issuance of Technical Compliance Statement
Anatel registration
RENEWAL / SURVEILLANCE PROCESS
Manufacturer have to compare new photos with the photos from the last certification project. If there are some changes on the product, additional tests will be required. In the most of cases we just need to perform safety tests or only paperwork.
ABOUT ATIC
We are a young technical service company from China, established in 2015. We have a professional and passionate team, we strive to create the best environment to attract the best experts, returnees and outstanding graduates to join us. We are committed to integrate domestic and international regulations, testing and certification resources with a global perspective in the context of globalization, and establish a new, specialized regulation research, testing and certification platform. We serve more than 4,500 manufactures each year.
BRAZIL
CERTIFICATION PLEASE CONTACT
Component Homologation Department
ATIC Project Manager for South America Business, Auditor for Brazil INMETRO, Kerwin graduated from Harbin Institute of Technology with a bachelor's degree, he served as R&D engineer in a well-known OEM. He now is responsible for the regulation and homologation procedure research & homologation business of automotive and consumer goods for South American markets
Phone: +86 020-82510156
Mail: cs@atic-cn.com