RELEASE DATE:

2022-02-25 11:42
Brief
:
On November 17, 2021, the official EU Intelligent Speed Assistance (ISA) regulation was published under the regulation number (EU) 2021/1958. ISA is a system that prompts and encourages drivers to slow down when they are over the speed limit. The system works with the driver as an assisting function to avoid speeding accidents or mitigate their consequences. Lately, the EU officially released the ISA interpretation guidelines to explain some of the provisions, this article will be based on the regulation and the interpretation guidelines to explain the ISA structure and certification.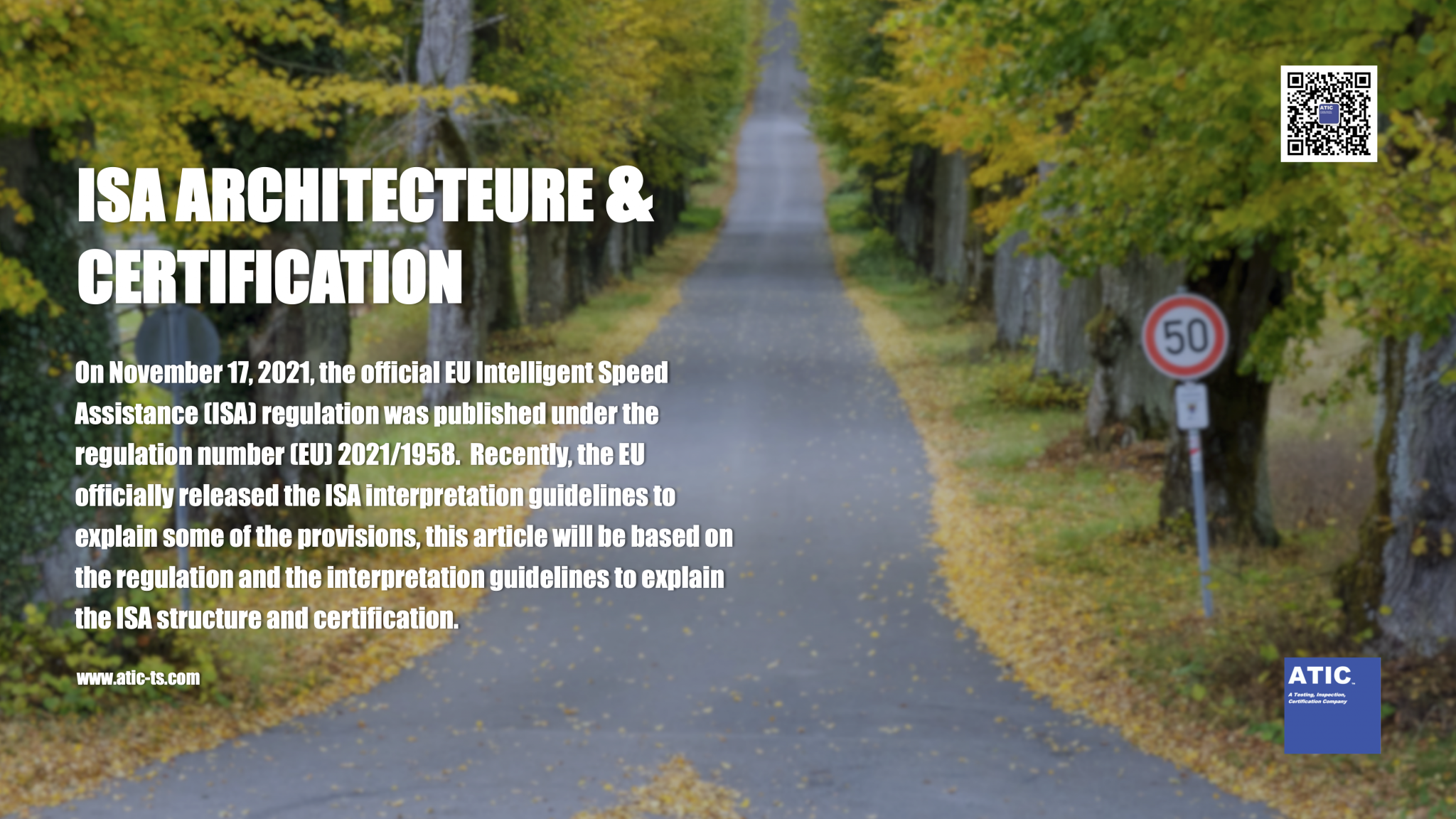 ISA ARCHITECTURE
In (EU) 2021/1958, the ISA architecture is specified in Article 2.1 of Annex 1 "An intelligent speed assistance (ISA) system shall comprise a speed limit information function (SLIF) and either a speed limit warning function (SLWF) or a speed control function (SCF)."

Among them, the SLIF refers to a function that is comprised of the speed limit determination system that determines the perceived speed limit, and a human machine interface that communicates the perceived speed limit to the driver; The SLWF shall be provided by any of the following: (a) a visual warning and a cascaded acoustic warning; (b) a visual warning and a cascaded haptic warning; or (c) a haptic warning alone. SCF means a function that attempts to limit the speedometer speed to a stable speed at or below the perceived speed limit.

ISA CERTIFICATION
Regarding ISA architecture, SLIF is a mandatory item, but whether it can be equipped with both SLWF and SCF, whether it can be equipped with multiple warning forms in SLWF and how to certify different ISA architectures has been a place of doubt for OEMs after the release of the regulation.

According to the ISA interpretation guidelines, the above issues have been clarified: ISA architecture and design could offer only one and up to all 4 feedbacks within a vehicle and offering the choice for the customer. All system working at the same time is not allowed. When using more than one feedback in a vehicle each of them need own type approval.

The above interpretation guideline uses (a), (b), (c) three SLWF warning forms and (d) SCF as the feedback after the ISA system determines that the vehicle exceeds the perceived speed limit. The ISA architecture can be equipped with one or more of the four feedbacks, but all feedbacks are not allowed to work at the same time in the same overspeed scenario, and each feedback equipped needs to be certified at the time of type approval.

Attachment: Screenshot of ISA interpretation guidelines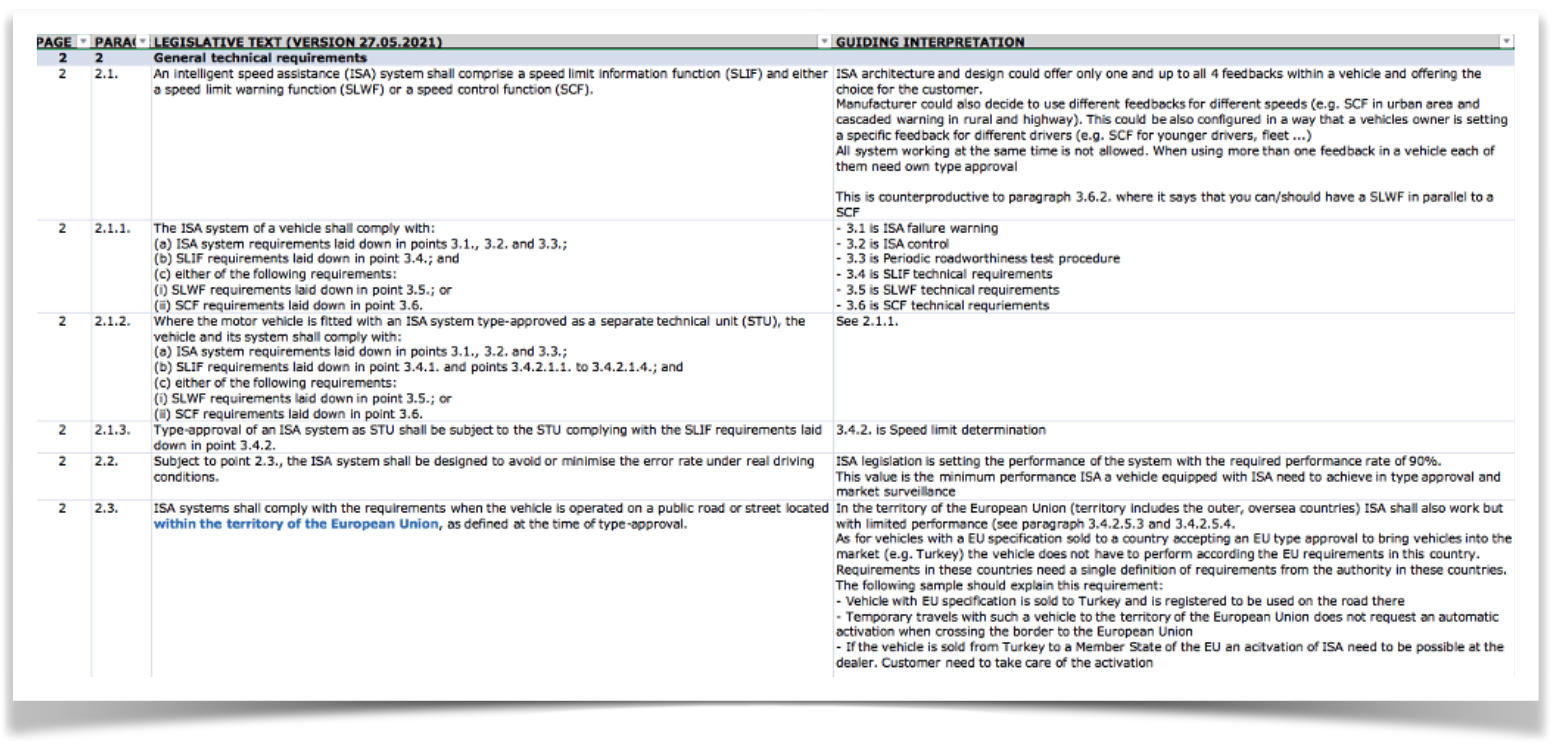 For more information, click
European Intelligent speed assistance system (ISA) EU Homologation
.
ATIC GLOBAL HOMOLOGATION RESEARCH AND VEHICLE CERTIFICATION DEPARTMENT
ATIC Automotive Regulation Research and Vehicle Homologation Product Line is dedicated to global automotive regulation research, homologation procedure research and WVTA homologation project management.
Based on ATIC digital platform, our team provides a series of automotive compliance services including market access solutions, technical review, regulation interpretation, regulation database and update, training and Q&A, etc.
ATIC homologation experts are nominated by European technical service and authorities covering all EU/UN regulations for M/N/O/T/L/NRMM category vehicle, system, component and separate technical unit. Authorities includes Netherlands (e/E4), Sweden (e/E5), Luxembourg (e/E13), Ireland (e/E24) and Cyprus (e/E49).
ATIC is long-term compliance and homologation service provider for GWM, GEELY, SAIC MOTOR, BYD, XPENG, NIO, RIMAC, Smart etc. top domestic and international OEMs, and HUAWEI, CATL, SVOLT, FINDREAMS etc. system and component manufactures.
ISA REGULATION CONSULT

PLEASE CONTACT