RELEASE DATE:

2020-08-24 15:11
Brief:
In order to improve the atmospheric environment and reduce greenhouse gas emissions, the MOE of Korea introduced the Electric Vehicle Subsidy Regulations in 2012, which stipulates the performance requirements for vehicles that apply for subsidies for electric vehicle purchases. Electric Vehicles that pass the subsidy test can be included in the subsidy catalog of Korean regulatory agencies. As of August 2020, there are 142 electric vehicle models (including electric passenger cars, trucks, buses and motorcycles) in the subsidy catalog, with a total subsidy amount to hundreds of billion won.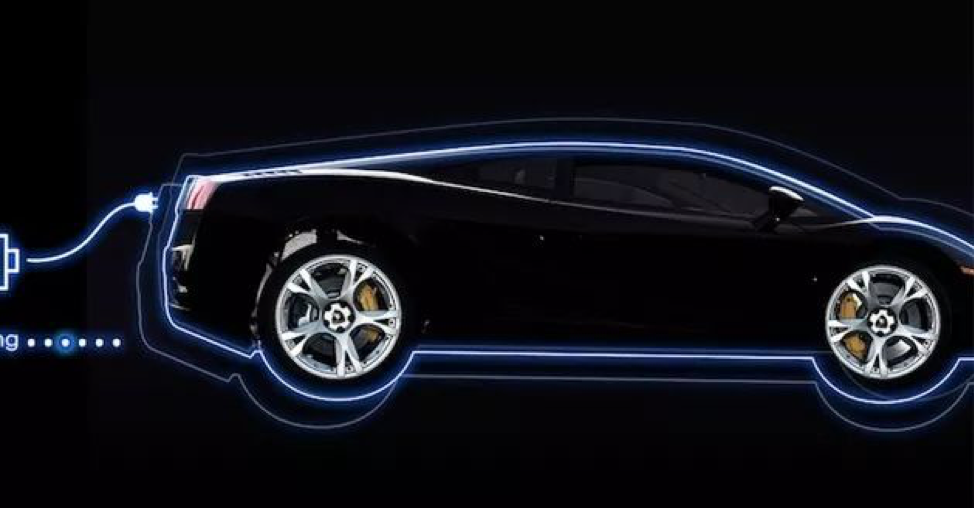 LIST OF SUBSIDIZED VEHICLE TYPE MODELS
Since 2016, the ATIC Global Homologation Research Department has continued to track and study the policies and regulations of South Korea's KMVSS, MOE, MOI, and EV Subsidy. ATIC has compiled the following list of models that have received government subsidies. As of August 2020, 33 electric passenger vehicles, 17 electric trucks, 45 electric buses, and 47 electric motorcycles received subsidies for a total of 142 models, with a total subsidy amount to hundreds of billion won.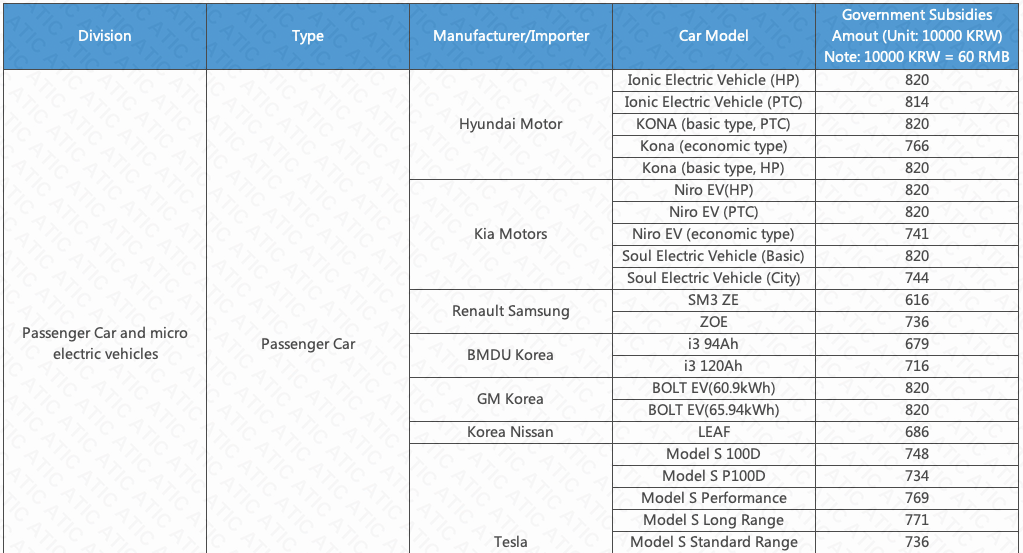 Electric Truck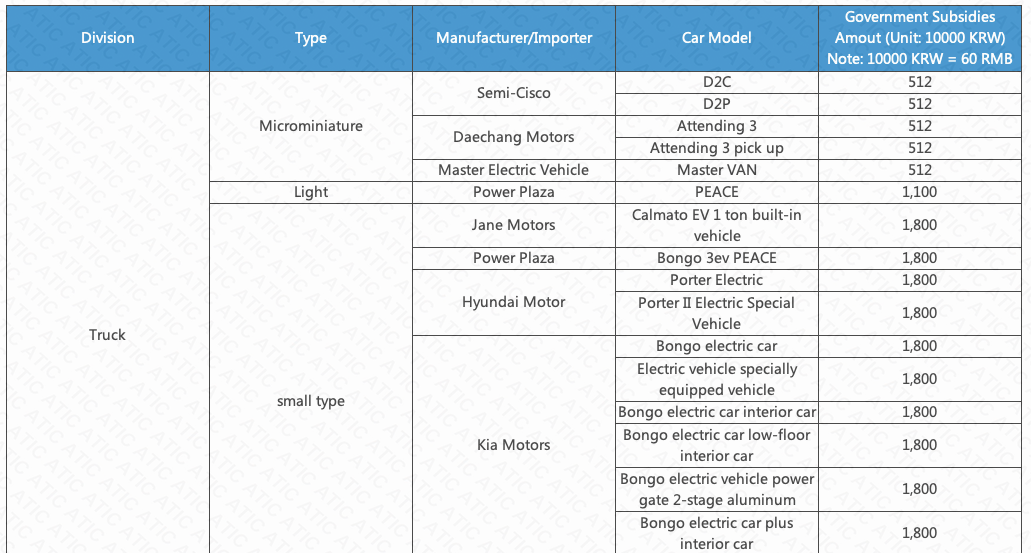 Electric Vans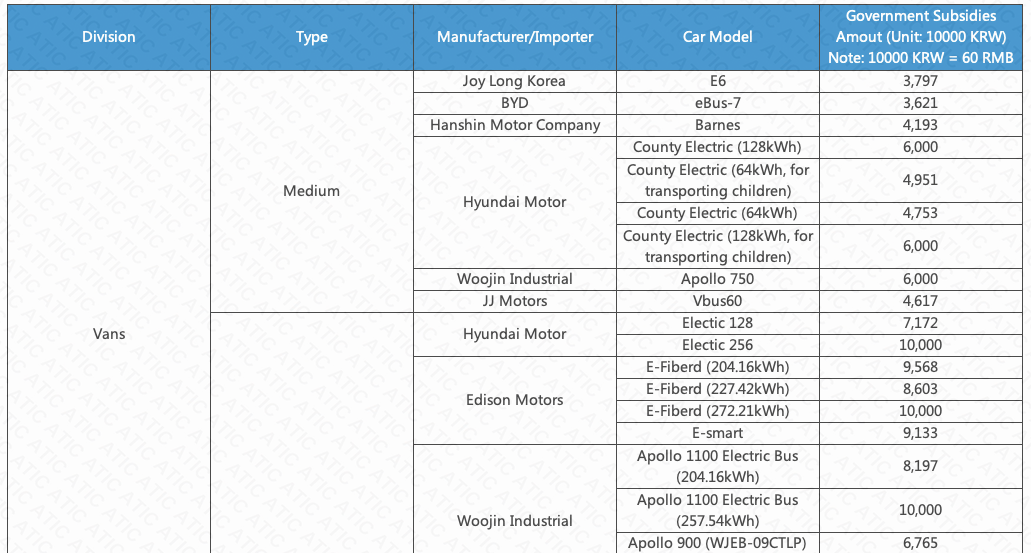 Electric Motorcycle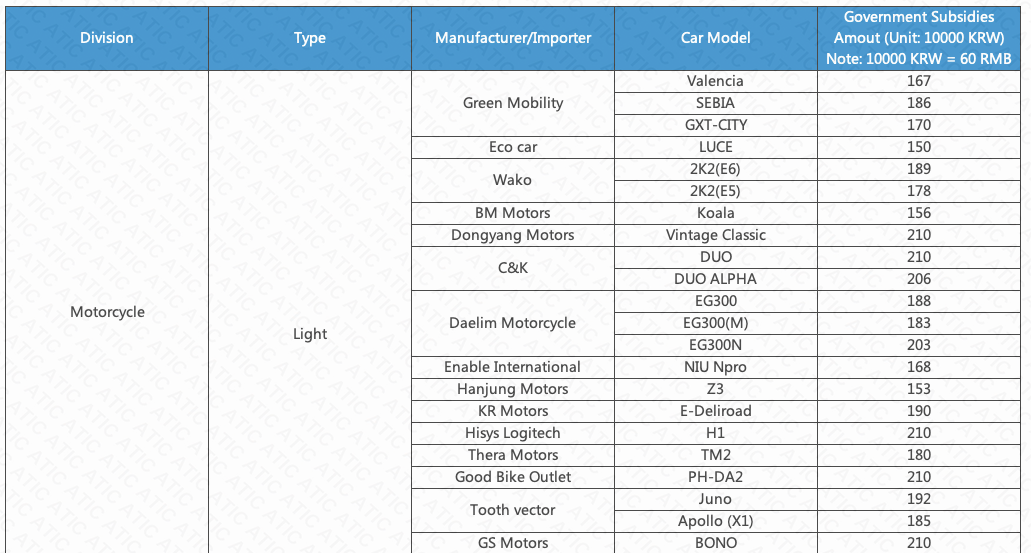 *For the full list of subsidized vehicle type models, please contact ATIC.
LINKS TO PREVIOUS ARTICLES
ATIC KOREA HOMOLOGATION SERVICE
ATIC GVRR Department is committed to the global automotive regulatory framework and vehicle homologation research. Based on the digital platform, ATIC Global Homologation Research Department provides technical compliance services and automotive compliance solutions of more than 50 countries and districts. Our service includes: automotive homologation consulting, multi-country product certification solutions, technical compliance verification, regulatory interpretation and regulatory tracking, regulatory training and Q&A. We are already the exclusive compliance service provider for many well-known OEMs in China, and have successfully helped many independent brands to enter Europe, South Korea, Vietnam, India, Indonesia, Thailand, Brazil and other markets.
MOTOR VEHICLE KMVSS CERTIFICATION PLEASE CONTACT
Laura Yuan
Global Vehicle Regulation Research Department
Laura graduated from Xiamen University with MSc degree in the major of Analytical Chemistry.
In ATIC she is responsible for global automotive regulation and homologation system research,
focus on components global homologation solutions.
Phone: +86 020-82510156
Mail: cs@atic-cn.com