RELEASE DATE:

2022-12-02 14:54
Brief
:
On October 3, 2022, the Mexican Ministry of Economy issued an updated version of the light vehicle safety framework regulation: NOM-194-SE-2021, which will revoke and replace the previous version of the regulation: NOM-194-SCFI-2015.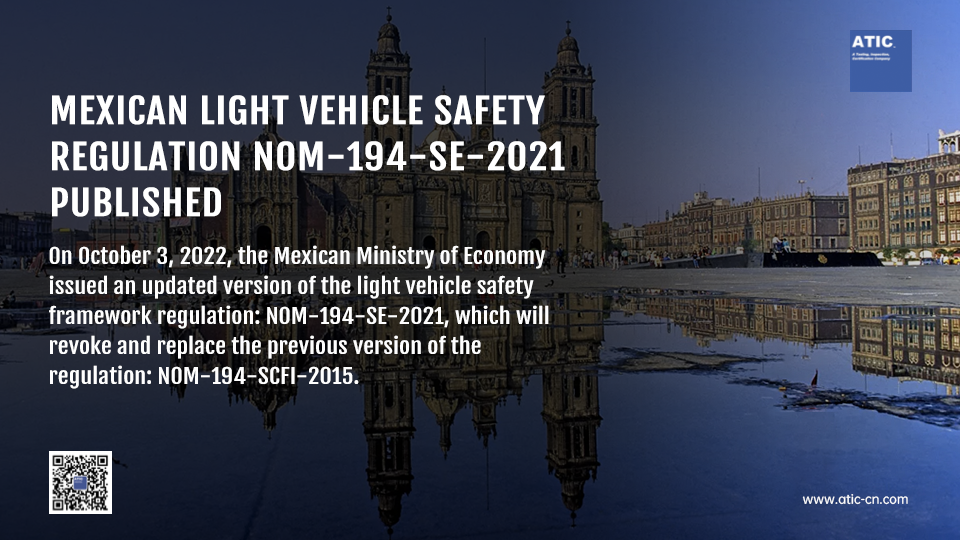 INTRODUCTION TO THE REGULATIONS
In Mexico, road accidents involving motor vehicles claim about 16,000 lives each year and are the second leading cause of death among people aged 5 to 34. In addition, about 134,000 people are injured, 40,000 of whom acquire some kind of permanent disability.
On September 22, 2021, PROY-NOM-194-SE-2021 was published in the Official Journal of the Federation for a public consultation period of 60 days, which ended last November 21, in compliance with the consultation process required by law.
At the 20th Ordinary Session of 2021, held on December 16, 2021, CONNSE approved the publication of the Mexican Official Standard NOM-194-SE-2021 "Safety devices for new light vehicles - Requirements and specifications".
In view of the above, the Mexican Official Standard NOM-194-SE-2021, which has taken more than two years, is hereby published.
NOM-194-SE-2021 regulation applies to light vehicles with a design gross weight between 400kg and 3857kg, but does not apply to prototype vehicles, diagnostic vehicles, off-road motor vehicles, and vehicles manufactured or designed specifically for agricultural work, recreational activities or railroads, motorcycles and machinery dedicated to the construction and mining industries.
NOM-194-SE-2021 sets out the parts and components on the vehicle need to meet the Mexican NOM/NMX standard or the U.S. FMVSS standard or the EU UNECE standard, companies can choose one of the standards for certification. Among them.
a) Where NOM or NMX is applicable, the current version of NOM or NMX must be used and its provisions in force must be considered.
b) Where the CFR (FMVSS) regulations apply, the version in effect in the United States on the date of manufacture of the vehicle in question must be used, taking into account its effective and enforcement period.
c) Where UNECE or UNECE standards or regulations are applicable, reference should be made to the minimum version specified in AnnexA.
SAFETY REQUIREMENTS
All vehicle sub-brands, regardless of version, must include the safety features listed in Table 1.
Some of the device requirements are as follows:
| | | | | |
| --- | --- | --- | --- | --- |
| | | | | UNECE and Series of amendments |
| | | | | |
| | 3-point seat belts and their anchorages | | | |
| | | | | |
| | | | | |
| | Rear view mirrors or indirect vision devices | | | UN R46-03(01 for interior mirrors only) |
New light-duty vehicles and existing light-duty vehicles entering the market from the 2023 model year onwards must be equipped with the safety devices listed in Table 2.
Some of the device requirements are as follows:
| | | | | |
| --- | --- | --- | --- | --- |
| | | | | UNECE and Series of amendments |
| | | | | |
| | | | | |
| | | | | |
| | | | | |
| | Steering control rearward displacement | | | UN R12-03 or UN R94-01(02 For vehicles with electrical energy storage systems) |
New light-duty vehicles and existing light-duty vehicles entering the market from model year 2023, powered by electricity, hydrogen or natural gas, must be equipped with the safety devices listed in Table 3, as appropriate.Some of the device requirements are as follows:
UNECE and Series of amendments

Electric-powered vehicles

Fuel system integrity of compressed natural gas vehicles

Note:(a) Applicable to products with hydrogen storage
Existing light vehicles and new light vehicles on the market, in addition to mandatory devices, can voluntarily optional safety devices listed in Table 4.Some of the device requirements are as follows:
| | | | | |
| --- | --- | --- | --- | --- |
| | | | | UNECE and Series of amendments |
| | Electromagnetic compatibility | | | |
| | | | | |
| | | | | |
| | Lane departure warning (LDW) | | | |
| | Adaptive front-lighting systems(AFS) | | | |
(Please contact ATIC for a list of specific device safety requirements.)
Compared with NOM-194-SCFI-2015, the new version removes the applicable European directives, SRRV, KMVSS and CONTRAN standards, and adds mandatory safety requirements from 2023, new energy vehicle safety requirements, and a number of voluntary certification requirements, namely the contents of Table 2, Table 3, and Table 4, while the contents of Table 1 Table 2 Table 3, need to meet the minimum version requirements specified in Annex A.
THE PROCEDURE OF TYPE APPROVAL
Sign the certification contract
Inspection requirements to determine
Assessment of the provision of documents
Assessment of the decision
Issue compliance advice
Certificate maintenance
ATIC PROVIDES NOM CERTIFICATION SERVICES IN MEXICO
ATIC, as a partner organization of Mexican certification body in China, provides Chinese manufacturers with one-stop service of application preparation, product testing, submission of documents and certificate acquisition, etc. with professional and efficient service spirit and rich experienceMexico certification services. The scope of certified products includes: electronic, electrical, communication products, lighting devices, medical equipment, tires, toys, battery operated products, etc.
ABOUT ATIC
ATIC is a young technical service company from China, established in 2015. ATIC is committed to integrate domestic and international regulations, testing and certification resources with a global perspective in the context of globalization, and establish a new, specialized regulation research, testing and certification platform. With innovative Digital Reporting System (DRS), Customer Service Platform (CSP) and self-developed Global Vehicle Regulation Database (GVRD), ATIC's compliance service covers more than 54 countries/regions globally, testing and certification service covers more than 30 countries/regions worldwide. ATIC serve more than 2,300 manufactures each year.
MEXICAN

HOMOLOGATION PLEASE CONTACT
Simon Zhou
Component Homologation Department

Component Certification Engineer, Graduated from SiChuan University with double degree in Engineering and Literature, Auditor for Brazil INMETRO, now responsible for the regulation and homologation procedure research & homologation business of automotive and consumer goods for American markets.
Phone: +86 020-82510156
Mail: cs@atic-cn.com