RELEASE DATE:

2021-05-25 16:00
Brief

: The North American Equipment Compliance Program (ECP) promoted by AMECA (The Automotive Manufacturers Equipment Compliance Agency, Inc.) is a centralized, voluntary, one-stop process. It is a procedure for informing the government, industry and the general public that motor vehicle safety components have been tested in AMECA authorized laboratories and that they meet relevant standards. Products with an AMECA certificate will be more easily procured by North American buyers and users.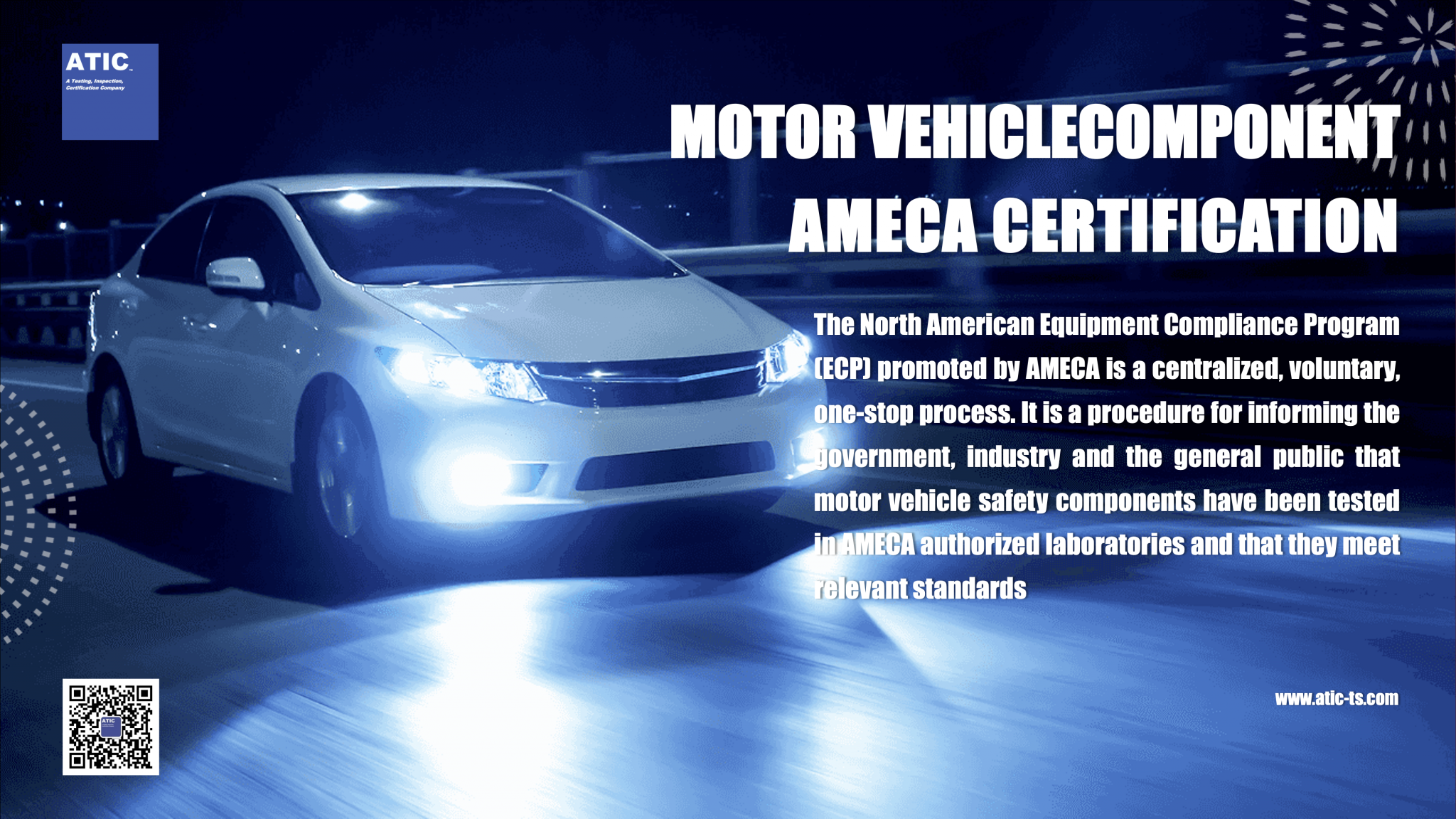 AMECA CERTIFICATION MODEL
AMECA currently has two certification models, traditional certification and new ISO certification, both certifications require testing and registration.
AMECA provides product testing related services by authorizing third-party laboratories. Only test reports issued by AEMCA authorized laboratories will be approved by AMECA. If the test data meets the relevant test standards, AMECA will issue a Notice of Equipment Compliance, which is an AMECA certificate that certifies that the product meets regulatory requirements.
For products such as car lights, safety glass, suspension, wheels and brake hoses, manufacturers can choose a more professional ISO certification program. The ISO certification program uses FMVSS, SAE or industry standards, and companies that have obtained ISO-Certification will have a proprietary AMECA certification logo.
AMECA CERTIFICATION PROCESS
1. Application submission
2. Product Testing
3. Review
4. Certificate Issuance
AMECA CERTIFICATION SCOPE
Motor Vehicle Auxiliary Lamp

Motor Vehicle Special Equipment

Motorcycle & Bicyele Equipment

1. Backup Lamps

2. Center High Mounted Stop Lamps

3. Clearance Lamps

4. Cornering Lamps

5. Hazard Warning Signal Switches

6. Hazard Warning Signal Flashers

7. Hazard Warning-Turn Signal Flashers

8. Headlamps - Sealed Beam

9. Headlamp Housings - Sealed Beam

10. Headlamp Aiming Equipment

11. Headlamp Testing Machines

12. ldentification L amps

13. License Plate Lamps

14. Parking Lamps (Front Position)

15. Replacement Lenses

16. Reflex Reflectors

17. Side Marker Lamps

18. Stop Signal Lamps

19. Tail Lamps (Rear Position)

20. Tum Signal Flashers

21. Turn Signal Lamps

22. Side Turn Signal Lamps

23. Tum Signal Switches - Class A

24. Tum Signal Switches - Class B

25. Triangle Warning Device Kit

26. Slow Moving Vehicle Emblem

27. Headlamp - Replaceable Bulb

1. Auxiliary Low Beam Lamps (Passing)
2. Driving Lamps
3. Fog Lamps
4. Spot Lamps
5. High Mounted Stop and Turn Signal Lamps
6. Deceleration Indicator Lamps

1. Directional Emergency Warning Lamps
2. 360 Degree Emergency Warning Lamps
3. Gaseous Discharge Waming Lamps
4. Lamps and Sirens (GSAAmbulances)
5. School Bus Alternating Warning Lamps
6. Warning Lamp Alternating Flashers
7. School Bus Stop Arm
8. School Bus Roof Mounted Warning Lamps

1. Headlamp Assembly - Motorcycle
2. Headlamp Assembly - Motor Driven Cycle
3. Headlamp Modulator - Motorcycle
4. Windscreens
5. Reflex Reflectors - Bicycles
6. Reflex Reflectors - Pedal
7. Reflex Reflectors - Tire
8. Turn Signal Lamps - Motorcycle
9. Auxiliary Front Lamps - Motorcycle

1. Backup Alarms
2. Brake Fluids
3. Brake Hose - Air
4. Brake Hose - Hydraulic
5. Brake Hose - Vacuum
6. Brake linings - VESC-V3
7. SAE J-2530 Aftermarket Wheels
8. Load Binders
9. Mirrors - Exterior
10. Safety Glass
11. Safety Glazing Materials
12. Seat Belts
13. Trailer Hitches
14. Weathering of Automotive Lens Materials
15. FMVSS 302 Flammability Of Interior Materials
ABOUT ATIC
ATIC is a young technical service company from China, established in 2015. ATIC is committed to integrate domestic and international regulations, testing and certification resources with a global perspective in the context of globalization, and establish a new, specialized regulation research, testing and certification platform. With innovative Digital Reporting System (DRS), Customer Service Platform (CSP) and self-developed Global Vehicle Regulation Database (GVRD), ATIC's compliance service covers more than 54 countries/regions globally, testing and certification service covers more than 30 countries/regions worldwide. ATIC serve more than 3,300 manufactures each year.
AMECA

CERTIFICATION

PLEASE CONTACT
Kenneth Feng
Component Homologation Department
ATIC Senior Project Engineer, He served in one of global top 500 company as testing and certification engineer. He is now focusing on the one-stop compliance, testing and certification solutions for EV key components and two-wheel vehicle
Phone: +86 020-82510156
Mail: cs@atic-cn.com