RELEASE DATE:

2023-06-21 15:25
Brief: The National Measurement Institute (abbreviated as NMI) is responsible for the regulation of Australia's legal metrology system. All measuring instruments used for trade must be pattern-approved and verified. NMI updated the pattern approval procedure of measuring Instruments suitable for use for trade and other legal purposes on March 2021.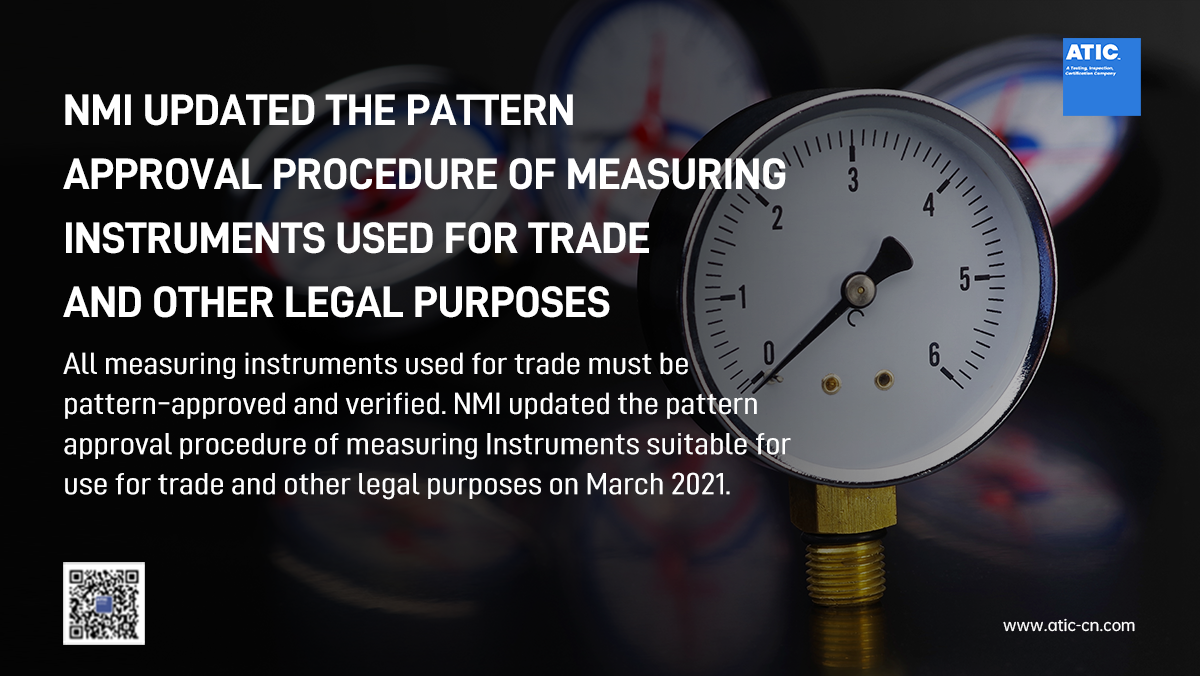 PATTERN APPROVAL SCOPE OF NMI
| | |
| --- | --- |
| Scope | Categories |
| Length, area and dimensional | Length Measuring Instruments、Area Measuring Instruments、Multi-dimensional Instruments |
| | Spirit Dispensers、Alimentary Product Flowmeters (Milk, Beer)、Fuel Dispensers for Motor Vehicles、Fuel Dispenser Control Systems、Fuel Dispenser Calculator/Indicators |
| | Automatic Tank Level Gauges、Milk Tanks、Vehicle Tanks |
| | Non-automatic Weighing Instruments、Automatic Weighing Instruments、Multi-dimensional Weighing Instruments |
| | Gas, Electricity、WaterMeters |
| | Grain Protein Measuring Instruments 、Polarimetric Saccharimeters |
| Legal measuring instruments | Evidential Breath Analysers |
| | Point Of Sale (POS) Systems、Digital Indicators |
OVERVIEW OF UPDATES TO THE PROCEDURE
| | | |
| --- | --- | --- |
| | | |
| | | Updated document format, various clauses and terminology to reflect current processes and provide clarification of requirements. |
| | | Introduced risk assessment process for the acceptance of test reports and test results |
| | | Introduced change to the criteria for the review of Certificates of Approval. |
INFLUENCE FOR MANUFACTURERS
1. The validity of the Pattern Approval Certificates is changed from 5 years to permanent.
a. Certificates issued on or after 27 July 2020: Unless requested by the approval holder, Certificates issued on or after 27 July 2020 shall not specify a date of review.
b. Certificates issued prior to 27 July 2020: Certificates issued prior to 27 July 2020 shall remain valid regardless of the date of review stated on the
Certificate, until the Certificate is cancelled or withdrawn. On application by the approval holder, Certificates issued prior to 27 July 2020 may be reviewed to remove the specified date of review (generally 5 years).
2. Clarified the maximum validity of the Provisional Certificates is 12 months.
The instruments, which, normally due to their size, installation requirements or other features, cannot be fully examined in the laboratory or require field testing, for example large bulk flowmeters, which require an additional Provisional Certificate, the new procedure clarified that maximum validity Provisional Certificate is 12 months.
NMI will approval or refuse the approval of the Pattern Approval Certificate and revoke the Provisional Certificate depending on the on-site assessment result.
3. Clarified the strategy of software updating.
a. Software updates that do not affect the measurement function: Where a software version described in a Certificate is expected to be updated frequently, appropriate wildcard fields such as -X may be permitted to describe the version used. Wildcards may only be used to indicate software changes that do not affect the measurement function or are not legally relevant. And subsequent software updates do not require a certificate change if they are within the range allowed by the wildcard. If it exceeds the declared scope, the NMI must be notified for an assessment.
b. Software updates that affect the measurement function: NMI must be notified for an assessment.
ATIC COMPONENT HOMOLOGATION DEPARTMENT
ATIC Component Homologation Product Line focuses on regulation research and homologation service for components and consumer products especially for European and American markets. We are committed to provide one-stop global homologation solution for automotive components and consumer products, at present ATIC is long-term TIC service partner with CATL, SVOLT, DICASTAL, XYG, FinDreams, VAST, TEXAS INSTRUMENTS etc., top tier 1 suppliers.
AUSTRALIA CERTIFICATION PLEASE CONTACT