RELEASE DATE:

2019-11-18 11:23
Brief:
Cixi Wansheng Electronic Appliance Co., Ltd. is a professional manufacturer of large-scale cable TV series devices and communication structural components, instrumentation, chassis and housing, integrating research, development, production and sales. Recently, Cixi Wansheng Electronic Appliance. successfully obtained the Mexican NOM certificate with ATIC technical services.
MEXICAN NOM CERTIFICATION
The Mexican government has established relevant standards for various products in accordance with the Mexican Federal Metrology and Standardization Law. The main government agencies for the market access management of various products, including automotive products, are the Ministry of Economy of Mexico, and the Ministry of Economy of Mexico is responsible for various products. In addition to standard revisions, it is also responsible for the accreditation and authorization of product certification authorities and laboratories. The NOM standard is a mandatory standard. At present, Mexico has established a relatively complete NOM certification system for limited product categories, including electronic, electrical, communication products, lighting devices, medical equipment, tires, toys, and battery-driven products.
The NOM certificate is one of the prerequisites for Mexican product access. The product holds a NOM certificate for customs clearance and circulation and sales in the market. Mexico does not recognize other national certificates and only recognizes its own NOM certificate. Government agencies responsible for automotive market access management include the Mexican Ministry of Transport and Transportation, the Mexican Ministry of Environment and Natural Resources, the Federal Office for Environmental Justice and the Mexican Ministry of Trade and Industry Development. In 2015, Mexico implemented the new safety regulation NOM-003-SCFI-2014, which turned some NMX (non-mandatory standards) into mandatory standards. The products that had been certified before were largely unchanged.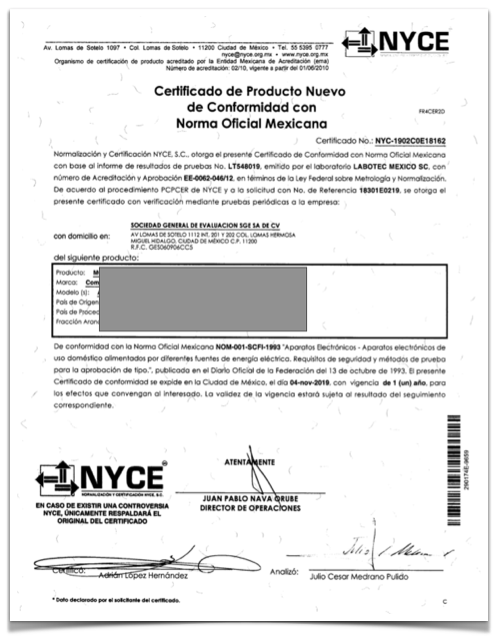 ATIC PROVIDE NOM CERTIFICATION
ATIC is a partner of the Mexican certification authority NOM in China. With the professional and efficient service spirit and rich experience, ATIC provides one-stop Mexican certification services for Chinese manufacturers, including preparation, product testing, submission of materials, and obtaining certificates. The scope of certified products includes: electronic, electrical, communications products, lighting devices, medical equipment, tires, toys, battery-driven products, etc.

ABOUT ATIC
ATIC is a young technical service company from China, established in 2015. ATIC is committed to integrate domestic and international regulations, testing and certification resources with a global perspective in the context of globalization, and establish a new, specialized regulation research, testing and certification platform. With innovative Digital Reporting System (DRS), Customer Service Platform (CSP) and self-developed Global Vehicle Regulation Database (GVRD), ATIC's compliance service covers more than 54 countires/regions globally, testing and certification service covers more than 30 countries/regions worldwide. ATIC serve more than 2,300 manufactures each year.


NOM CERTIFICATION PLEASE CONTACT