RELEASE DATE:

2022-08-22 17:41
Brief
:
CHENGDU HUACHUAN ELECTRIC PARTS CO.,LTD is a professional R&D and production enterprise of automotive electrical components and a trial production base of Changan Company's automotive motors. At present, it has an annual production capacity of 10 million sets of automotive electrical components, supporting more than 50 OEMs across the country. Recently, ATIC ASSIST CHENGDU HUACHUAN ELECTRIC successfully obtained the EU UN R10 certificate, providing support for the export of its in-vehicle products to Europe and UNECE countries.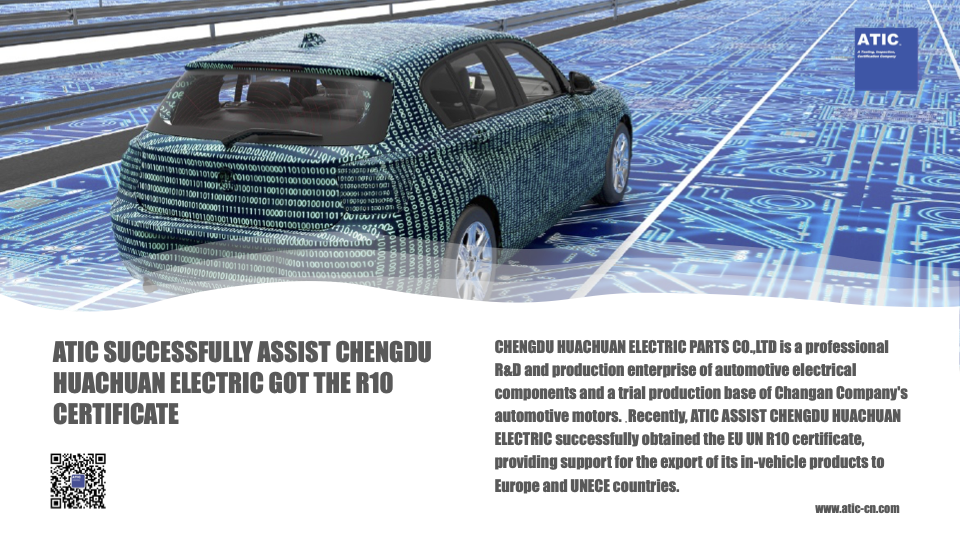 CHENGDU HUACHUAN ELECTRIC PARTS CO., LTD
CHENGDU HUACHUAN ELECTRIC PARTS CO.,LTD has the right to import and export, and its products are exported to the United States, France, Poland, Brazil, Mexico, Japan, India and other countries and regions. More than 10 overseas customers such as Cypress, Piaggio from Italy, Lombardi from Italy, Showa from Japan and Hyundai from South Korea have established strategic partnerships. Adhering to the business philosophy of "Excellent Creation and Coordinated Development", with high-quality products and sincere service , to win the support and trust of customers and manufacturers.

TYPE APPROVAL OF UN R10 CERTIFICATION FOR AUTOMOTIVE ELECTRONIC AND ELECTRICAL PRODUCTS
Environmental protection, low carbon, electronics, and intelligence have become the era characteristics of modern vehicles. The introduction of hybrid power, fuel cells, pure electric drive systems and a large number of automotive electronic components has brought new issues of automotive electrical and electronic safety. Electromagnetic compatibility EMC is the most basic safety requirement in automotive electronic and electrical safety. The United Nations Economic Commission for Europe Regulation No. 10 is the most widely applicable automotive electronic EMC regulations. Whether it is a complete vehicle or an aftermarket automotive electronic product, it must pass the UN Only with Regulation No.10 certification can it enter Europe or be sold in more than 50 UNECE countries.
TYPE APPROVAL PROCEDURE
Submit application
Initial assessment
Information document and testing sample preparation
Testing and reporting
Type approval certificate issuing
ATIC EU/UN HOMOLOGATION SERVICE
ATIC experts are working under designated technical services in Europe to conduct Initial Assessment, Witness Testing and CoP assessment as authorized inspectors with authorities including e/E4 Netherland, e/E5 Sweden, e/E24 Ireland, e/E49 Cyprus, e/E32 Latvia and e/E36 Lithuania.
In China, our witness laboratories cover North China, Central China and South China. No matter where your products are produced, we can provide the nearest witness test site. If your factory laboratory meets the requirements of ISO17025, we may also perform witness tests in your factory and apply type approval certificate.
ATIC leading Digital Customer Platform and Digital Reporting System make it easy for you to submit information document online, and technical reports can be generated online, minimizing document and report preparation time and improving quality, leaving valuable time to you and your customers.
ABOUT ATIC
ATIC is a young technical service company from China, established in 2015. By creating a better entrepreneurial environment, we build a professional and passionate team with the best experts, returnees and extraordinary graduates. We are committed to integrate international and domestic regulations, testing and certification resources from a globalization perspective, to establish a neo-specialized regulation research, testing and certification platform. ATIC serves more than 4,500 manufactures per year.

EU HOMOLOGATION PLEASE CONTACT