RELEASE DATE:

2019-11-01 20:30
Brief:
As the world-class manufacturer of aluminum alloy wheels, CITIC DICASTAL is the first aluminum alloy wheel manufacturing company in China invested in 1988. It has become the world's largest aluminum alloy wheel manufacturer, which has an important position and influence in the world of auto parts manufacturing. Recently, CITIC DICASTAL accepted the Vietnam COP audit and successfully passed it.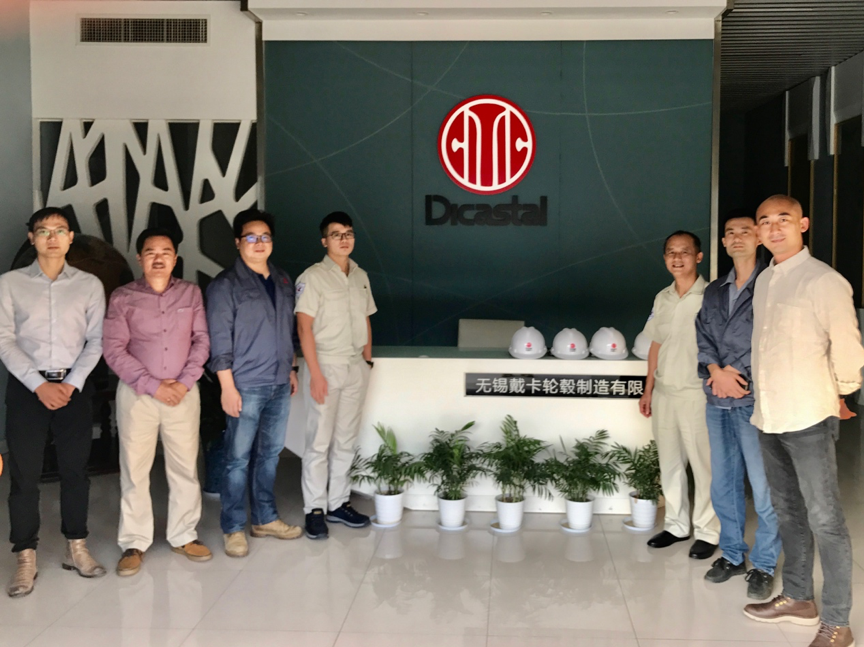 VIETNAM COP AUDIT
Regulation 25/2019 / TT-BGTVT stipulates that: for automotive parts, the review period of COP will be 36 months; for automobile production and assembly plants, the corresponding management measures for enterprises will be implemented through risk level assessment.

The Quality Management Agency (QCA), which is subordinate of VR (Vehicle Register Department), will rate enterprises according to their type of infrastructure, production or assembly ability, and compliance with regulations. The enterprise risk rating is divided into three levels: low risk (Class 1), medium risk (Class 2), and high risk (Class 3). After the enterprise risk rating is completed, the COP review period for Class 1 enterprises will be 36 months, while the Class 2 and Class 3 enterprises will be 24 months and 12 months respectively. On the other hand, the sampling frequency for Class 1 enterprises will be 24 months, and for Class 2 and 3 enterprises will be 18 months and 12 months. For random inspection, a sample was randomly selected by QCA at the factory assembly line for consistency inspection (mainly visual inspection).

It should be noted that some imported auto parts can be exempted from late COP. For parts manufactured in the country of origin with which the motor vehicle certification MRA has been signed in Vietnam, and parts that have been certified according to ECE /EC regulations, or parts with COP certificate that have been issued by foreign third-party agencies, within the certificate valid time, QCA will exempt the parts from the COP review after entering the market.

Regulation 25/2019 /TT-BGTVT also introduced vehicle recall procedure. QCA encourages enterprises to take the initiative to recall defective products: within 5 working days after the product defect is discovered, enterprise shall notify the dealer to stop selling defective products in writing; within 14 working days, report to QCA about the product specific defects, rectification measures, recalled product quantity, recall plan, etc., and the company needs to be prepared to notify the recall plan through the media, and report the recall result to QCA in writing format within 30 working days after the end of the recall, and undertake all recall costs. For manufacturers that have product defects and enterprises that do not have the capability to test, QCA will conduct investigations and recalls.

ATIC ONE STOP VR HOMOLOGATION SERVICE
ATIC is the partner of Vietnam's certification authority VR. ATIC provides one-stop services for VR certification including factory audits, sampling, product testing, and legal representation for Chinese automakers and component manufacturers. Up to now, ATIC has successfully completed the Vietnam VR audit and certification services for domestic component manufacturers, including leading companies such as DISCASTAL and Mekra-Lang. Our professional and efficient services and rich experience enable us to provide effective solutions for Chinese companies to enter the Vietnamese market.

ABOUT ATIC
ATIC is a young technical service company from China, established in 2015. ATIC is committed to integrate domestic and international regulations, testing and certification resources with a global perspective in the context of globalization, and establish a new, specialized regulation research, testing and certification platform. With innovative Digital Reporting System (DRS), Customer Service Platform (CSP) and self-developed Global Vehicle Regulation Database (GVRD), ATIC's compliance service covers more than 54 countires/regions globally, testing and certification service covers more than 30 countries/regions worldwide. ATIC serves more than 2,300 manufactures each year.
VIETNAM VR
CERTIFICATION
PLEASE CONTACT
Thomas Wu
Business Development Manager
Thomas graduated from Beihang University with 13 years of experience in TIC industry.
He has an in-depth understanding of international homologation and certification systems.
In ATIC he is focusing on the regulation of new energy power trains and homologation procedures in various countries.
Phone: +86 020-82510156
Mail: cs@atic-cn.com