RELEASE DATE:

2018-12-20 15:25
Brief:
Lonking (Shanghai) is a subsidiary of China Lonking Holdings Co., Ltd., relying on the Group's strong talents and international top processing and production equipment to build road rollers, graders and pavers. Machines, skid steer loaders, telehandlers, small loaders and other first-class full range of products at home and abroad. Recently Lonking (Shanghai) successfully obtained Brazilian LCVM certificate with ATIC technical service.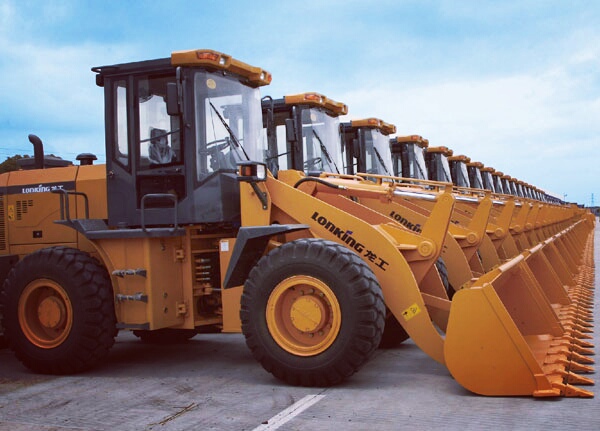 Lonking (Shanghai) Pavement Machinery Manufacturing Co., Ltd. is a subsidiary of China Lonking Holdings Co., Ltd., with a registered capital of 100 million Hong Kong dollars, specializing in the production of road machinery products. Lonking (Shanghai) Road Machinery Manufacturing Co., Ltd. relies on the Group's strong talent advantage and The world's top processing and production equipment, independently developed and developed, to create a full range of first-class products at home and abroad, such as road roller, grader, paver, skid loader, telescopic forklift, small loader. At present, more than 500 distribution agencies have been established in China, which have realized the "three-in-one" product sales service network for the whole machine sales, maintenance service and spare parts supply; the products are exported to more than 30 countries and regions abroad.
During the project certification process, ATIC assisted Lonking in completing certification application, document preparation, regulatory guidance and training, pre-testing and testing arrangements, and contacting IBAMA officials and local authorized laboratories to assist manufacturers in completing the certification process and ultimately succeeded. Help Longgong Machinery to obtain the Brazilian LCVM certificate.
OUR SERVICE FOR BRAZIL CERTIFICATION SERVICE
In 1986, IBAMA introduced the PRCONVE Plan Act to control vehicle emissions. In 2003, IBAMA introduced the PROMOT Plan Act to control the emissions of motorcycle products. In 2011, IBAMA issued the CONAMA Resolution 433/2011 regulations to regulate agricultural and road machinery entering Brazil. After the certification, IBAMA will issue the environmental certificate to the manufacturer.
LCVM.
As a designated partner of the Brazilian certification body CATA in China, ATIC provides Brazilian LCVM certification services for road motor vehicles, agricultural and road machinery manufacturers, and assists OEMs in completing certification applications, document preparation, and regulatory guidance during the certification process. With the training, pre-test and test arrangements, as well as contact with IBAMA officials and local authorized laboratories, we can assist the manufacturer in the certification process.
ATIC AUTOMOTIVE REGULATORY AND CERTIFICATION SERVICES FOR OVERSEAS EMERGING MARKETS
In recent years, due to the rapid tightening of emission regulations in Europe and China, the risk of the US auto market has increased, and new energy vehicles still need capital and technology input. In this context, it is difficult for domestically produced vehicles to enter the overseas market, but at the same time the quality of domestically produced vehicles is constantly improving. Markets, such as Southeast Asia, South Asia, South America, the Middle East, Russia and other markets, emission requirements such as emissions are generally low, and the competitiveness of domestically produced vehicles is gradually increasing. Entering these markets has become a historical opportunity for many domestically produced vehicles. In the past two years, ATIC has adjusted the focus of global regulatory research, focusing on markets in Southeast Asia, South America, the Middle East, Russia, etc., establishing a global regulatory research department, introducing high-end talents to conduct systematic research on relevant national laws and regulations, and has obtained the certification capabilities of all relevant countries. It has carried out comprehensive and in-depth cooperation with local transportation departments, certification authorities, research institutes and laboratories, and provided legal consulting and certification services for more than 1,500 domestic vehicle and component companies.

ABOUT ATIC
ATIC is committed to integrating domestic and international regulations, certification and testing resources with a global perspective, establishing a new, professional regulatory service and testing and certification platform to provide a more professional and efficient one-stop testing, certification and inspection for national brands. Goods, consulting and total solution services.

ATIC is headquartered in Guangzhou, with expert teams located in Guangzhou, Shanghai, and Beijing, and with more than 20 countries or regions such as Germany, Czech Republic, Lithuania, Turkey, South Korea, the United States, Brazil, India, Indonesia, Thailand, and Vietnam. The certification body and the laboratory signed a cooperation agreement.

The ATIC China team consists of senior experts who have served for many years in internationally renowned technology service companies. The core teams are high-end technical talents with an international background.

ATIC can provide global regulations and standard services covering more than 50 countries and regions around the world. It provides testing and certification standards covering more than 20 countries and regions around the world. The cloud database with regulatory and certified products can achieve standardized certification services.

ATIC serves more than 1,000 domestic manufacturers each year, including Huawei, BYD, Wolong Electric, Changjiang Automobile, Haima Automobile, CITIC Dicastal, Ningbo KLITE, and other leading companies in the telecommunications, automation and automotive industries.

WHOLE VEHICLE TYPE APPROVAL PLEASE CONTACT
Yvette Yang
GVRR / Vehicle Homologation Line Manager
Yvette graduated from Shanghai Jiao Tong University with a master's degree.She now, as one of the European authority recognized expert,
is the Vehicle Homologation Product Line Manager of ATIC and Manager of the Global Automobile Regulation Research Deapartment.
She is responsible for the operation of ATIC Vehicle Homologation Product Line, Product Digital System and Global Regulation Database development.
Phone: +86 020-82510156
Mail: cs@atic-cn.com