RELEASE DATE:

2021-06-16 16:01
Brief
:
In April 2021, the Australian Department of Transport issued a discussion document on the update of heavy-duty vehicle regulations (the deadline for submission of feedback from all parties is 2021.6.30) to promote more efficient and safe operation of heavy-duty freight vehicles in Australia.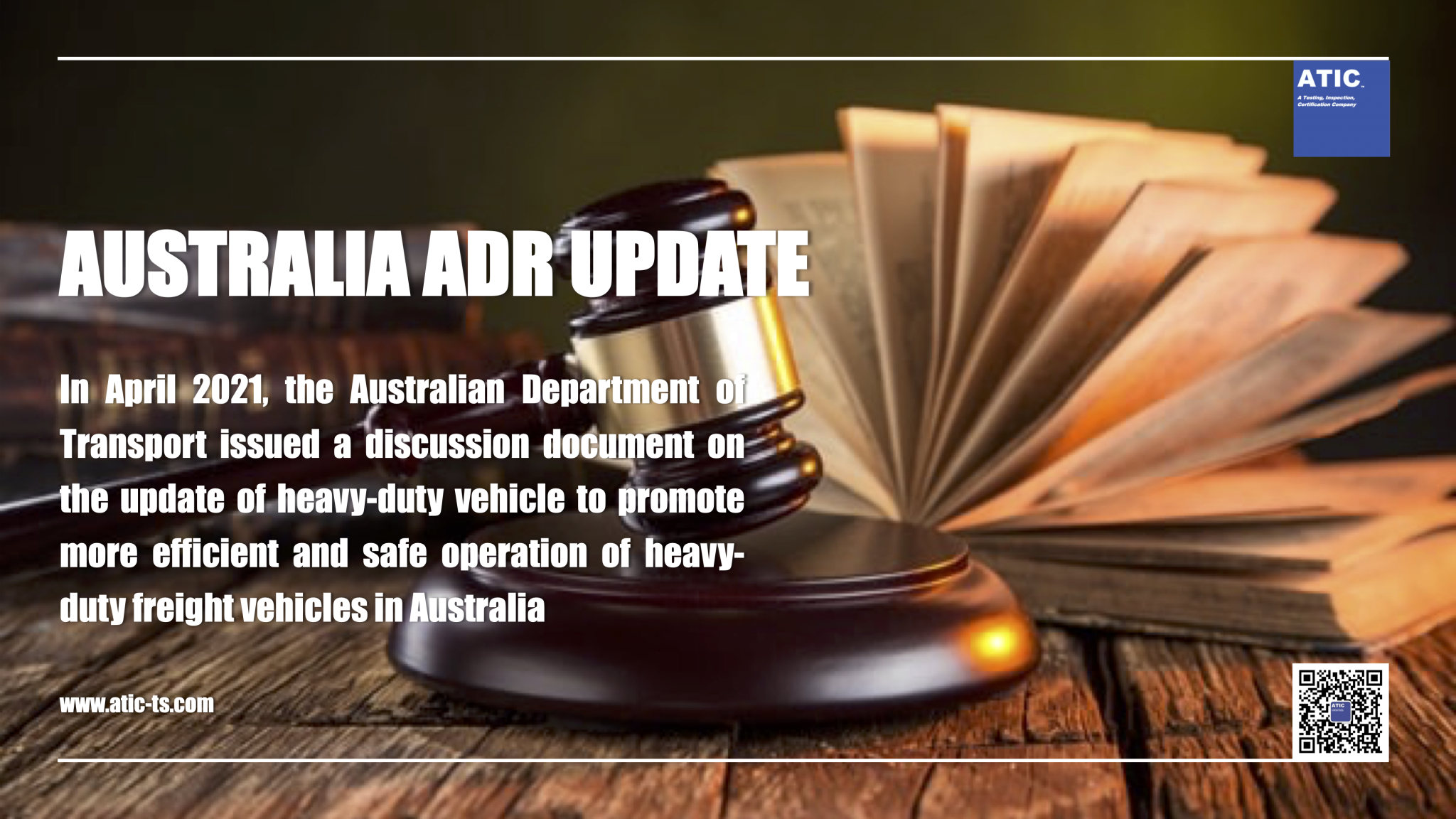 ADR STANDARD UPDATE
The vehicle standard ADR (Australia Design Rules) involved in this update includes the following, which is mandatory for heavy vehicles:
Draft ADR 14/03-Devices for Indirect Vision
Draft ADR 35/07-Commercial Vehicle Brake Systems
Draft ADR 97/00-Advanced Emergency Braking
Draft ADR 99/00-Lane Departure Warning Systems
Draft ADR 105/00-Blind Spot Information Systems
Draft ADR 106/00-Side Underrun Protection
REGULATION VERSION UPDATE
NEW TECHNICAL REGULATIONS
EXECUTIVE SUMMARY
This paper identifies possible changes to the ADRs to facilitate an increased take up of safer and/or more efficient heavy freight vehicles in Australia. This includes options for:
1) vehicles with enhanced devices for indirect vision and/or monitoring devices to detect other road users;
2) safer wider vehicles – including four options, each with proposed new safety requirements; and
3) vehicles with more efficient and/or productive axle configurations.
These changes are expected to have a positive impact on road safety, while reducing regulatory burden. If implemented, there would be less need for manufacturers to re-design or modify vehicles available in other markets, which would make it easier and cheaper for many manufacturers to supply vehicles fitted with the latest safety and emission control technologies to the Australian market. The additional safety systems would help drivers to be more aware of their surrounds, including to avoid and/or mitigate the severity of any collisions with other road users.
ATIC GLOBAL HOMOLOGATION RESEARCH AND VEHICLE CERTIFICATION DEPARTMENT
ATIC Automotive Regulation Research and Automotive Homologation Team is dedicated to global automotive regulation research, homologation procedure research and homologation project management. Based on ATIC digital platform, our team provides a series of automotive compliance services including market access solutions, technical verification, regulation interpretation, regulation database and update, training and Q&A, etc. ATIC automotive experts are nominated by European technical service and authorities covering all EU/UN regulations for M/N/O/T/L/NRMM category vehicle, system, component and separate technical unit. Authorities includes Netherlands (e/E4), Sweden (e/E5), Luxembourg (e/E13), Ireland (e/E24), Cyprus (e/E49) and San Marino (E57).
ATIC is a young technical service company from China, established in 2015. ATIC is committed to integrate domestic and international regulations, testing and certification resources with a global perspective in the context of globalization, and establish a new, specialized regulation research, testing and certification platform. With innovative Digital Reporting System (DRS), Customer Service Platform (CSP) and self-developed Global Vehicle Regulation Database (GVRD), ATIC's compliance service covers more than 54 countries/regions globally, testing and certification service covers more than 30 countries/regions worldwide. ATIC serve more than 3,300 manufactures each year.
ADR
CERTIFICATION PLEASE CONTACT
Emily Shui
Global Vehicle Regulation Research Department
Emily is Researcher in ATIC, she holds a Master's degree from Chongqing University of Technology.
Emily is specializing in cross-disciplinary compliance and certification solutions,
as well as ATIC regulation database development
Phone: +86 18875016631
Mail: emily.shui@atic-cn.com