RELEASE DATE:

2023-04-24 18:18
Brief
:
As safety belts can greatly reduce the casualties of passengers and driver in vehicle crashes, the quality of safety belts, as a basic safety protection device for passengers and driver, has attracted much attention. The UN ECE R16 regulations prescribe the testing methods and requirements for safety belts. At present, three-point safety belts are widely used in automobiles because of their lightness, ease of wearing and good mobility.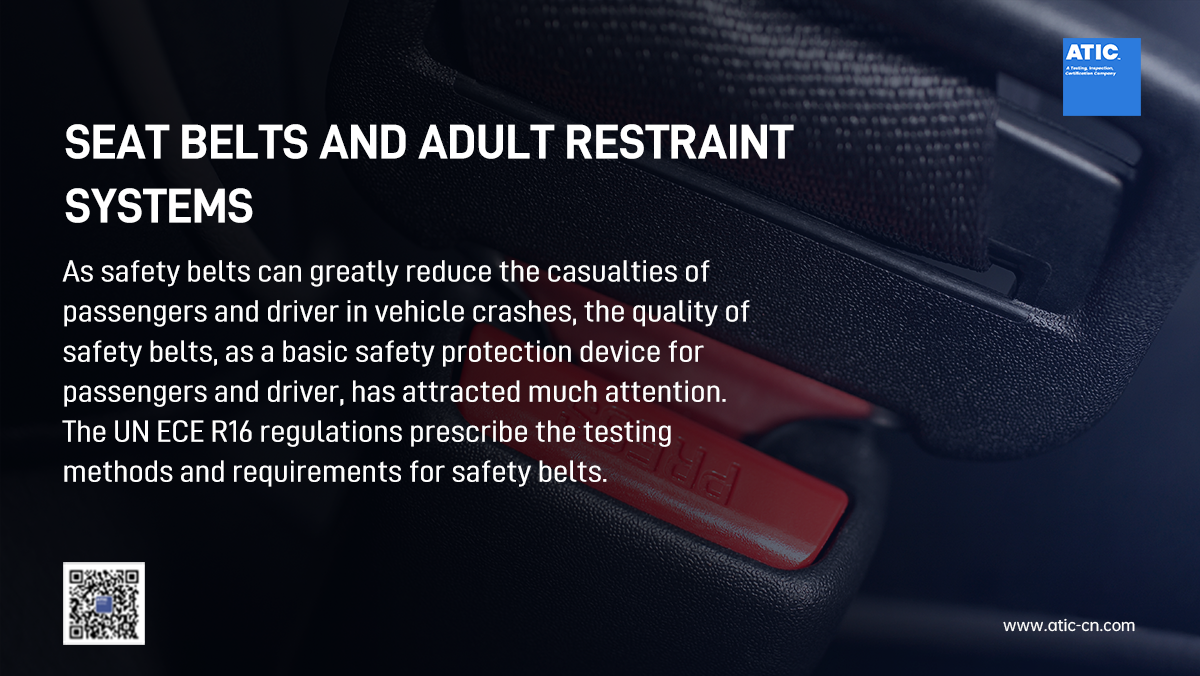 TECHNICAL REQUIREMENTS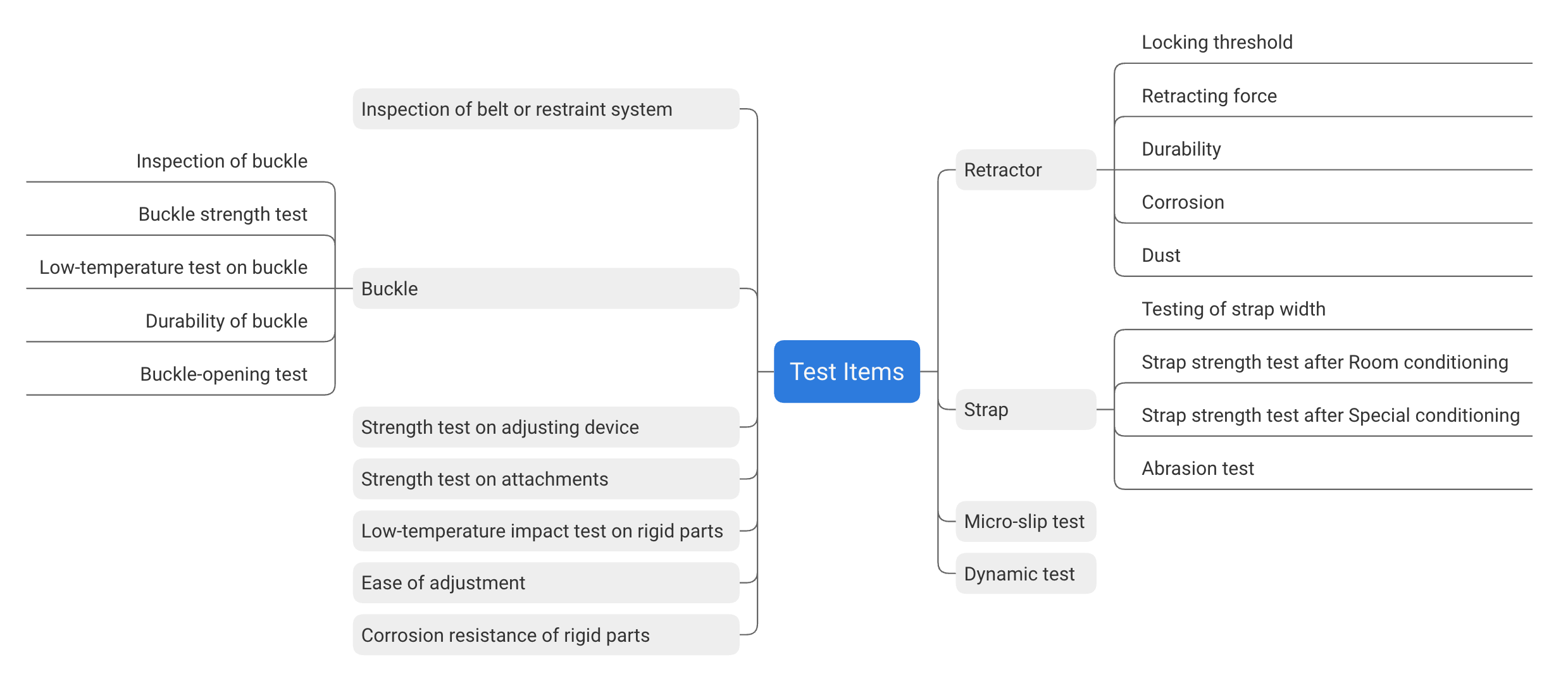 Six samples of the belt type and A ten-metre length of each type of strap
Different types of seat belts are considered if one of the following differences exists:
1.Rigid parts (buckle, attachments, retractor, etc.);
2.The material, weave, dimensions and colour of the straps; or
3.The geometry of the belt assembly.
Criteria for dynamic test results of three-point seat belt assembly:
1.No part of the belt assembly affecting the restraint of the occupant shall break and no buckles or locking system or displacement system shall release or unlock; and
2.For the three-point belt, the forward displacement shall be between 80 and 200 mm at pelvic level and between 100 and 300 mm at chest level, In the case of safety-belt with a preloading device the minimum displacement may be reduced by half. For the purpose of this test, the preloading device shall be in operation(Note: In the case of a safety-belt intended to be used in an outboard front seating position protected by an airbag in front of it, the displacement of the chest reference point may exceed that specified above if its speed at this value does not exceed 24 km/h.)
THE PROCEDURE OF TYPE APPROVAL
1. Documents Preparation
2. Factory Audit (This step can be exempted if the manufacturer hold a valid ISO 9001:2015/IATF1694:2009 certificate)
3. Samples Preparation and Testing
4. Assessment of Information
5. Issuance of Certificate
ATIC COMPONENT HOMOLOGATION DEPARTMENT
ATIC Component Homologation Product Line focuses on regulation research and homologation service for components and consumer products especially for European and American markets. We are committed to provide one-stop global homologation solution for automotive components and consumer products, at present ATIC is long-term TIC service partner with CATL, SVOLT, DICASTAL, XYG, FinDreams, VAST, TEXAS INSTRUMENTS etc., top tier 1 suppliers.

ABOUT ATIC
ATIC is a young technical service company from China, established in 2015. By creating a better entrepreneurial environment, we build a professional and passionate team with the best experts, returnees and extraordinary graduates. We are committed to integrate international and domestic regulations, testing and certification resources from a globalization perspective, to establish a neo-specialized regulation research, testing and certification platform. ATIC serves more than 4,500 manufactures per year.
EU CERTIFICATION PLEASE CONTACT