RELEASE DATE:

2019-12-16 11:29
Brief:
Snell Foundation issued the first helmet safety standard for Competitive Automotive Sports in 1959. Then the SNELL Foundation successively released other specific helmet standards for motorcycles, equestrian sports, bicycles, roller skating and skateboarding, skiing, and karts.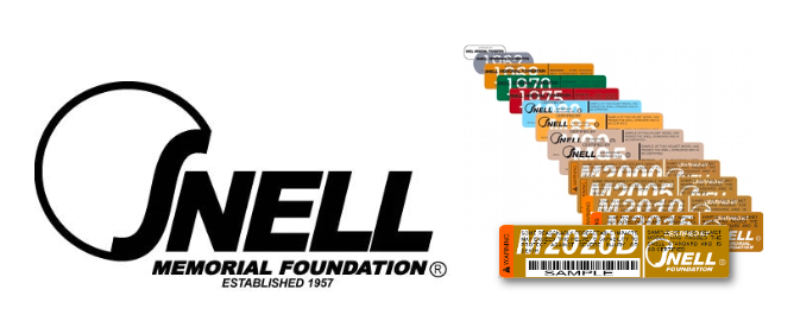 S
NELL HOMOLOGATION FOR HELMET
The Snell Foundation, Inc. is a not-for-profit organization dedicated to research, education, testing and development of helmet safety standards. The helmet safety standards issued bu SNELL are applicabe for a wide range of different helmet products. Since 1959, Snell Foundation, Inc issued helmet safety standard for helmet of Competitive Automotive Sports, Motorcycle, Bicycle, Horseback Riding, Recreational Skiing & Snowboarding and even Kart Racing in succession. The Snell homologation is one of the most discrict helmet homologation.


CERTIFICATION PROCESS
Prototype Test
Certification Test
Random Sample Test (RST)
RSTR
Archive


TESTING ITEMS
Head Forms and Helmet Positioning
Peripheral Vision
Impact Test
Positional Stability (Roll-Off) Test
Dynamic Retention Test
Chin Bar Test, full-face helmets only
Shell Penetration Test
Faceshield Penetration Test
RemovabilityTest
Post-testing Disassembly and Inspection

ATIC PROVIDES ONE-STOP AMERICA CERTIFICATION SERVICE
With a team of experienced vehicle certification experts and an American consulting team with more than 20 years of experience in North American motor vehicle certification, ATIC offers full range of technical services such as regulations interpretation, certification procedure assistance, registration and reporting, test plans, mentoring and witnessing testing and retrofitting recommends throughout the whole certification program, allowing you to quickly enter the North American market with lower risk.

ABOUT ATIC
ATIC is a young technical service company from China, established in 2015. ATIC is committed to integrate domestic and international regulations, testing and certification resources with a global perspective in the context of globalization, and establish a new, specialized regulation research, testing and certification platform. With innovative Digital Reporting System (DRS), Customer Service Platform (CSP) and self-developed Global Vehicle Regulation Database (GVRD), ATIC's compliance service covers more than 54 countries/regions globally, testing and certification service covers more than 30 countries/regions worldwide. ATIC serve more than 2,300 manufactures each year.


HELMET SNELL
CERTIFICATION PLEASE CONTACT
Charlie Li
Component Homologation Department
ATIC Component Homologation Product Line Manager/BDM (Western China Region), Technical Expert accredited by European Authorities, Lead Auditor for Brazil INMETRO.
Rich experience in vehicle and component compliance, testing and certification for markets including EU, America, Japan, South Korea and India etc..
Phone: +86 020-82510156
Mail: cs@atic-cn.com