RELEASE DATE:

2020-03-03 17:01
Brief: Automotive safety glazing materials (also referred to as safety glasses) is an important part of automotive accessories, which can be generally divided into two categories according to the application parts: Windscreens (or windshield) and Glasspanes. Glasspans include door, corner window, side window, rear window and roof window. Windscreen not only protect the safety of the occupants but also provide the views of the road ahead for the driver. Therefore, in addition to general mechanical safety and environmental resistance, there are more requirements in terms of optical performance, such as Secondary image and Optional distortion. Most countries in the world have compulsory certification requirements for automotive safety glass.
Based on excellent industry experience, ATIC has launched a global certification solution for automotive safety glazing materials. We researched and summarized the mandatory certification requirements in hot countries/region for safety glazing materials in the aftermarket.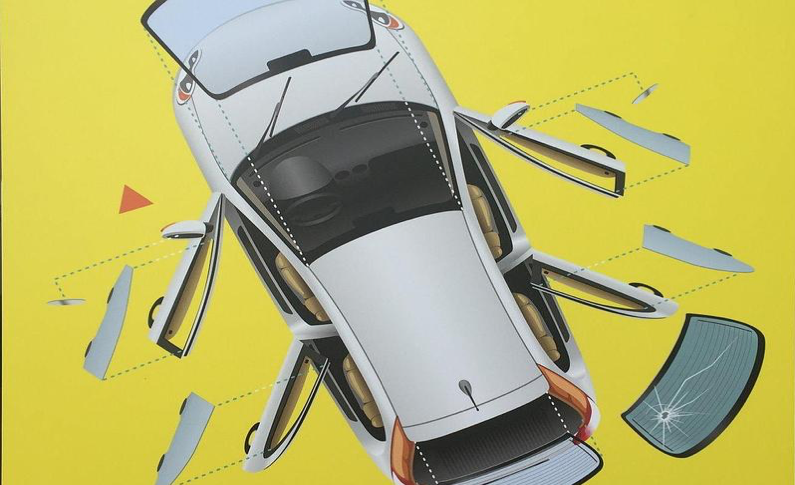 AUTOMOTIVE SAFETY GLAZING MATERIALS CERTIFICATION
ATIC combs out the global certification matrix of the automotive safety glazing materials, from national regulations/standard requirements, regulatory authorities, certification processes, test items, etc.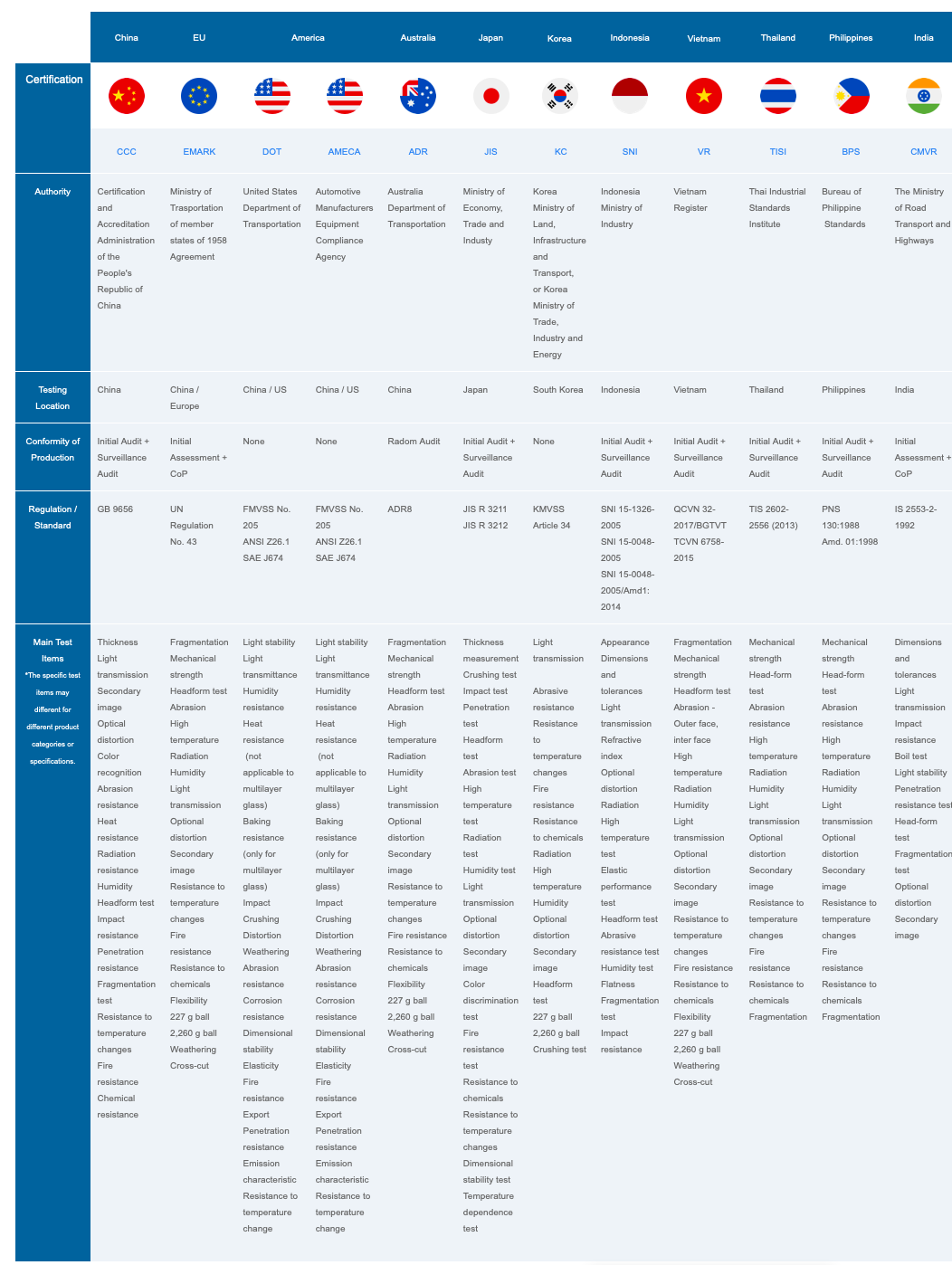 China: CCC certification. According to CNCA-C13-01, the implementation rules of China National Accreditation and Certification Commission, automotive safety glass must meet the technical standards of GB 9656. Automotive safety glass has been included in the list of self-declaration evaluation methods applicable to compulsory product certification, and is allowed to prove that the product meets the mandatory standards and relevant requirements of the implementation rules by self-declaration.

European Union: E-mark certification, The United Nations Economic Commission for Europe (UNECE) stipulated UN regulation R43 to conduct mandatory certification for safety glazing materials and their installation on vehicles. According to the different application parts and materials, it should be applicable some or more test including optical tests (such as light transmittance, optical distortion, and secondary image), mechanical tests (like debris, mechanical strength, head model impact, friction) and environmental resistance test (such as heat resistance, humidity resistance, radiation resistance, temperature resistance, resistance Chemical substances). Approval safety glass must be marked with an E-mark label on the glass as required, and additional symbols shall be affixed in accordance with the regulatory standard material model (such as the windscreen of toughened glass with "I").

North America: DOT certification and AMECA certification. According to US Federal Safety Regulations FMVSS are brake hoses and brake fluids, automotive safety glass should comply with Regulation 49 CFR Part 571 FMVSS 205. This regulation also takes technical standards ANSI Z26.1 and SAE J674 as references. In addition, manufacturers planning to enter the United States can also consider the American industry certification - AMECA certification as appropriate. AMECA certification is an industry certification led by the Automotive Manufacturers Equipment Compliance Agency. The tests need to be performed in an AMECA authorized laboratory. AMECA certification has some influence in the US industry.

Australia: ADR certification, ADR, the Australian "Motor Vehicle Design Rules" is the national standard for Australian motor vehicles specified by the Australian Motor Vehicle Standards Act (MVSA) 1989. ADR certification is responsible for the Australian Vehicle Safety Standards Agency VSS, tests and certifies safety glazing materials in accordance with ADR 8 regulations.

South Korea: KC certification, is the abbreviation of South Korea Certification. supervised by the Ministry of Transport of Korea. The safety glass entering the Korean market should comply with KMVSS article 34.

Vietnam: VR certification. The Vietnam Motor Vehicle Register take aftermarket motor vehicle parts into the scope of compulsory certification from April 2018. Automotive safety glass within the scope of VR certification, need to comply with the standard QCVN 32-2017 / BGTVT. QCVN 32-2017 / BGTVT refers to the EU regulation UNECE R43 Rev3 in terms of test methods and technical requirements.

Indonesia: SNI certification, belongs to category 5 certification. It is supervised by the Indonesian Ministry of Transport. The auditors from Indonesian Ministry of Transport will take sample while conducting factory inspection. Sample testing must be performed at local Indonesian agencies. laminated glass and tempered glass shall be tested according to the standards SNI 15-1326-2005 and SNI 15-0048-2005.

Thailand: TISI certification is a compulsory product certification in Thailand. It is supervised by the Thai Industrial Standards Institute TISI and requires factory audits and tests. Automotive safety glass is tested according to TIS 2602-2556 (2013).

Philippines: BPS certification. Regulated by the Bureau of Philippine Standards (BPS), there are eighty-six (86) products and systems covered under the BPS' Mandatory Product Certification Schemes, which are classified into three (3) product groups, namely, Electrical and Electronic Products, Mechanical/Building & Construction Materials, and Chemical & Other Consumer Products and Systems. Automotive safety glass within the scope of BPS certification, need be test according to PNS 130:1988 Amd. 01:1998 standard.

India: CMVR certification, generally requires factory audits and Indian local testing (sample should be test in local designated institutions in India). Automotive safety glass needs to be tested in accordance with standard IS 2553-2-1992, and the corresponding code should be labelled on the glass. For example, the windshield laminated glass corresponds to "LW", and the windshield laminated glass corresponds to "L".

Brazil: INMETRO certification is the responsibility of the Brazilian National Institute of Metrology, Standardization and Industrial Quality. Automotive safety glass needs to be certificated according to Ordinance No. 41.

Argentina: CHAS certification, Argentina CHAS certification (Certificate of Approval of Auto Parts and / or Security Elements) is a certification for aftermarket automotive parts, according to IRAM-AITA: IRAM AITA 1H3 standard, carry out testing for safety glass.

UAE: ESMA certification, UAE Standardization and Metrology Bureau, stipulated Regulations UAE.S GSO I1677、UAE.S GSO ISO 3537 and UAE.S GSO ISO 3538, to conduct compulsory certification of automotive laminated glass.

Customs Union: EAC certification, also known as CU-TR certification, is a critical certification for manufacturers to enter into the Russian CIS countries. According to the regulation TP TC 018/2011.
Automotive safety glass is within the product scope of compulsory certification.

South Africa: NRCS certification, is a South African national compulsory certification that is under the supervision of the National Regulator for Compulsory Specifications of the South African. The automotive products within the scope of the NRCS certification must meet the compulsory requirements. NRCS formulated the VC 8051 road vehicle safety glass mandatory specifications, which require high penetration resistance glass, laminated glass, and tempered glass entering the South African market in accordance with the technical standards SANS 1191, SANS1192, and SANS1193, respectively.

CERTIFICATION SERVICE PROVIDED BY ATIC
ATIC's vehicle certification experts have an average of more than 10 years of experience in motor vehicle certification, and are familiar with national automotive vehicle lighting and signal devices certification processes, local regulations, and testing requirements. ATIC cooperates with multinational official organizations and integrates high-quality testing and certification resources, to provide a global one-stop certification service for manufacturers to complete the certification cycle, including certification application, documentation preparation, regulatory guidance and training, and pre-testing and test arrangement, etc. With the best service and the fastest efficiency, AITC assist the manufacturers to enter the global market with one-stop certification.

ATIC GVRR DEPARTMENT
ATIC GVRR Department is committed to the global automotive regulatory framework and vehicle homologation research. Based on the digital platform, ATIC GVRR Department provides technical compliance services and automotive compliance solutions of more than 20 countries and districts. Our service includes: automotive homologation consulting, multi-country product certification solutions, technical compliance verification, regulatory interpretation and regulatory tracking, regulatory training and Q&A. We are already the exclusive compliance service provider for many well-known OEMs in China, and have successfully helped many independent brands to enter Korea, Vietnam, India, Indonesia, South America and other markets.
AU
TOMOTIVE SAFETY GLAZING MATERIALS GLOBAL CERTIFICATION PLEASE CONTACT
Laura Yuan
Global Vehicle Regulation Research Department
Laura graduated from Xiamen University with MSc degree in the major of Analytical Chemistry.
In ATIC she is responsible for global automotive regulation and homologation system research,
focus on components global homologation solutions.
Phone: +86 020-82510156
Mail: cs@atic-cn.com