RELEASE DATE:

2020-03-23 10:08
Brief:
Audible warning device (also referred to as horns) which is intentionally operated by a driver, emit an acoustic signal which is intended to give audible warning of the presence of a vehicle in a dangerous road traffic situation. Audible warning device generate sounds by the vibration of the metal diaphragm, according to the sound supply, it can be divided into two types: pneumatic operating horns and electric operating horns. Pneumatic operating horns generate sounds by making the metal diaphragm vibrate with an external compressed air source, with high sound level and high pitch, which can transmit long distance. therefore, pneumatic operating horns usually use in Large and medium-sized vehicles for Long-distance transportation. electric operating horns use electromagnetic suction to vibrate metal diaphragms to produce sounds. Generally, they have a simple structure and a small size, and are widely used in automobiles.

Based on excellent industry experience, ATIC has launched a global certification solution program for motor vehicle audible warning device. We researched and summarized mandatory certification and common industry certification requirements in hot country/region for audible warning device in the aftermarket.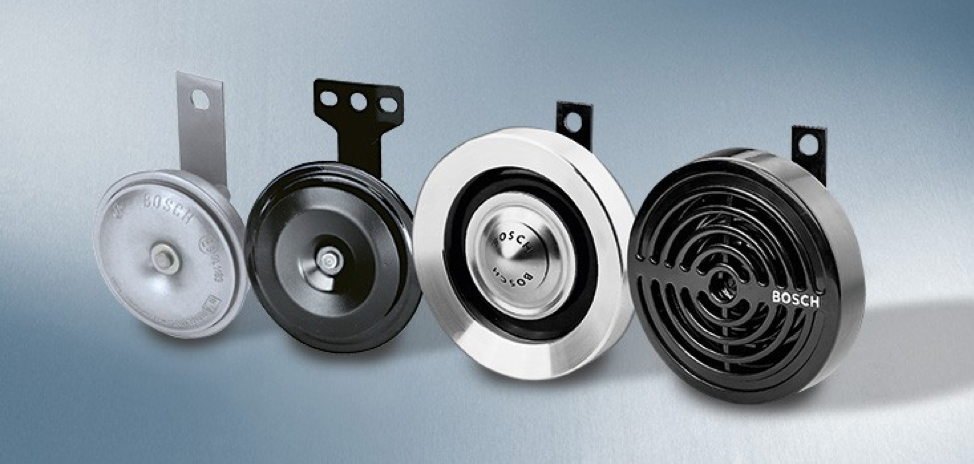 MOTOR VEHICLE AUDIBLE WARNING DEVICE CERTIFICATION
ATIC combs out the global certification matrix of the motor vehicle audible warning devices, from national regulations/standard requirements, regulatory authorities, certification processes, test items, etc.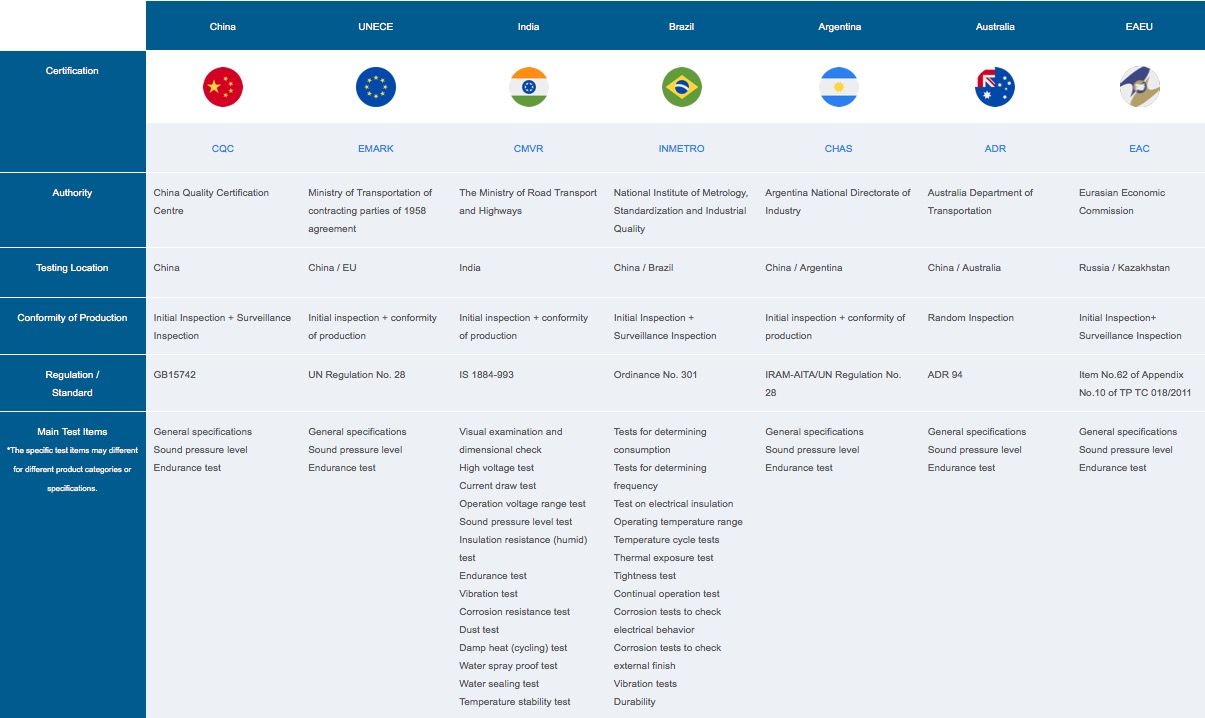 China: CQC Mark certification. Audible warning devices of motor vehicle used to be in the scope of CCC certification. However, according to the National Announcement No. 11 issued by The Certification and accreditation Administration of the People's Republic of China (CNCA) in June 2018, motor vehicle horns have been removed from the compulsory certification products scope. Although they no longer required mandatory certification, manufacturers could consider CQC mark certification (voluntary certification) as appropriate. China Quality Certification Centre stipulated Implementation Rules CQC16-491283-2018 for audible warning device of motor vehicles. The certification standard GB 15742 was updated in 2019. The applicable scope of which "Applicable to the audible warning devices supplied with current or compressed air, which are intended for fitting to categories M, N, L3, L4, and L5 excluding mopeds (categories L1 and L2)" was modified to " Applicable to the audible warning devices supplied with current or compressed air, which are intended for fitting to categories M, N, L", which means the audible warning devices intended for fitting to categories L1 and L2 mopeds were newly added. The new version standard GB 15742-2019 has entered into force on January 1, 2020.

European Union: E-mark certification, The United Nations Economic Commission for Europe (UNECE) stipulated UN regulation R28 to conduct mandatory certification for audible warning devices which are intended for fitting to motor vehicles of categories L3 to L5, M and N, excluding mopeds (categories L1 and L2). The test items are general specifications, sound pressure level test and endurance test.

Australia: ADR certification, ADR, the Australian "Motor Vehicle Design Rules" is the national standard for Australian motor vehicles specified by the Australian Motor Vehicle Standards Act (MVSA) 1989. ADR certification is responsible for the Australian Vehicle Safety Standards Agency VSS, tests and certifies audible warning devices in accordance with ADR 94 regulations.

India: CMVR certification, supervised by the Ministry of Road Transport and Highways of India, generally requires factory audits and Indian local testing (sample should be test in local designated institutions in India). The electric horn used in motor vehicle requires CMVR certification, which is divided into Type1, Type2A, Type2B, and Type3 according to the working principle and the vehicle used, and is tested and certified according to the IS 1884-1993 standard.

Brazil: INMETRO certification is the responsibility of the Brazilian National Institute of Metrology, Standardization and Industrial Quality. The products scope of INMETRO certification includes electrical appliances, medical equipment, auto parts, LED light sources, pressure vessels, etc. According to Ordinance No. 301 regulations, the horns used in motor vehicle require INMETRO certification.

Argentina: CHAS certification, Argentina CHAS certification (Certificate of Approval of Auto Parts and / or Security Elements) is a certification for aftermarket automotive parts. There is no Argentina national standard for the horns used in motor vehicle, and technical requirements used for testing is EU regulation UN Regulation No. 28.

Eurasian Union: EAC certification, is a product certification system formulated and implemented by the Eurasian Union. The Eurasian Union EEU, formerly the Customs Union (CU) consisting of Russia, Belarus and Kazakhstan, was joined by Armenia and Kyrgyzstan. So far, the Eurasian Union has issued 66 regulations and 48 of them have come into effect, which covers vehicles, electrical appliances, light industrial products, children's products, chemicals, and food. Audible warning devices are subject to compulsory certification in accordance with regulation TP TC 018/2011, and the technical standards refer to UNECE R 28.

ABOUT ATIC
ATIC is a young technical service company from China, established in 2015. ATIC is committed to integrate domestic and international regulations, testing and certification resources with a global perspective in the context of globalization, and establish a new, specialized regulation research, testing and certification platform. With innovative Digital Reporting System (DRS), Customer Service Platform (CSP) and self-developed Global Vehicle Regulation Database (GVRD), ATIC's compliance service covers more than 54 countries/regions globally, testing and certification service covers more than 30 countries/regions worldwide. ATIC serve more than 3,300 manufactures each year.

ATIC GVRR DEPARTMENT
ATIC GVRR Department is committed to the global automotive regulatory framework and vehicle homologation research. Based on the digital platform, ATIC GVRR Department provides technical compliance services and automotive compliance solutions of more than 20 countries. Our service includes: automotive homologation consulting, multi-country product certification solutions, technical compliance verification, regulatory interpretation and regulatory tracking, regulatory training and Q&A. We are already the exclusive compliance service provider for many well-known OEMs in China, and have successfully helped many independent brands to enter Korea, Vietnam, India, Indonesia, South America and other markets.
MOTOR VEHICLE AUDIBLE WARNING DEVICE GLOBAL CERTIFICATION PLEASE CONTACT
Laura Yuan
Global Vehicle Regulation Research Department
Laura graduated from Xiamen University with MSc degree in the major of Analytical Chemistry.
In ATIC she is responsible for global automotive regulation and homologation system research,
focus on components global homologation solutions.
Phone: +86 020-82510156
Mail: cs@atic-cn.com