RELEASE DATE:

2020-01-14 12:19
Brief:
The motor vehicle braking system consists of many key components that work together to form a system, and is one of the most important parts of the motor vehicle. Take the common hydraulic braking system for example, its composition of the main components are: brake pedal, brake booster, brake master pump, brake lines, brake hoses, brake calipers and pistons, brake linings or brake lining assembly, brake discs or drums, brake fluid, anti-lock braking system (ABS) control module, wheel speed sensors and so on. For the aftermarket brake related components, the main brake components that require separate certification are brake linings (also known as pads) / lining assemblies, brake hoses, brake fluids and brake discs / drums.
ATIC has launched a global certification solution for brake related parts based on the industry experience, which provides a summary of the mandatory certification requirements for brake related parts for the aftermarket in hot countries/regions.
MOTOR VEHICLE BRAKE COMPONENT CERTIFICATION
ATIC combs out the global certification matrix of the Motor vehicle brake components, from national regulations/standard requirements, regulatory authorities, certification processes, test items, etc.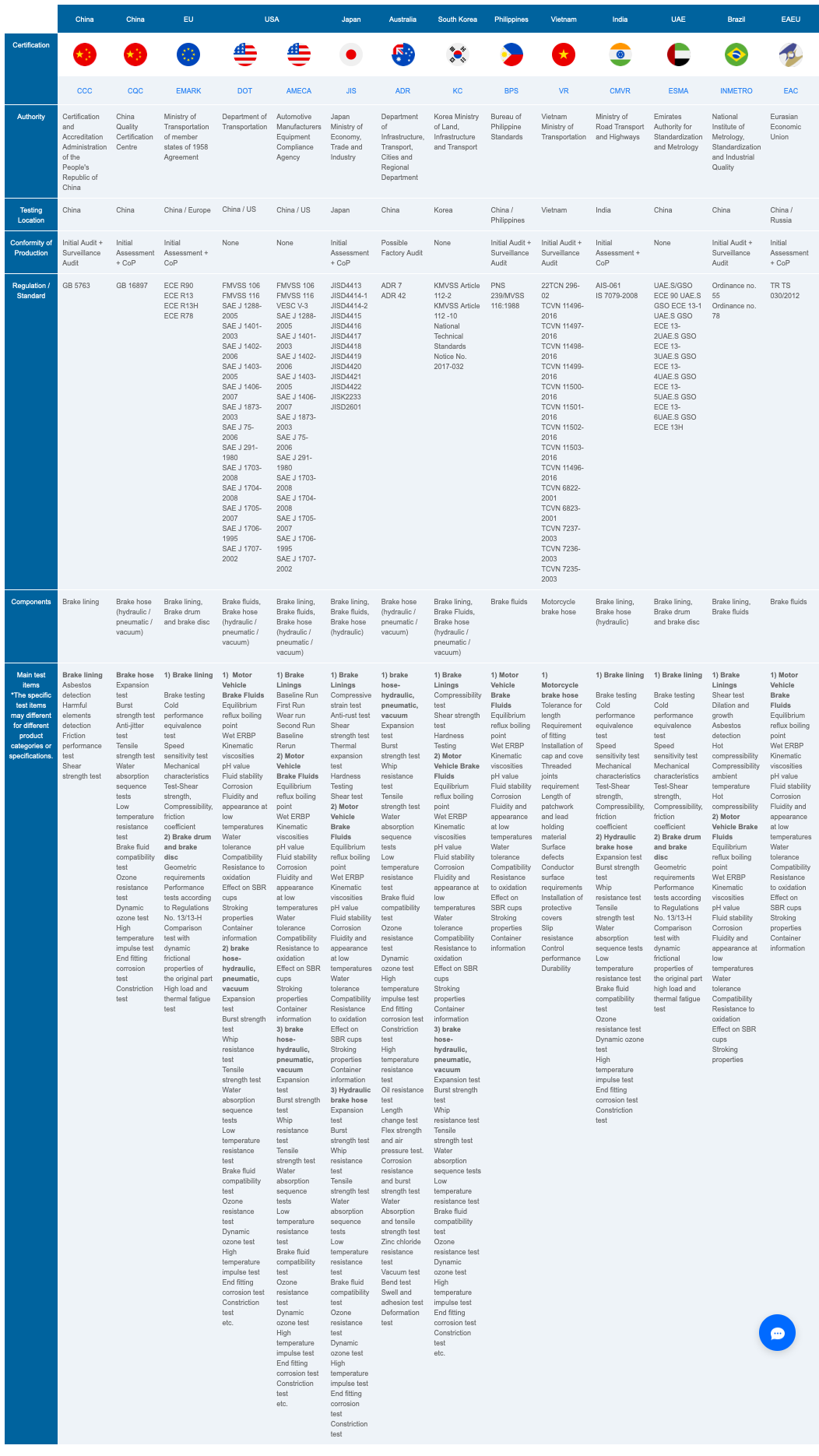 A BRIEF ANALYSIS OF NATIONAL CERTIFICATION IS AS FOLLOWS:
China: CCC certification and CQC certification. CCC certification has once included brake hoses. The Certification and accreditation Administration of the People's Republic of China (CNCA), issued implementation rules in August 2014 for compulsory product certification of motor vehicle brake hoses, which were implemented in January 2015. However, in June 2018, CNCA issued the Announcement No. 11 of 2018, removing the motor vehicle brake hoses from the compulsory certification product scope. Although CCC mandatory certification is no longer required for motor vehicle brake hoses since June 2018, manufacturers can still consider CQC mark certification (voluntary certification) as appropriate. China Quality Certification Centre has included brake hoses in CQC Mark certification scope. In addition to brake hoses, M, N vehicle brake assemblies and tandem dual-chamber hydraulic brake master cylinder assemblies for automobiles are also in CQC Mark certification products scope (not shown in the matrix diagram yet).
European Union: E-mark certification, The United Nations Economic Commission for Europe (UNECE) stipulated UN regulation R90 to conduct mandatory certification of replacement brake lining assembly, replacement drum brake lining, replacement brake disc, replacement brake drum for motor vehicle spare parts. The E-mark certification of replacement brake lining assembly, replacement drum brake lining is particularly strict, the test items are divided into performance tests (braking performance, braking performance comparison tests, speed sensitivity tests) and mechanical tests (shear strength, compression ratio, Material hardness). Among them, the braking performance test needs to be carried out with the entire vehicle according to the regulations UNECE R13, R13H or R78. For interchangeable parts of brake discs and brake drums, requires three tests including braking performance tests (in accordance with UNECE R13, R13H), dynamic friction characteristics comparison tests with original parts, and integrity tests. And the former two tests can be carried out on the vehicle or the dynamometer.
North America: DOT certification and AMECA certification. Brake components which need to comply with US Federal Safety Regulations FMVSS are brake hoses and brake fluids, which shall be certified according to regulations 49 CFR Part 571 FMVSS 106 and 49 CFR Part 571 FMVSS 116. In addition, manufacturers planning to enter the United States can also consider the American industry certification - AMECA certification as appropriate. The Automotive Manufacturers Equipment Compliance Agency takes brake pads, brake fluid and brake hoses into the scope of certification. It should be noted that the brake pads which are not in the scope of DOT certification, can apply the AMECA certification according to the standard VESC V-3, SAE J2975.
Japan: JIS certification, Japan Industrial standard formulated by the Japan Industrial Standards Survey Council (JISC), which is a Japanese national-level certification standard. The JIS standards for brake lining are JISD4413, JISD4414-1, JISD4414-2, JISD4415, JISD4416, JISD4417, JISD4418, JISD4419, JISD4420, JISD4421, JISD4422; for brake fluid are JISK2233, JISD4420; and for hydraulic brake hoses is JISD2601. Manufacturers of brake linings, brake fluids, and hydraulic brake hoses entering the Japanese market may consider JIS certification (optional) as appropriate.
Australia: ADR certification, which is responsible for the Australian Vehicle Safety Standards Agency VSS, tests and certifies hydraulic brake hoses, pneumatic brake hoses and vacuum brake hoses in accordance with ADR7 and ADR42 regulations.
South Korea: KC certification. The aftermarket brake lining, brake fluid and brake hoses in South Korea need to apply KC certification. The brake lining and brake hose, supervised by the Ministry of Transport of Korea, need to be tested according to KMVSS article 112. The brake fluid certification, supervised by Ministry of Trade, Industry and Energy of Korea, is required to comply with Korean consumer product safety verification standards.
Vietnam: VR certification. The Vietnam Motor Vehicle Register take aftermarket motor vehicle parts into the scope of compulsory certification from April 2018. Motorcycle brake hoses within the scope of VR certification, need to comply with the standard 22TCN 296-02. Inspection tests (about length, fitting end to brake wire conductor, installation of cap, threaded joints, surfaces, protective covers, etc.) and performance tests (including slip and slip resistance drag force tests, control performance tests, and durability tests).
Philippines: BPS certification. Regulated by the Bureau of Philippine Standards (BPS), there are eighty-six (86) products and systems covered under the BPS' Mandatory Product Certification Schemes, which are classified into three (3) product groups, namely, Electrical and Electronic Products, Mechanical/Building & Construction Materials, and Chemical & Other Consumer Products and Systems. The brake fluid within the scope of BPS certification, need be test according to PNS 239 / MVSS 116: 1988 standard.
India: CMVR certification, which belongs to category 5 certification, generally requires factory audits and Indian local testing (sample should be test in local designated institutions in India). The brake components within the scope of India's CMVR certification include brake lining and hydraulic brake hoses in accordance with regulations AIS 061 and IS 7079-2008. Among them, the CMVR certification of the brake lining refers to the UNECE R90 test standard, and the braking performance test needs to be carried out on vehicle.
Brazil: INMETRO certification is the responsibility of the Brazilian National Institute of Metrology, Standardization and Industrial Quality. Motor vehicle brake lining and brake fluids need to be certificated according to Ordinance No. 55 and Ordinance No. 78. The testing of brake linings is mainly mechanical testing. According to the classification of light or heavy-duty and drum brake or disc brake, the brake linings take some test items from shear, expansion, asbestos detection, high-temperature compression, and ambient temperature compression tests.
Argentina: CHAS certification, Argentina CHAS certification (Certificate of Approval of Auto Parts and / or Security Elements) is a certification for aftermarket automotive parts, according to IRAM AITA 6-C2 and IRAM AITA, 6H1, 6H2, 6H3, 6H4, 6H5, 6H10 standard, carry out testing for motor vehicle brake lining and brake fluid.
UAE: ESMA certification, UAE Standardization and Metrology Bureau, stipulated Regulations and standards including UAE.S GSO ISO 6311, UAE.S GSO ISO 6312, UAE.S GSO ISO 6313, UAE.S GSO ISO 6314, UAE.S GSO ISO 6315, etc., to conduct compulsory certification of brake pads. The test items mainly include internal shear strength, shear, effects of heat on dimensions and form test, resistance to water, saline solution, oil and brake fluid test and seizure to ferrous mating surface test so on.
Customs Union: EAC certification, also known as CU-TR certification, is a critical certification for manufacturers to enter into the Russian CIS countries. According to the regulation TR TS 030/2012, motor vehicle brake fluid which is defined as a special fluid, is in the product scope of EAC certification.
CERTIFICATION SERVICE PROVIDED BY ATIC
ATIC's vehicle certification experts have an average of more than 10 years of experience in motor vehicle certification, and are familiar with national motor vehicle brake components certification processes, local regulations, and testing requirements. ATIC cooperates with multinational official organizations and integrates high-quality testing and certification resources, to provide a global one-stop certification service for manufacturers to complete the certification cycle, including certification application, documentation preparation, regulatory guidance and training, and pre-testing and test arrangement, etc. With the best service and the fastest efficiency, AITC assist the manufacturers to enter the global market with one-stop certification.
MOTOR VEHICLE BRAKE COMPONENT GLOBAL CERTIFICATION PLEASE CONTACT
Laura Yuan
Global Vehicle Regulation Research Department
Laura graduated from Xiamen University with MSc degree in the major of Analytical Chemistry.
In ATIC she is responsible for global automotive regulation and homologation system research,
focus on components global homologation solutions.
Phone: +86 020-82510156
Mail: cs@atic-cn.com