RELEASE DATE:

2021-03-19 14:23
Brief
:
The emergency call system is an automatic emergency call system for motor vehicles. The purpose of the vehicle system is to send a call for help to the public answering platform automatically or manually when the vehicle encounters a traffic accident or the occupants encounter an unexpected situation, which can provide information such as the location of the vehicle, shorten the time of emergency rescue in accidents by starting rescue operations more quickly, reduce casualties and traffic congestion, and reduce medical costs.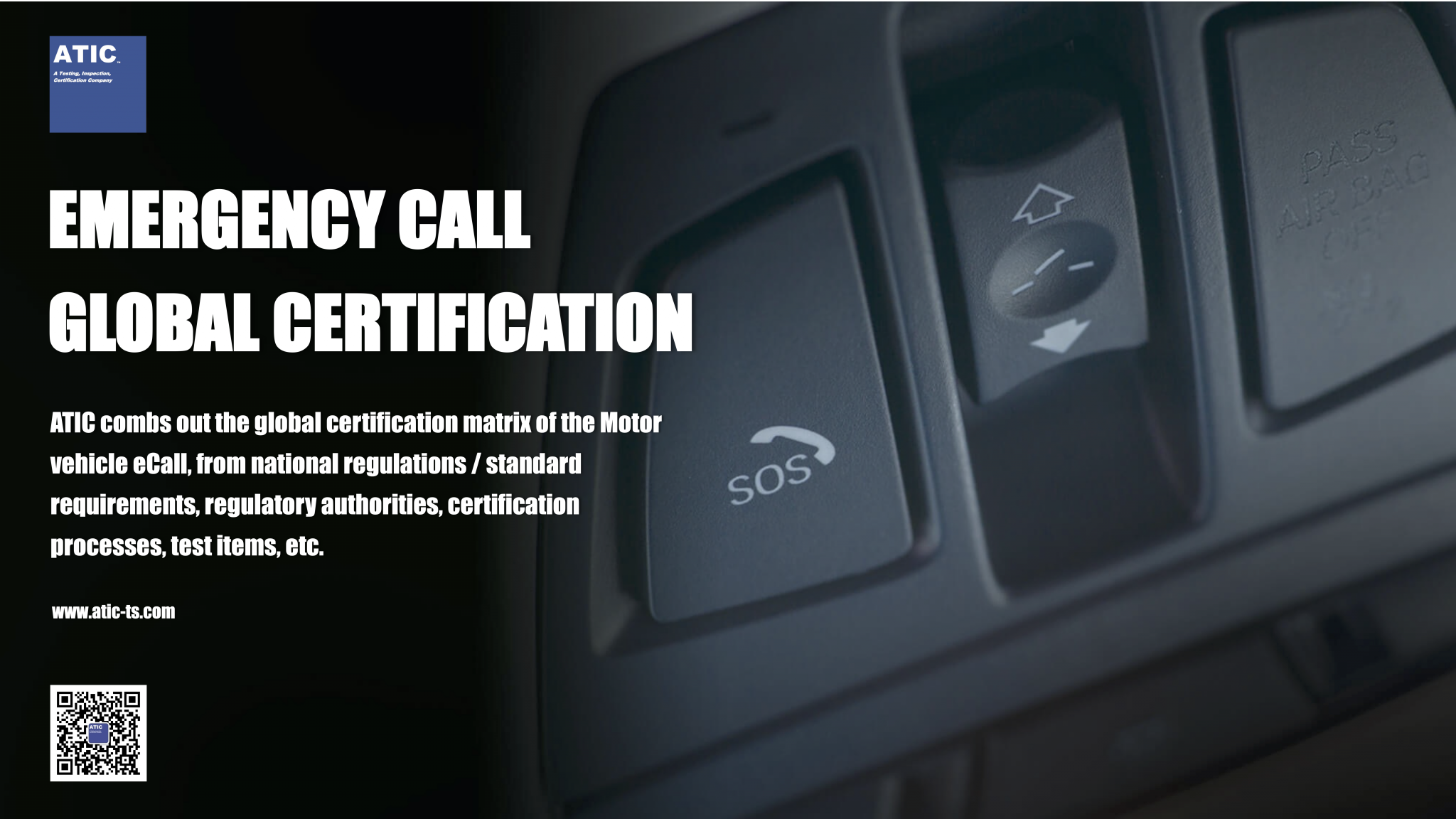 MOTOR VEHICLE EMERGENCY CALL GLOBAL CERTIFICATION

The operation of the eCall system involves the eCall in-vehicle system, GNSS satellite navigation system, mobile network system, public safety answering center, hospitals and other treatment centers.
ATIC combs out the global certification matrix of the Motor vehicle eCall, from national regulations/standard requirements, regulatory authorities, certification processes, test items, etc.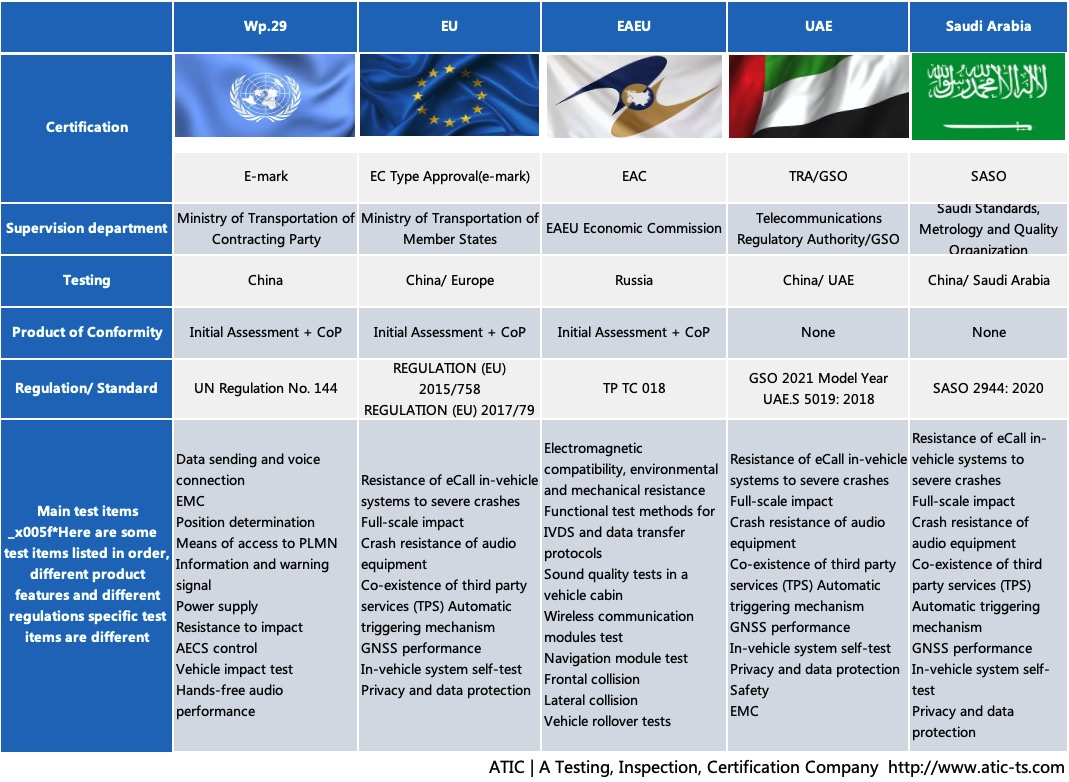 A BRIEF ANALYSIS OF NATIONAL CERTIFICATION
Wp.29: E-mark certification, UN ECE R144, developed by the United Nations Economic Commission for Europe, can certify the three tiers of AECC, AECD, and AECS. The main test items are electromagnetic compatibility EMC, positioning function, impact resistance, in-vehicle system self-test, vehicle crash test, audio test, etc. From July 19, 2018, the emergency call system regulation UN R144 came into effect.
European Union: e-mark certification, The EU EU 2015/758 and EU 2017/79 propose technical requirements and test methods for eCall, which can be certified at the component, STU, and system level, with the main test items being location function, impact resistance, in-vehicle system self-test, coexistence with Third Party Services (TPS), vehicle crash test, and audio test. As of March 31, 2018, eCall will be mandatory for the certification of new high-volume M1 and N1 models.
Eurasian Economic Union: EAC certification, a product certification system developed and implemented by the Eurasian Economic Union. The Eurasian Economic Union, also known as the Eurasian Economic Commission, was formerly known as the Customs Union, consisting of Russia, Belarus and Kazakhstan, which was subsequently joined by Kyrgyzstan and Armenia and established in 2015. The motor vehicle emergency call system ERA-GLONASS requires mandatory EAC certification according to TP TC 018/2011. from January 1, 2017, the Eurasian Emergency Union requires mandatory installation of the ERA-GLONASS emergency call system in all Class M and N vehicles.
UAE: TRA certification, the regulatory body of TRA certification is the UAE Telecommunications Regulatory Authority, only auto parts products with a certificate of conformity issued by TRA are allowed to enter the UAE market. According to GSO 2021 Model Year and UAE.S 5019: 2018, from 2021 model year, i.e. 2020, all passenger cars and trucks less than 3.5 tons (annual import volume > 75 units) must be equipped with eCall and meet UAE.S 5019: 2018, and then undergo TRA certification S 5019:8 and then TRA certified before they can enter the UAE market.
Saudi Arabia: According to the Saudi Arabian regulation SASO 2944: 2020, the emergency call system eCall for motor vehicles will be certified soon. According to the regulation, the scope of application is for light vehicles with a maximum gross weight of 3,500 kg exported to Saudi Arabia and used primarily for transporting passengers and goods. According to the official SASO update, the installation requirements for eCall are as follows:
1) Delaying the implementation date of SASO 2944:2020 Phase I. New models produced in 2023 Model Year will not be required to be equipped with eCall;
2) Implementation of the second phase of the regulation only, which makes eCall mandatory for all light duty vehicles exported to Saudi Arabia from the 2025 model year onwards.
ATIC GLOBAL HOMOLOGATION RESEARCH AND VEHICLE CERTIFICATION DEPARTMENT
ATIC Automotive Regulation Research and Automotive Homologation Team is dedicated to global automotive regulation research, homologation procedure research and homologation project management. Based on ATIC digital platform, our team provides a series of automotive compliance services including market access solutions, technical verification, regulation interpretation, regulation database and update, training and Q&A, etc. ATIC automotive experts are nominated by European technical service and authorities covering all EU/UN regulations for M/N/O/T/L/NRMM category vehicle, system, component and separate technical unit. Authorities includes Netherlands (e/E4), Sweden (e/E5), Luxembourg (e/E13), Ireland (e/E24), Cyprus (e/E49) and San Marino (E57).
GLOBAL COMPLIANCE AND CERTIFICATION FOR EMERGENCY CALL OF MOTOR VEHICLE PLEASE CONTACT

Emily Shui
Global Vehicle Regulation Research Department
Emily is Researcher in ATIC, she holds a Master's degree from Chongqing University of Technology.
Emily is specializing in cross-disciplinary compliance and certification solutions,
as well as ATIC regulation database development
Phone: +86 020-82510156
Mail: cs@atic-cn.com