RELEASE DATE:

2019-11-18 12:26
Brief:
Motor vehicle tires (or tyre) is a ring-shaped component that surrounds a wheel's rim. In direct contact with the ground, they ensure good adhesion between the wheel and the road surface, and improve the traction of the car. Tires together with vehicle suspensions, also alleviate the impact of the car during driving to ensure a smoother and more comfortable operation. The performance of tires is critical to the safety of the motor vehicle, in order to ensure vehicle safety and road traffic safety, many countries have mandatory certification requirements for motor vehicle tire of the aftermarket.

There are different regulations and standards for mandatory certification of motor vehicle tires in various countries. In general,the main test items are tires markings verification, tires measuring method, load/speed performance tests, endurance-test, strength performance test, rolling sound emission test, rolling resistance test and wet grip test, ect.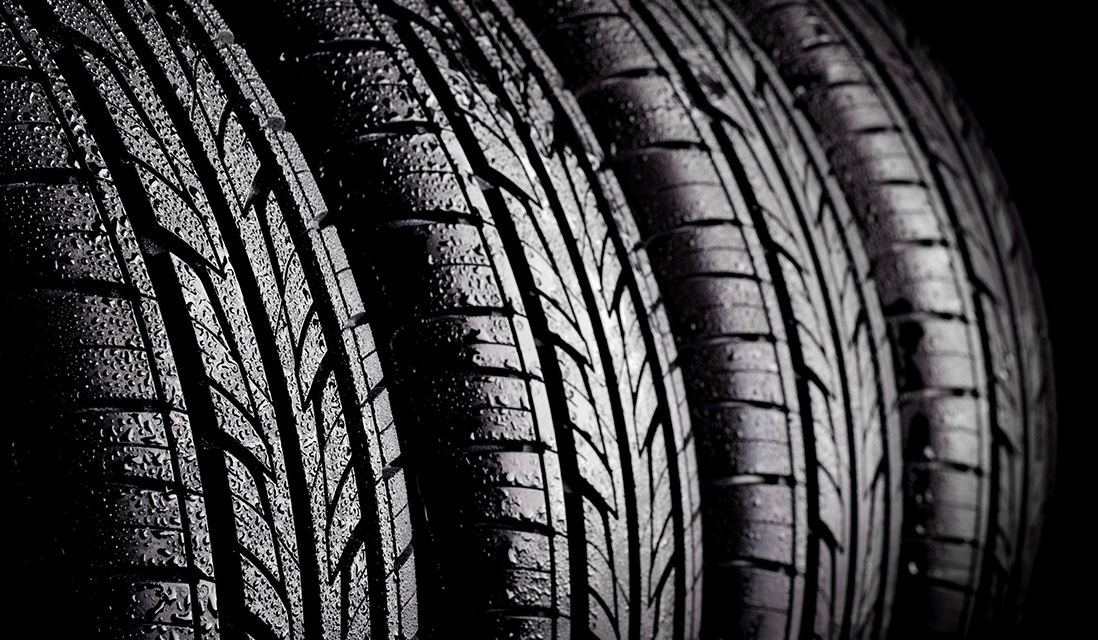 MOTOR VEHICLE TIRES GLOBAL CERTIFICATION
ATIC combs out the global certification matrix of the Motor vehicle tires, from national regulations/standard requirements, regulatory authorities, certification processes, test items, etc.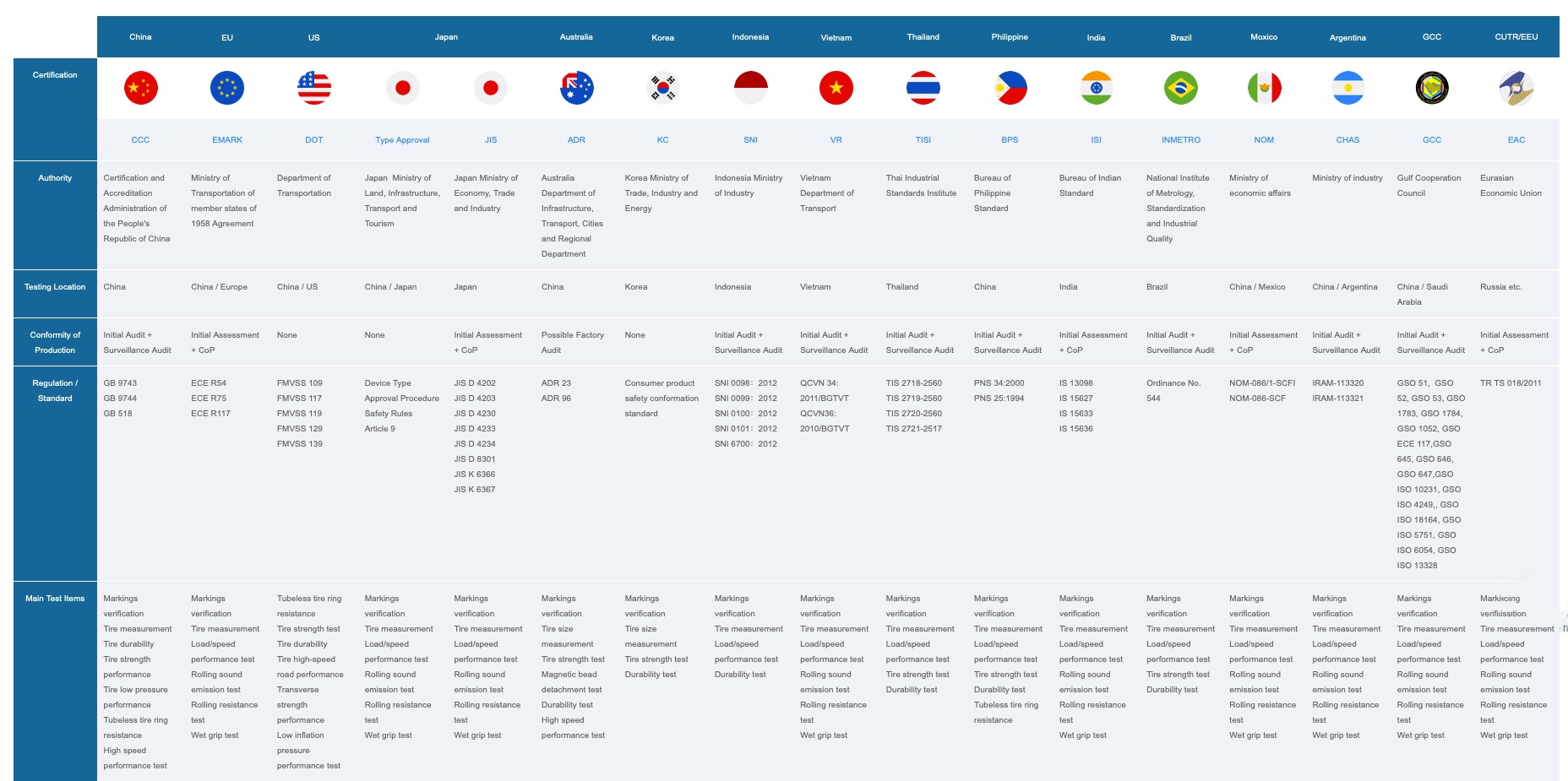 A BRIEF ANALYSIS OF NATIONAL CERTIFICATION IS AS FOLLOWS:
EU: E-Mark certification, is compulsory certification of passenger vehicles and trailers, commercial vehicles and trailers, motorcycles / scooters according to UNECE R30, R54, R75. And the UNECE R117 regulations were announced by the European Economic Commission (ECE) On April 6, 2005, requiring that from October 1, 2009, tires entering the EU market must meet the requirements of UNECE R117 besides UNECE R30 or UNECE R54.

America: DOT certification, all motor vehicle tires must meet the FMVSS standard requirements and be registered in DOT, and the corresponding DOT mark and certification number should be printed on the tire products.

Japan:Tire certification in Japan, is required to comply with the ninth article of the Japanese Ministry of Transportation's security standards. Pneumatic tires for passenger cars; pneumatic tires for trucks, buses and trailers; and tire/tired tires for tires were in the mandatory certification scope. It should also be noted that the Japanese industrial standard JIS has published several standards related to tires for cars and motorcycles. Manufacturers entering the Japanese market may consider JIS certification as appropriate.

Australia: ADR certification, is supervised by the Australian Vehicle Safety Standards Agency VSS, mandatory certification of passenger cars, commercial vehicle tires according to ADR23 and ADR96 regulations.

Korea: KC certification, is a mandatory certification system for product safety in Korea. The certified products include auto parts, child safety products, electrical appliances and consumer products. Motor vehicle tires need to comply with the Korean consumer product safety conformation standard and conduct mandatory KC certification.

Southeast Asia:the tires in Indonesia, Vietnam, Thailand and the Philippines, are compulsory, referred as SNI certification, VR certification, TISI certification and BPS certification, respectively. The certification requires factory audit and testing. Among them, in Indonesia, Vietnam, and Thailand, sample testing should be done in the local designated laboratory.

India: ISI certification, similar to the above-mentioned Indonesia, Vietnam, Thailand certification, is a Type-5 certification, requires factory audit and sample delivery to the local designated laboratory in India for testing. The tire ISI certification is under the responsibility of the Indian Bureau of Standards BIS. The ISI certification is a more stringent certification model with a certification period of more than half a year.

Mexico: NOM certification, needed to be compliance with NOM-086/1-SCFI (vehicle total weight of 4536 kg new radial tires and diagonal tires of any load capacity) and NOM-086/2-SCFI standard (except trucks, buses), is mandatory certification for trailers and semi-trailer vehicles with a total weight of 4,536 kg.

Brazil: INMETRO certification, responsible for the Brazilian National Institute of Metrology, Standardization and Industrial Quality, according to Ordinance No. 544 regulations, is mandatory certification for passenger cars, commercial vehicles, trailers and motorcycle tires.

Argentina: CHAS certification, is based on the IRAM113320 and IRAM113321 standards for the certification of motor vehicle tires for passenger cars and trailers, commercial vehicles (including trucks, trucks, minibuses, utility vehicles, buses) and trailers.

Gulf Cooperation Council : GCC certification, supervised GCC Standardization Organization GSO, based on a range of GSO standards (GSO 51, GSO 52, GSO 53, GSO 1783, GSO 1784, GSO 1052, GSO ECE 117, etc.), is compulsory for passenger cars, commercial vehicles, trailers and motorcycle tires.

Eurasian Union: EAC certification, also known as CU-TR certification, is a compulsory certification of the Customs Union (Eurasian Union) countries for tires of passenger cars, commercial vehicles, trailers and motorcycles.

CERTIFICATION SERVICE PROVIDED BY ATIC
ATIC's vehicle certification experts have an average of more than 10 years of experience in motor vehicle certification, and are familiar with national automotive vehicle lighting and signal devices certification processes, local regulations, and testing requirements. ATIC cooperates with multinational official organizations and integrates high-quality testing and certification resources, to provide a global one-stop certification service for manufacturers to complete the certification cycle, including certification application, documentation preparation, regulatory guidance and training, and pre-testing and test arrangement, etc. With the best service and the fastest efficiency, AITC assist the manufacturers to enter the global market with one-stop certification.


TIRES GLOBAL CERTIFICATION PLEASE CONTACT
Laura Yuan
Global Vehicle Regulation Research Department
Laura graduated from Xiamen University with MSc degree in the major of Analytical Chemistry.
In ATIC she is responsible for global automotive regulation and homologation system research,
focus on components global homologation solutions.
Phone: +86 020-82510156
Mail: cs@atic-cn.com