RELEASE DATE:

2019-11-27 11:12
Brief:
A helmet is a form of protective gear worn to protect the head. Many countries are facing the problem of a rapidly rising number of people injured or killed while riding two-wheelers – motorcycles and bicycles. A large proportion of the deaths and severe injuries result from injuries to the head. Helmets are effective in reducing the likelihood of head injuries, as well as their severity. Increasing helmet use in a country is thus an important way of improving road safety.
To ensure vehicle safety and road traffic safety, many countries have issued different regulations and standards for mandatory certification of motorcycle helmet in aftermarket. In general,the main test items are helmet markings verification, helmet measuring method, load/speed performance tests, endurance-test, strength performance test, rolling sound emission test, rolling resistance test and wet grip test, ect.
Reference [1] Helmets-A Road Safety Manual for Decision-Makers and Practitioners. World Health Organization 2006.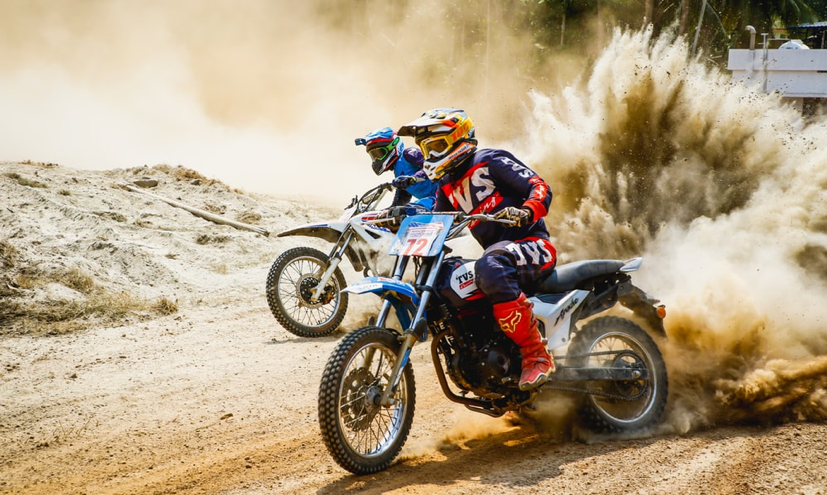 MOTORCYCLE HELMET GLOBAL CERTIFICATION
ATIC combs out the global certification matrix of the motorcycle helmet, from national regulations/standard requirements, regulatory authorities, certification processes, test items, etc.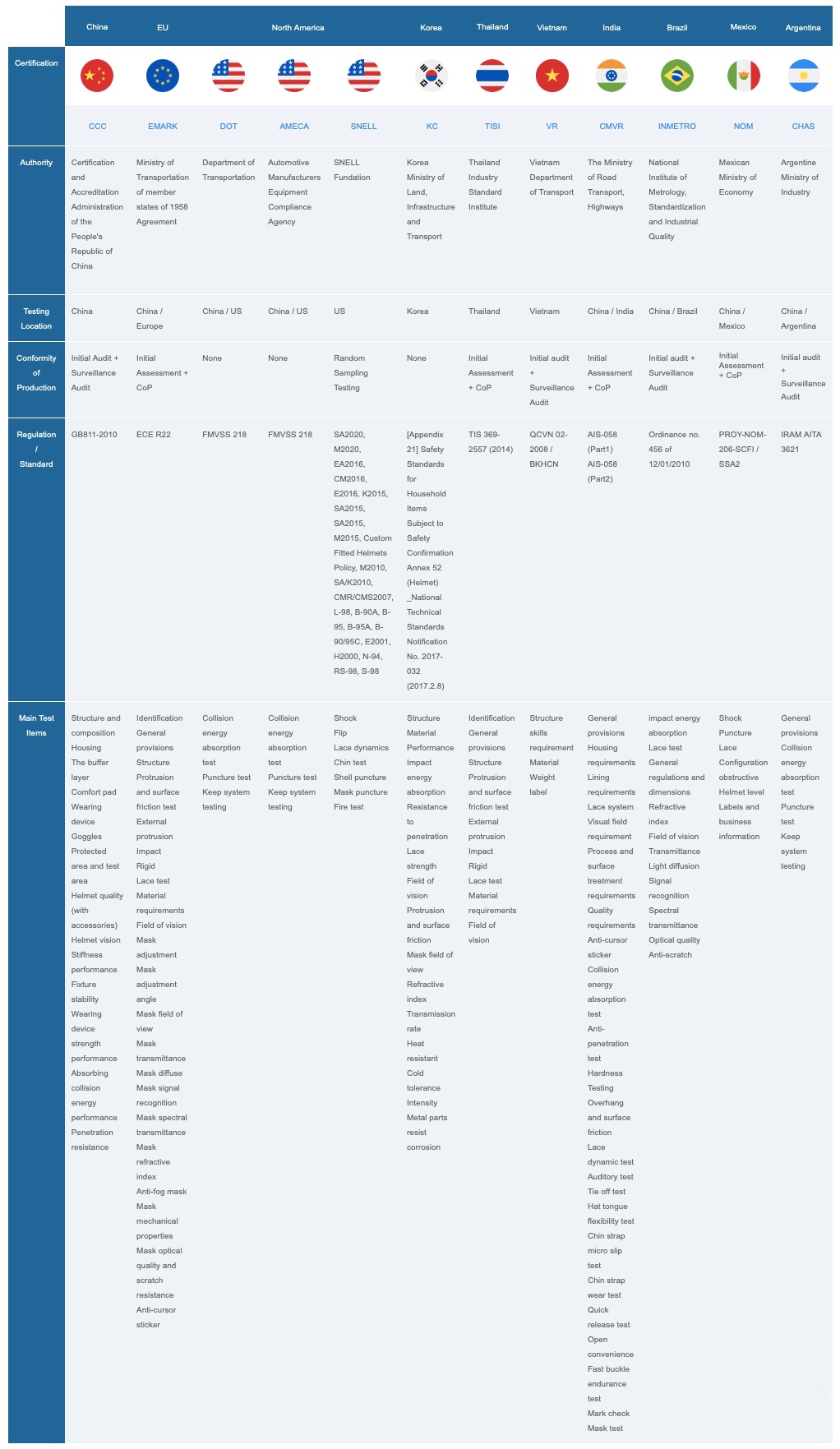 A BRIEF ANALYSIS OF NATIONAL CERTIFICATION IS AS FOLLOWS:
China: CCC certification, based on the CNCA-C11-15 (Compulsory Product Certification Implementation Rules Motorcycle Crew Helmet) regulation, to stipulate the mandatory certification procedures for helmets worn by motorcycle occupants (including drivers and occupants). The related national standard is GB811-2010, to test the helmet structure (including structural composition, housing, buffer layer, gasket, wearing device, goggles) and performance (including helmet quality, field of view, rigidity, fixture stability, wear device strength, absorption energy performance, penetration resistance, etc.)

EU: E-Mark certification, is compulsory certification for helmet and visors according to UNECE Regulation No. 22. Besides several testing for helmet such as construction, test for projections and surface friction, external projection, impact absorption, rigidity, retention system, material; there are also many testing for visors, including visor maneuvering, angle opening, field of vision, luminous transmittance, light diffusion, recognition of signal lights, spectral transmittance, refractive power, mist retardant visor, mechanical characteristics, optical quality and scratch resistance, and must label the conspicuity marking.

America: DOT certification, upervised by US Department of Transportation. All motorcycle helmet must meet the FMVSS No. 218 standard requirements and be registered in DOT, and the DOT mark should be labeled on the Helmet products. Besides the national compulsory certification system mentioned above, the US industry certification - AMECA certification and Snell certification should be noted. AMECA certification, is under the responsibility of the American Automotive Manufacturers Equipment Compliance Agency (AMECA), which is the United States specialized in providing automotive safety equipment / safety components compliance program, with a certain industry influence. The American Snell certification is the independent testing of the manufacturer's helmet by the Snell Memorial Foundation. The Snell Foundation was established in 1957. Its first helmet protection standard was released for motor racing in 1959. Subsequently, motorcycles, equestrian sports, bicycles, roller skates and skateboarding, snowboarding and skiing, and other specific helmet standards for karting were also released. These standards relate to performance, not to specific materials or designs, and the Foundation regularly uses specially designed test equipment to upgrade the specifications of its helmet performance characteristics to keep up with advances in materials, helmet technology and design. Motor vehicle helmet manufacturers may consider these industry certifications as appropriate before entering the US market.

Korea: KC certification, is a mandatory certification system for product safety in Korea. The certified products include auto parts, child safety products, electrical appliances and household products. Motorcycle helmet is classified as KC household products, and mandatory certification is required in the form of safety inspection. The applicable standard is Annex 21 of the National Technical Standard No. 2017-032.

Southeast Asia:The helmet in Vietnam and Thailand are in compulsory certification scope, referred as VR certification and TISI certification. The certification requires factory audit and local testing. Thus, the testing sample should be delivered to in the local designated laboratory.

India: CMVR certification, similar to the above-mentioned Vietnam, and Thailand certification, is a Type-5 certification, requires factory audit and sample delivery to the local designated laboratory in India for testing. The Helmet CMVR certification is tested and certified by the National Automobile Research Institute of India, ARAI, and tested according to the AIS-058 standard.

Mexico: NOM certification, the Mexican government has established relevant standards for various products according to the Mexican Federal Metrology and Standardization Law, including various products including automobile products. The main government agency for market access management is the Ministry of Economy of Mexico, which is responsible for the revision of product standards, and the recognition and authorization of product certification Institutions and laboratories. Motorcycle helmet needed to be compliance with PROY-NOM-206-SCFI / SSA2 standard.

Brazil: INMETRO certification, responsible for the Brazilian National Institute of Metrology, Standardization and Industrial Quality, according to Ordinance No. 456 regulations, is mandatory certification for motorcycle helmet with the test items including impact energy absorption, lacing test, size, refractive index, field of view, light transmittance, light diffusion, signal recognition, spectral transmittance, optical quality, and scratch resistance testing, ect.

Argentina: CHAS certification, is based on the IRAM113320 and IRAM113321 standards for the certification of motor vehicle tires for passenger cars and trailers, commercial vehicles (including trucks, trucks, minibuses, utility vehicles, buses) and trailers. is supervised Argentina Department of Industry, based on the IRAM AITA 3621 standards for the certification of motor vehicle helmet. Argentina CHAS certification, refer as Certificate of Approval of Auto Parts and / or Security Elements, according to No. 91 & No. 66 regulations issued by Argentina Department of Industry, all Auto Parts after registering in Department of Industry and obtaining CHAS certificates, would be allowed to enter Argentine market.

CERTIFICATION SERVICE PROVIDED BY ATIC
ATIC's vehicle certification experts have an average of more than 10 years of experience in motor vehicle certification, and are familiar with national motor vehicle helmet certification processes, local regulations, and testing requirements. ATIC cooperates with multinational official organizations and integrates high-quality testing and certification resources, to provide a global one-stop certification service for manufacturers to complete the certification cycle, including certification application, documentation preparation, regulatory guidance and training, and pre-testing and test arrangement, etc. With the best service and the fastest efficiency, ATIC assist the manufacturers to enter the global market with one-stop certification.


MOTORCYCLE HELMET GLOBAL CERTIFICATION PLEASE CONTACT
Laura Yuan
Global Vehicle Regulation Research Department
Laura graduated from Xiamen University with MSc degree in the major of Analytical Chemistry.
In ATIC she is responsible for global automotive regulation and homologation system research,
focus on components global homologation solutions.
Phone: +86 020-82510156
Mail: cs@atic-cn.com