RELEASE DATE:

2019-09-06 10:48
Brief:
The vehicle wheel is a circular block of hard and durable material that fixes the inner edge of the tire, supports the tire and bears the load together with the tire. Therefore, its performance is critical to the safety of the car. In order to ensure vehicle safety and road traffic safety, many countries have mandatory certification requirements for the wheel of the aftermarket.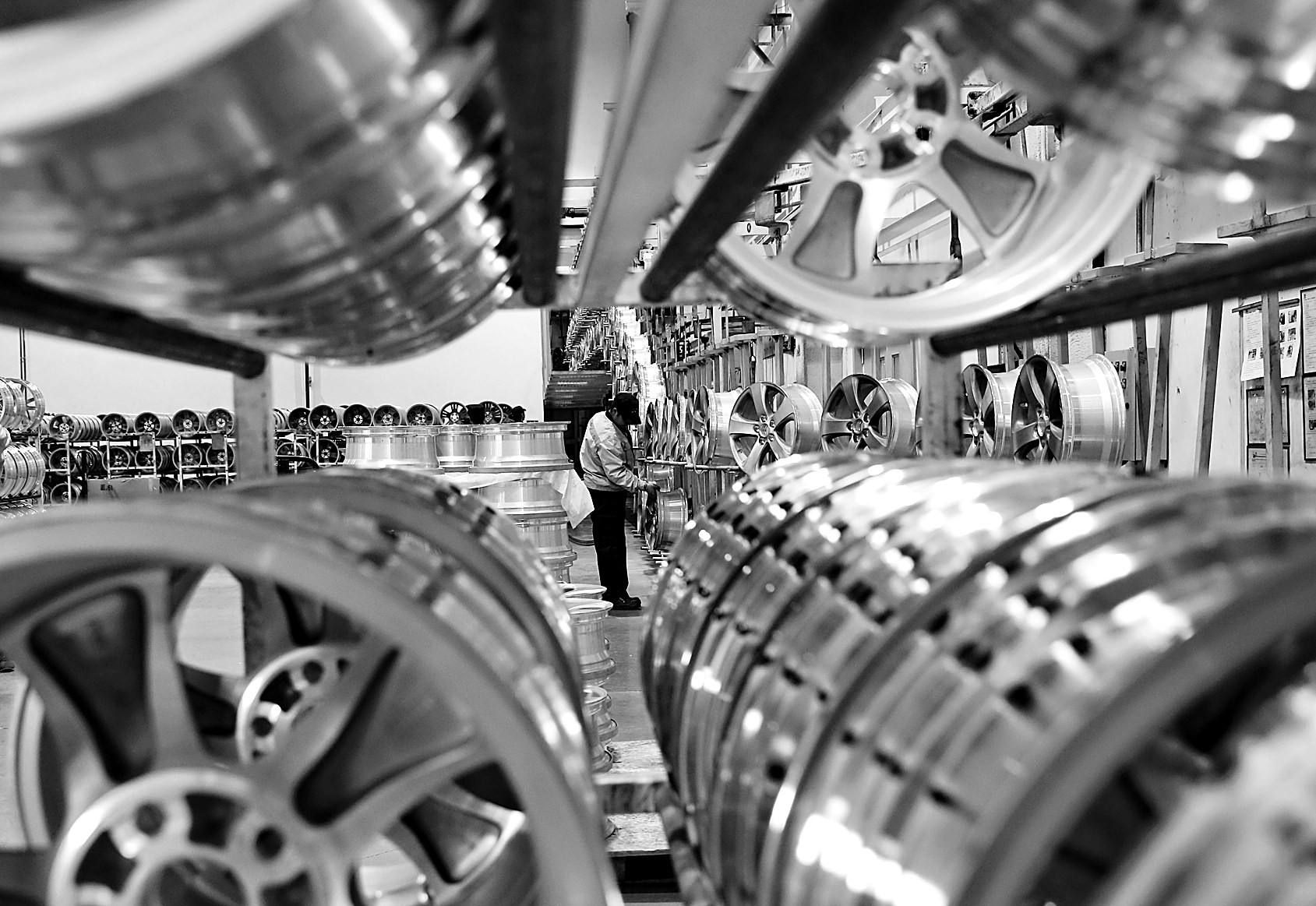 WHEEL GLOBAL CERTIFICATION
There are different regulations and standards for mandatory certification of wheel in various countries. The main test items are bending fatigue test, radial fatigue test and impact test. Due to the different geographical features and climate in different countries, there are also other tests, such as corrosion resistance, sealing test and salt. Fog test, etc.
ATIC combs out the global certification matrix of the wheel, from national regulations/standard requirements, regulatory authorities, certification processes, test items, etc.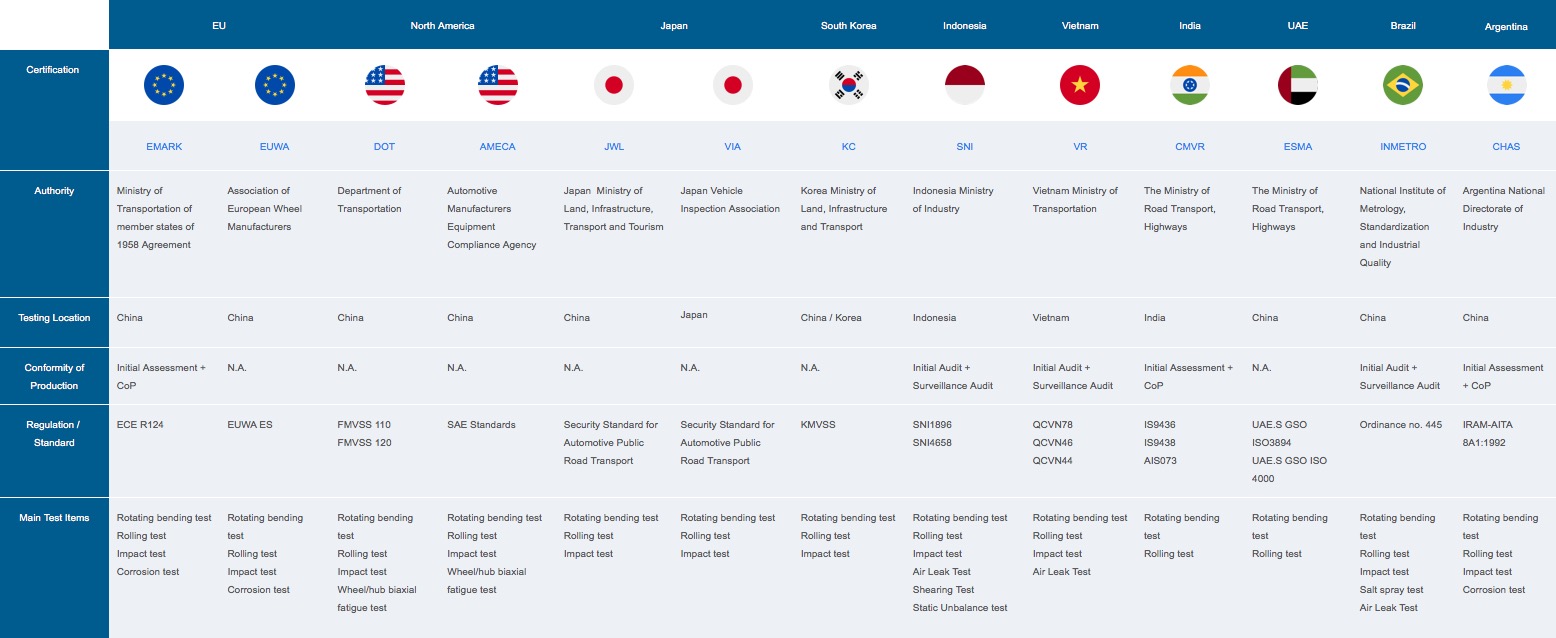 A BRIEF ANALYSIS OF NATIONAL WHEEL CERTIFICATION IS AS FOLLOWS:
EU: E-mark certification,according to UNECE R124, for the mandatory certification of passenger vehicles and their trailer hubs. The test items mainly include bending fatigue test, radial fatigue test, impact test and corrosion resistance.

America: DOT certification, all motor vehicle wheels must meet the test requirements and be registered in DOT, and the corresponding DOT mark is printed on the product. In addition, wheel manufacturers may also consider US industry-certified AMECA certification as appropriate.

Korea: KC certification, there are 13 auto parts need KC certification according KMVSS, which stipulated by the Ministry of Land, Infrastructure and Transport of Republic of Korea, and the wheels of passenger cars and CMB and trucks below 3.5t are in the mandatory scope.

Southeast Asia: In Indonesia, Vietnam and India, there are compulsory, SNI certification, VR certification and CMVR certification of the wheels. The certification requires factory audit and sample delivery to local laboratory testing. Indonesia's SNI certification is more stringent that the Indonesian auditor would quota samples while auditing the factory.

Emirates: EMSA certification, headed by the UAE Standardization and Metrology Bureau, the wheels of passenger cars and Commercial vehicles should comply with standards such as UAE.S GSO ISO 3894; UAE.S / GSO ISO 4000 1; UAE.S / GSO ISO 4000 2; and UAE.S GSO 3894.

Brazil: INMETRO certification, mainly according to the Ordinance No. 445 regulations, the wheels of passenger car and commercial should comply with the related standards.

Argentina: CHAS certification, based on the IRAM-AITA 8A1:1992 standard for the motor vehicle wheels except trucks, buses, trailers and semi-trailers.

Japan: The wheels in Japan need to comply with the ninth article of the Japanese Ministry of Transportation's security standards. The standard is mandatory for light alloy wheels for passenger cars, trucks and large automobiles, with printing JWL (for passenger cars) or JWL-T (for trucks and large trucks) in wheels. In addition, Japan's special certification system makes industry certification particularly important. The Japan Vehicle Inspection Association's VIA certification is a necessary certification for the light alloy wheels entering the Japanese market.

GLOBAL WHEEL CERTIFICATION SERVICE PROVIDED BY ATIC
ATIC's vehicle certification experts have an average of more than 10 years of experience in motor vehicle certification, and are familiar with national wheel certification processes, local regulations, and testing requirements. ATIC cooperates with multinational official organizations and integrates high-quality testing and certification resources, to provide a global one-stop certification service for manufacturers to complete the certification cycle, including certification application, documentation preparation, regulatory guidance and training, and pre-testing and test arrangement, etc. With the best service and the fastest efficiency, AITC assist the wheel manufacturers to enter the global market with one-stop certification.


HOMOLOGATION PLEASE CONTACT


Laura Yuan
Global Vehicle Regulation Research Department
Laura graduated from Xiamen University with MSc degree in the major of Analytical Chemistry.
In ATIC she is responsible for global automotive regulation and homologation system research,
focus on components global homologation solutions.
Phone: +86 020-82510156
Mail: cs@atic-cn.com