RELEASE DATE:

2021-04-13 17:00
Brief:
Contracting Parties applying individual UN Regulations related to power-driven vehicle lamps such as Nos. 4, 6, 7, 112ect shall cease to grant approvals these regulations. The manufacturer will only be able to apply for E-mark homologation in accordance with R148/149 for the lamps of power-driven vehicles and their trailers.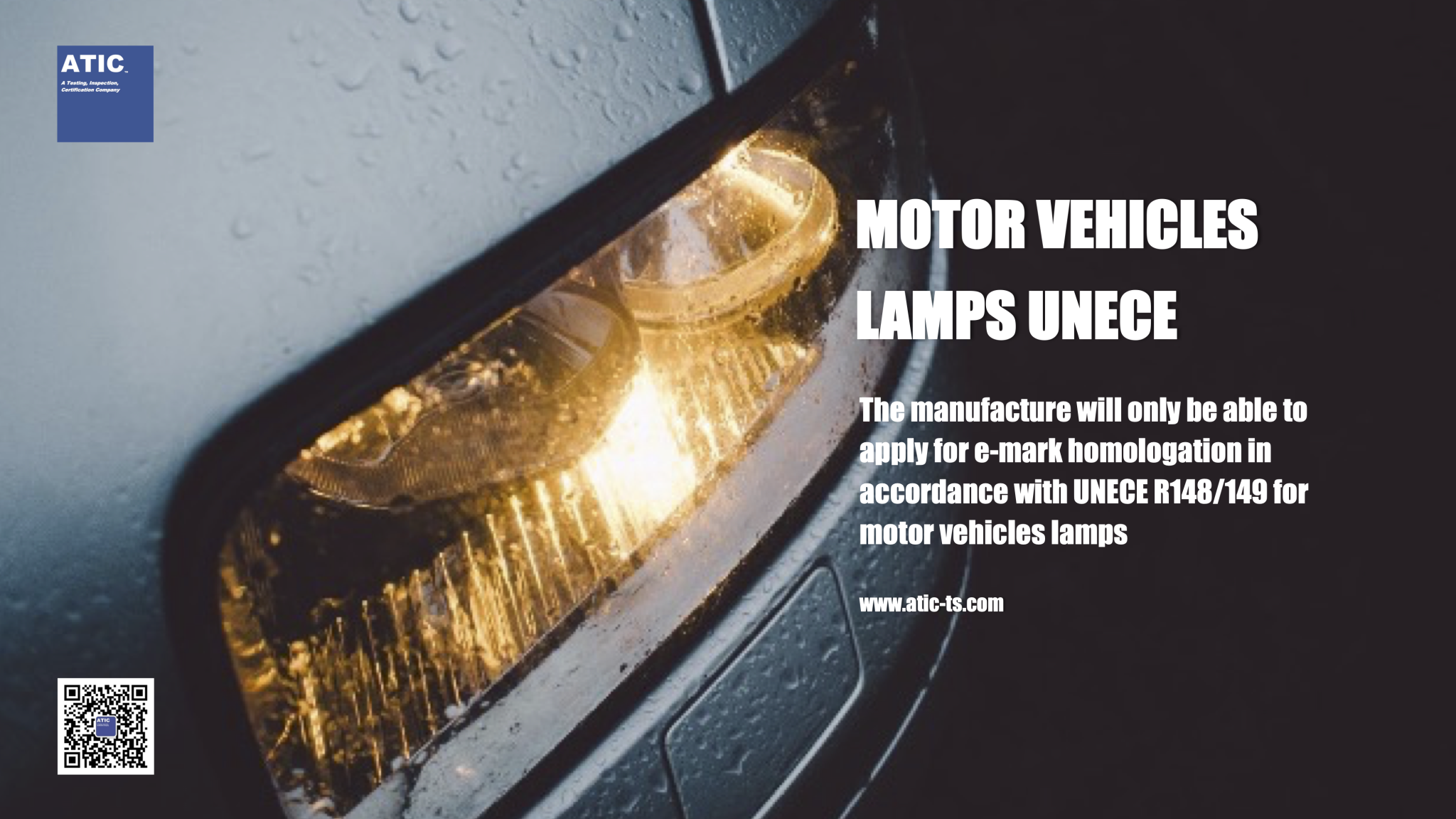 REGULATIONS UPDATE
R148 combines the provisions of individual UN Regulations Nos. 4, 6, 7, 23, 38, 50, 77, 87 and 91 into a single Regulation, and is the outcome of the World Forum for Harmonization of Vehicle Regulations (WP.29) decision to simplify the lighting and light-signaling Regulations based on the initial proposal by the European Union and Japan. In the same way, R149 combines Nos. 19, 98, 112, 113, 119 and 123.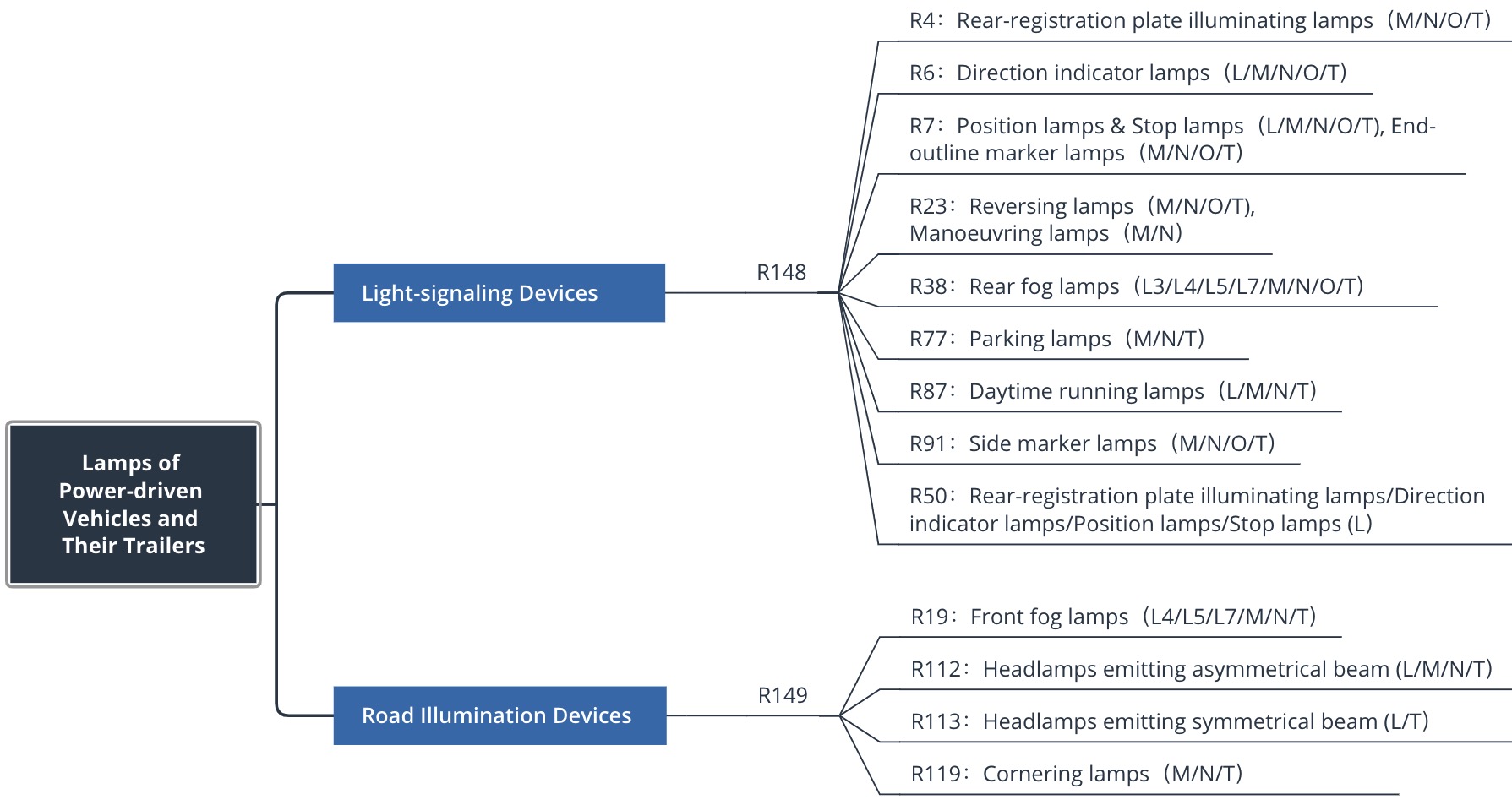 The date of R148/149 entry into force is 15 November 2019 and:
1. As from 24 months after the official date of entry into force of R148/149, Contracting Parties shall cease to grant approvals to UN Regulations Nos. 4, 6, 7, 112, etc.;
2. The certificate of UN Regulations Nos. 4, 6, 7, 112, etc. will be permanently valid, and the manufacturers as the holders can apply for extensions according to these regulations and their amendments.
3. Contracting Parties shall continue to grant approvals for devices on basis of this and any previous series of amendments to UN Regulations Nos. 4, 6, 7, 112, etc., provided that the devices are intended as replacements for fitting to vehicles in use. And Contracting Parties shall continue to allow fitting or use on a vehicle in use of a device approved to UN Regulations Nos. 4, 6, 7, 112, etc. as amended by any previous series of amendments, provided that the device is intended for replacement.
TYPE APPROVAL PROCEDURES
1. Documents preparation
2. Samples preparation and testing
3. Factory Audit(accept IATF16949 / ISO9001 certificate to instead onsite factory audit)
4. Submit reports
5. Inssurence of certificate
For the detailed type approval program, including sample requirements, test plan, the whole cycle, and cost of the project, please contact us.
ABOUT ATIC
We are a young technical service company from China, established in 2015. We have a professional and passionate team, we strive to create the best environment to attract the best experts, returnees and outstanding graduates to join us. We are committed to integrate domestic and international regulations, testing and certification resources with a global perspective in the context of globalization, and establish a new, specialized regulation research, testing and certification platform. We have established authorized or cooperative partnership with governmental departments, authorities, certification bodies and laboratories in more than 30 countries including Germany, Czech Republic, Lithuania, Turkey, United Arab Emirates, South Korea, United States, Brazil, India, Indonesia, Thailand, and Vietnam etc. With our innovative Digital Reporting System (DRS), Customer Service Platform (CSP) and self-developed Global Vehicle Regulation Database (GVRD), our compliance service covers more than 54 countires/regions globally, our testing and certification service covers more than 30 countries/regions worldwide. We serve more than 3,300 manufactures each year.
E-MARK HOMOLOGATION PLEASE CONTACT