RELEASE DATE:

2021-05-13 16:30
Brief
:
A
ustralia, officially the Commonwealth of Australia, is located between the South Pacific and the Indian Ocean, surrounded by the sea. It is the only country in the world whose territory covers an entire continent. Australia is the richest country in the southern hemisphere economy and the 12th largest economy in the world. Its total population is approximately 25.44 million. According to data from the Australian Bureau of Statistics, the number of motor vehicles in Australia at the end of 2020 is approximately 19,768,518, and per capita ownership of vehicles is is approximately 778 per thousand people, it is the second country in the world with the number of cars per capita.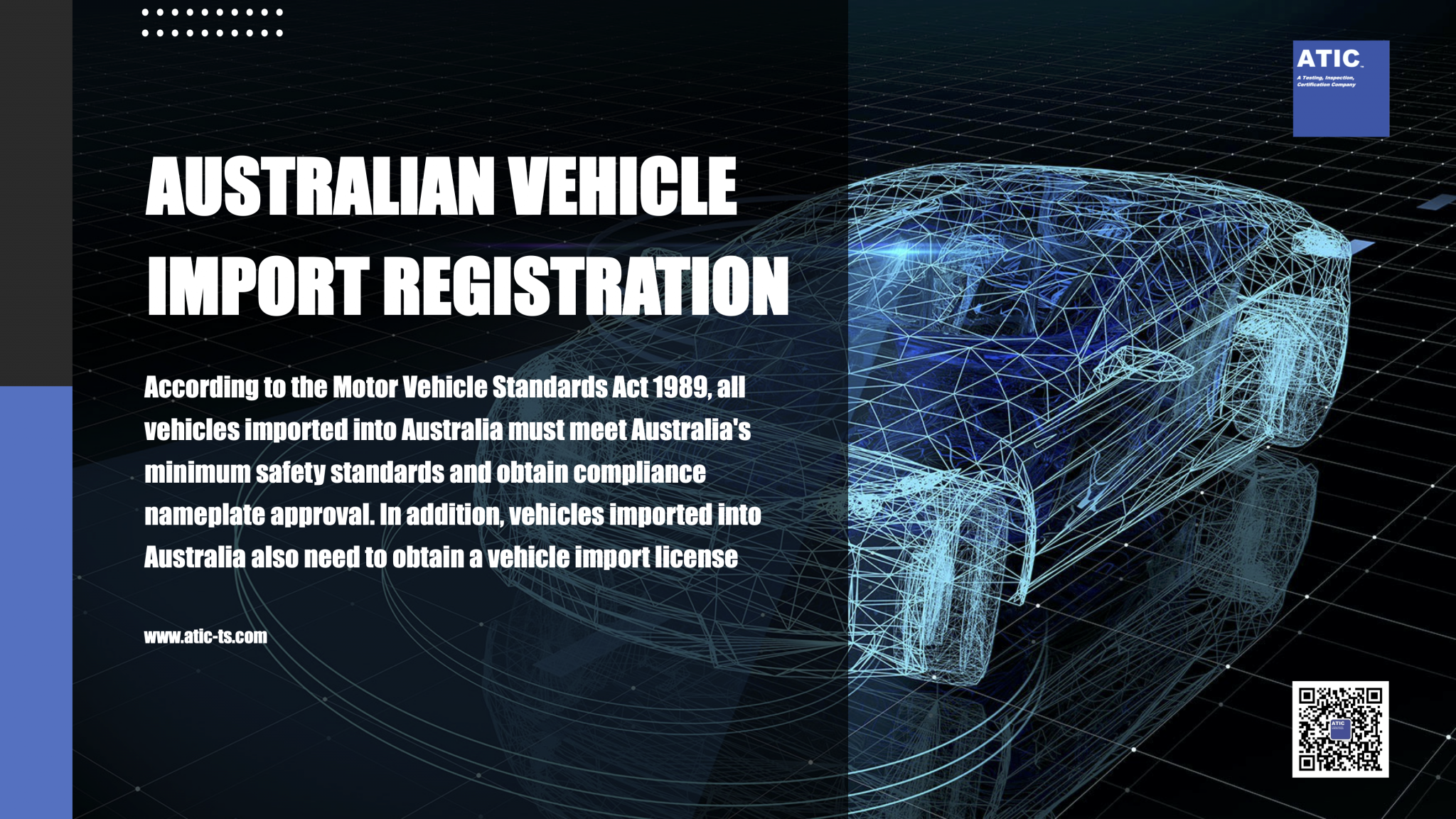 IMPORTING VEHICLES INTO AUSTRALIA
According to the Motor Vehicle Standards Act 1989, vehicles that do not have vehicle import approval is prohibited to import into the Australian market. For the safety of all road users and the environment, all vehicles imported into Australia must meet Australia's minimum safety standards and obtain compliance nameplate approval. In addition, vehicles imported into Australia also need to obtain a vehicle import license, otherwise the vehicle will be detained by the Australian customs border Force at the customs, and all costs incurred in this process will be borne by the local importer. Usually, importing a vehicle into Australia needs to choose a plan based on the type of vehicle. The whole process is very complicated, which involves multiple organizations and institutions, and takes several weeks. The following 8 steps are an overview of vehicle import into Australia.

1. CONDUCT RESEARCH
(1)Is the vehicle eligible to enter Australia?
(2)Which import option can I apply under?
(3)What costs are involved? (eg shipping, storage, delivery, permit application, taxes, Customs duties, cleaning for quarantine purposes, asbestos testing/removal, quarantine inspection costs modification costs, State or Territory registration and insurance requirements, etc)
(4)What are the timeframes involved for getting the permit and other necessary arrangements?
(5)What documentation do I need?
(6)What are the requirements for each government agency?
(7)Will I need to have modifications done to meet Australian standards?
(8)What are the risks involved with importing a vehicle?
2. APPLY FOR A VEHICLE IMPORT APPROVAL
We need to submit our application for import approval on the official secure client portal. Applicants for this approval must be the a genuine person who has been officially registered with the Australian Department of Transport. Domestic manufactures generally choose an official registered agent in Australia to submit the application for them. After the official accepts the approval application, the manufacturer will be notified by email whether their approval has been approved or rejected.
3. RECEIVE VEHICLE IMPORT APPROVAL
After the official approval of the vehicle import permit application, the vehicle import approval will be sent to the manufacturer by mail. Applicable vehicle types will be included in the approval letter
Government agency: Department of Infrastructure, Transport, Regional Development and Communications
4. ARRANGE SHIPPING OF VEHICLE
Before transporting the vehicle, ensure car is steam cleaned inside and outside to remove any materials that may pose a quarantine risk. Normally, it is recommended that the manufacturer remove all air-conditioning gas and arrange for asbestos testing and removal in advance.
Government Agencies: Department of Agriculture, Water and the Environment, and the Department of Home Affairs
(1)Lodge an import declaration
(3)Pay Goods & Services Tax (GST)
(4)Pay Luxury Car Tax, if required
(5)Ensure there is no asbestos
Government agency: Department of Home Affairs
6. MEET AUSTRALIAN QUARANTINE REQUIREMENTS
Lodge a Quarantine Entry with the Department of Agriculture, Water and the Environment and arrange inspection appointment (you or your broker may need to be present)
Government agency: Department of Agriculture, Water and the Environment
7. MEET IMPORT APPROVAL CONDITIONS
(1)Arrange for modification of vehicle if necessary
(2)Conduct testing and develop evidence of compliance
(3)Apply for identification plate approvals or supply to the market approvals if necessary
Apply to register the vehicle in the relevant State or Territory
Government agencies: State Road and Transport Authorities
As the official registered agent (Registration No.: A16386), ATIC provides Australian vehicle certification services to whole vehicle and component manufacturers mainly in China.
ATIC is a young technical service company from China, established in 2015. ATIC is committed to integrate domestic and international regulations, testing and certification resources with a global perspective in the context of globalization, and establish a new, specialized regulation research, testing and certification platform. With innovative Digital Reporting System (DRS), Customer Service Platform (CSP) and self-developed Global Vehicle Regulation Database (GVRD), ATIC's compliance service covers more than 54 countries/regions globally, testing and certification service covers more than 30 countries/regions worldwide. ATIC serve more than 3,300 manufactures each year.
AUSTRALIAN
CERTIFICATION PLEASE CONTACT
Senior Sales Engineer

Graduated from Chang'an University with a major in vehicle engineering and served for well-known bus company in vehicle testing positions.
In ATIC, Aiden is now committed to improve customer experience and relationship with systematic, professional and digitalized methods and practices
Phone: +86 020-82510156
Mail: cs@atic-cn.com