RELEASE DATE:

2023-08-29 18:15
Brief: Children's Product Certificate (CPC), which certifies by the manufacturer or importer that its children's product complies with all applicable children's product safety rules (or similar rules, prohibitions, standards, or regulations under any law enforced by the Commission with respect to the product). Children's products are subject to a set of federal safety rules, called children's product safety rules. Determining how your product is classified enables you to identify correctly the set of children's product safety rules applicable to your product.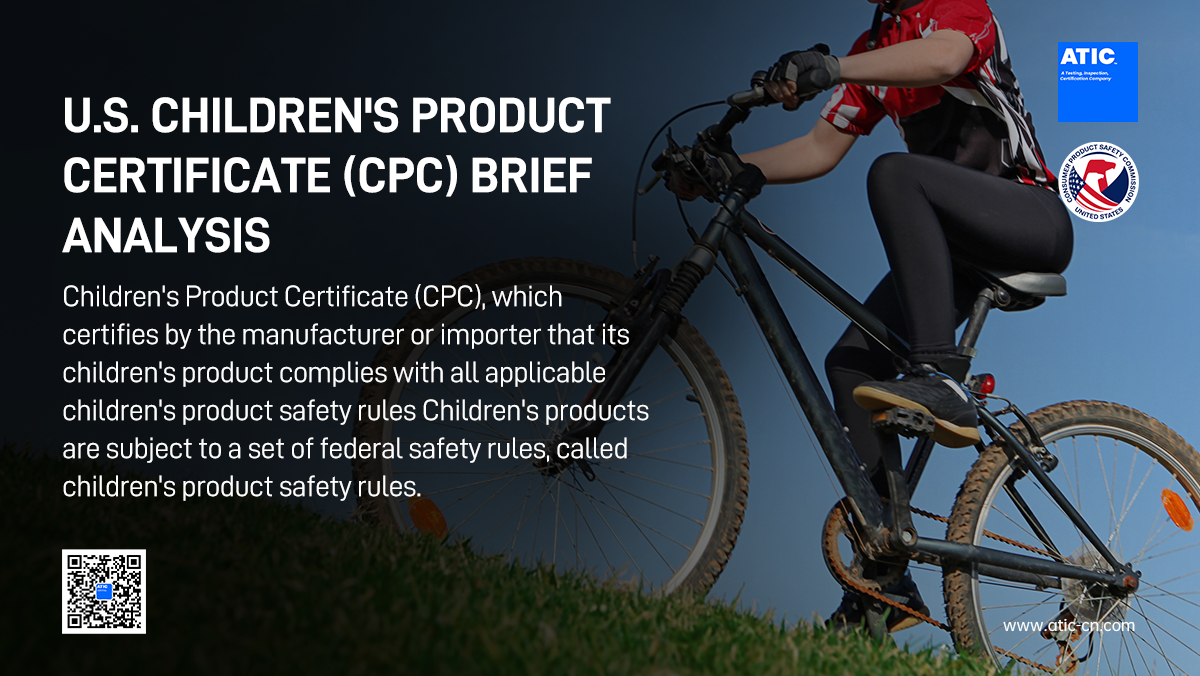 ELEMENTS REQUIRED IN A CPC
1.Identification of the product covered by this certificate;
2.Citation to each CPSC children's product safety rule to which this product is being certified;
3.Identification of the importer or domestic manufacturer certifying compliance of the product;
4.Contact information for the individual maintaining records of test results;
5.Date and place where this product was manufactured;
6.Provide the date(s) and place when the product was tested for compliance with the consumer product safety rule(s) cited above;
7.Identify any third party, CPSC-accepted laboratory on whose testing the certificate depends.
THE LIST OF CHILDREN'S PRODUCTS
| | |
| --- | --- |
| No. | Product Category |
| | |
| | |
| | |
| | |
| | |
| | |
| | |
| | |
| | |
| | |
| | |
CHILDREN'S PRODUCT REGULATION NUMBER CITATION MATRIX
| | | |
| --- | --- | --- |
| No. | Product Category | |
| | | |
| | | |
| | | |
| | | |
WHAT IS A CHILDREN'S PRODUCT
The law defines a "children's product" as a consumer product designed or intended primarily for children 12 years of age or younger. In determining whether a consumer product is primarily intended for a child 12 years of age or younger, the following factors will be considered:
A statement by the manufacturer about the intended use of the product, including a label on the product, if such statement is reasonable.
Whether the product is represented in its packaging, display, promotion, or advertising as appropriate for use by children 12 years of age or younger.
Whether the product is commonly recognized by consumers as being intended for use by a child 12 years of age or younger.
The Age Determination Guidelines issued by the Commission staff in January 2020, and any successor to such guidelines.
ATIC COMPONENT HOMOLOGATION DEPARTMENT
ATIC Component Homologation Product Line focuses on regulation research and homologation service for components and consumer products especially for European and American markets. We are committed to provide one-stop global homologation solution for automotive components and consumer products, at present ATIC is long-term TIC service partner with CATL, SVOLT, DICASTAL, XYG, FinDreams, VAST, TEXAS INSTRUMENTS etc., top tier 1 suppliers.

ABOUT ATIC
ATIC is a young technical service company from China, established in 2015. By creating a better entrepreneurial environment, we build a professional and passionate team with the best experts, returnees and extraordinary graduates. We are committed to integrate international and domestic regulations, testing and certification resources from a globalization perspective, to establish a neo-specialized regulation research, testing and certification platform. ATIC serves more than 4,500 manufactures per year.
EU CERTIFICATION PLEASE CONTACT