RELEASE DATE:

2022-12-23 15:46
Brief
:
In recent years, the United States has led the world in the installation and usage of energy storage systems. At the same time, there have been serious fires in the energy storage systems in various states, one of the causes of these events is the thermal runaway of the cell inside the energy storage system. Therefore, state governments are paying more and more attention to the fire safety of energy storage systems, and the UL9540A is a test method to evaluate the spread of large-scale thermal runaway fire of battery energy storage systems. The standard became a national standard in both the United States and Canada in 2019.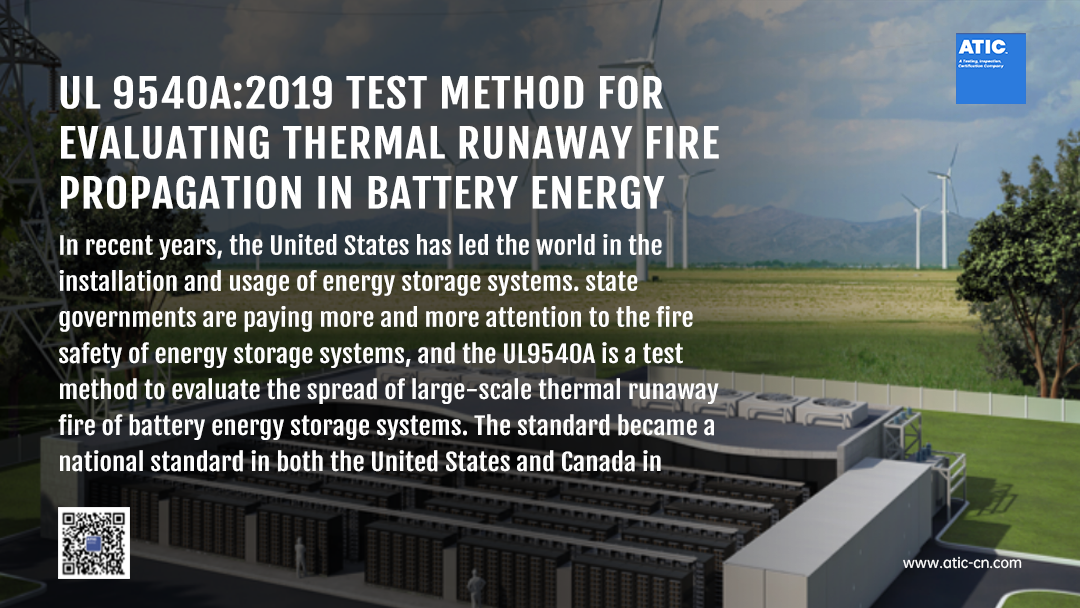 DEFINITION OF BATTERY ENERGY STORAGE SYSTEM (BESS)
Stationary equipment that receives
electrical energy and then utilizes batteries to store that energy to supply electrical energy at some future time. The BESS, at a minimum consists of one or more modules, a power conditioning system (PCS), battery management system (BMS) and balance of plant components.
Common energy storage systems: photovoltaic energy storage systems, wind farm energy storage systems
REGULATORY FRAMEWORK & TECHNICAL REQUIREMENTS:
Tests are performed at cell level, module level, unit (cabinet) level, and installation level
| | | | | |
| --- | --- | --- | --- | --- |
| | | | | |
| | | | | |
| | To determine the thermal runaway method and characteristics of the cell, and to collect and analyze the exhaust of the cell. | To verify the extent of thermal runaway spread in the module | To measure temperature and heat flux in the target unit and surrounding walls. | To evaluate the effectiveness of fire protectionsystem. |
THE PROCEDURE OF TYPE APPROVAL
Documents Preparation
Samples Preparation and Testing
Factory Audit
Obtain the license to use the UL label
ATIC EU/UN HOMOLOGATION SERVICE
ATIC experts are working under designated technical services in Europe to conduct Initial Assessment, Witness Testing and CoP assessment as authorized inspectors with authorities including e/E4 Netherland, e/E5 Sweden, e/E24 Ireland, e/E49 Cyprus.
In China, our witness laboratories cover North China, Central China and South China. No matter where your products are produced, we can provide the nearest witness test site. If your factory laboratory meets the requirements of ISO17025, we may also perform witness tests in your factory and apply type approval certificate.
ATIC leading Digital Customer Platform and Digital Reporting System make it easy for you to submit information document online, and technical reports can be generated online, minimizing document and report preparation time and improving quality, leaving valuable time to you and your customers.
ATIC COMPONENT HOMOLOGATION DEPARTMENT
ATIC Component Homologation Product Line focuses on regulation research and homologation service for components and consumer products especially for European and American markets. We are committed to provide one-stop global homologation solution for automotivecomponents and consumer products, at present ATIC is long-term TIC service partner with CATL, SVOLT, DICASTAL, XYG, FinDreams, VAST, TEXAS INSTRUMENTS etc., top tier 1 suppliers.
EU CERTIFICATION PLEASE CONTACT