RELEASE DATE:

2023-06-05 12:31
Brief: The seventh week of the National Market Surveillance Plan, inspectors from the National Institute of Metrology, Quality and Technology (Inmetro) and its delegated bodies inspected throughout the country, between May 22nd and 25th, the use of chronotachographs (equipment which records speed and distance travelled). Of the total of 4,643 pieces of equipment checked, 402 were rejected, which represents 8.7% of the total checked.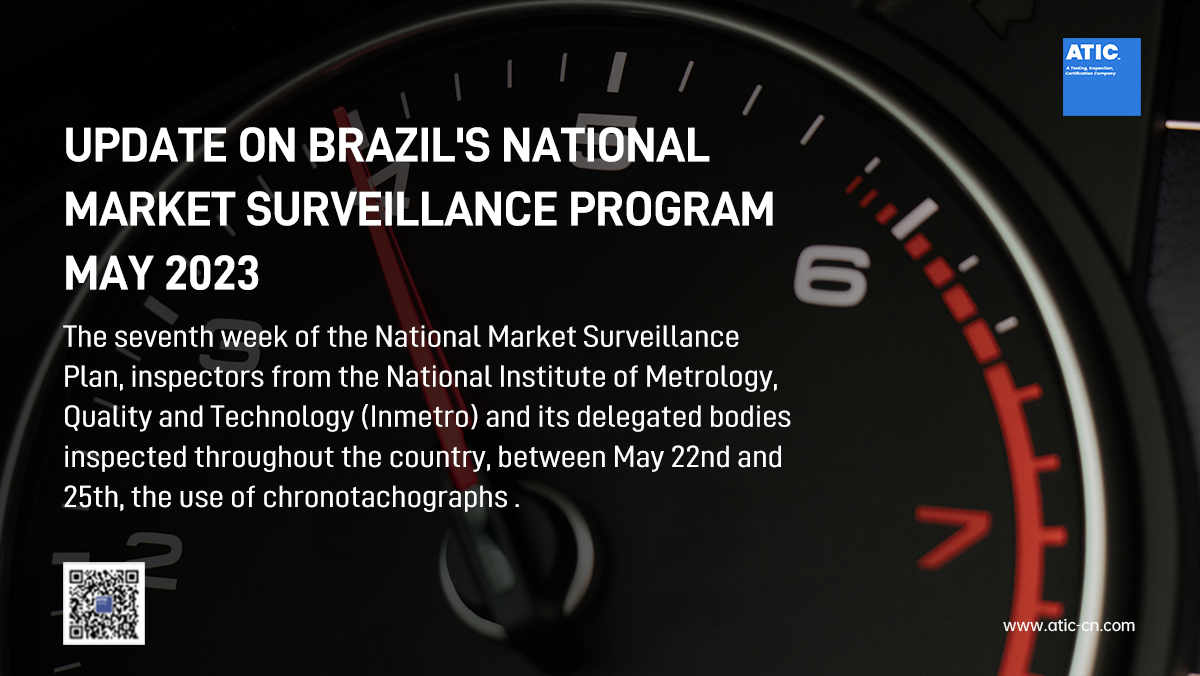 During the action, the inspectors checked whether the heavy-duty vehicles (gross weight greater than 4,536 kg) and passenger vehicles with more than ten seats had chronotachographs and whether they were subject to periodic analysis by regular Inmetro.
The operation has an advisory nature and the establishments where irregularities were found were instructed to correct the procedures. In case of recurrence, they will be subject to the penalties provided for by law, with fines ranging from R$ 100 to R$ 1.5 million.
NATIONAL MARKET SURVEILLANCE PLAN
The National Market Surveillance Plan began on April 11 and has the support of the Institute's superintendencies in Rio Grande do Sul (Surrs) and Goiás (Surgo), and the 24 delegated bodies in the states (Instituto de Pesos e Measures – Ipem). It will last for 90 days, focusing on 13 products, one per week.
Just over 1.6 million products have already been verified. In addition to chronotachographs, washing machines and refrigerators, commercial scales, CNG kits, helmets, fuel pumps and simple ceramic blocks used in construction sites have already been analyzed. The highest rate of irregularity so far was for chronotachographs.
By the end of the operation, another five products will be checked by the task force.
ATIC EXPLOSION-PROOF ELECTRICAL APPLIANCES BRAZIL INMETRO CERTIFICATION SERVICE

Explosive atmosphere refers to a mixture of flammable substances such as gas, vapor, dust, fibers or flying objects and air under atmospheric conditions. After being ignited in this mixture, the combustion will sustain itself. Electrical equipment installed in an explosive environment should eliminate or isolate its ignition source, and related electrical equipment needs to undergo mandatory INMETRO certification in accordance with Brazil's INMETRO Ordinance no115:2022 to legally enter the Brazilian market for sale.
INMETRO (National Institute of Metrology Standardization and Industrial Quality), the Brazilian National Bureau of Metrology, Standardization and Industrial Quality, is a government department directly under the Ministry of Development, Industry and Foreign Trade of Brazil. The scope of INMETRO certified products includes a total of 148 types of products such as home appliances, medical devices, auto parts, LED light sources, pressure vessels, etc. With the promulgation of more new regulations and implementation rules, more and more products are included in the scope of INMETRO compulsory certification middle.
The scope of ATIC INMETRO certification services includes: LED light sources, street lights, auto parts (including shock absorbers, horns, electric fuel pumps, bulbs, pistons, bearing bushes, batteries, steering system components, brake friction materials, rims, glass, Tires, etc.), motorcycle parts (chains, sprockets, exhaust pipes, lead-acid batteries), child seats, photovoltaic products, pressure vessels, household appliances, building structures, medical equipment, explosion-proof electrical appliances, etc.
ATIC COMPONENT HOMOLOGATION DEPARTMENT
ATIC Component Homologation Product Line focuses on regulation research and homologation service for components and consumer products especially for European and American markets. We are committed to provide one-stop global homologation solution for automotive components and consumer products, at present ATIC is long-term TIC service partner with CATL, SVOLT, DICASTAL, XYG, FinDreams, VAST, TEXAS INSTRUMENTS etc., top tier 1 suppliers.
BRAZIL HOMOLOGATION PLEASE CONTACT