RELEASE DATE:

2022-02-19 18:23
Brief
: On December 31, 2021, the Korean government updated electric vehicle subsidy test regulations. In order to improve the atmospheric environment and reduce greenhouse gas emissions, the MOE of South Korea formulated the Electric Vehicle Subsidy Regulations in 2012, which stipulates the performance requirements for vehicles that apply for subsidies for electric vehicle purchases. So far, there are 12 subsidy test requirements for Electric passenger cars, electric trucks, electric buses and electric motorcycles. The regulation was updated on average every two years, the last time update was in August 2019, the most recent revision is the regulation published at December 31th, 2021. Vehicles that pass the electric vehicle subsidy test can be included in the subsidy catalog of South Korean regulatory agencies.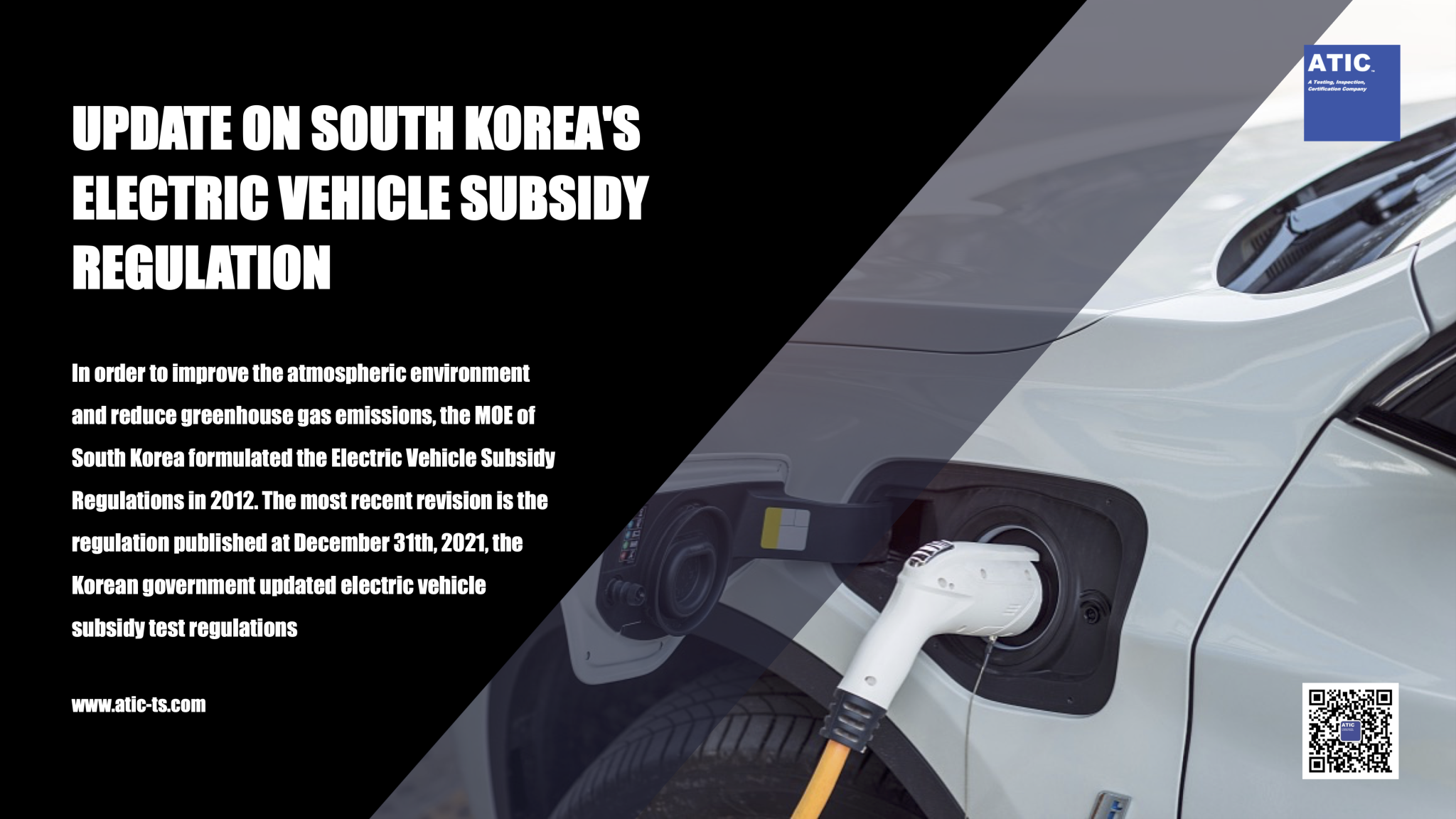 UPDATE ANALYSIS
Since 2016, the Regulatory Research Department of ATIC has been continuously tracking and researching KMVSS, MOE, MOI, and subsidy policies and regulations in Korea. ATIC has tracked the latest subsidy testing regulations, and analyzed the regulatory updates mainly in Modifications to the regulatory structure, as well as changes to the technical requirements for battery life and charging sockets.
The main changes are briefly analyzed as follows:
Change 1. This update of the subsidy test regulations is mainly to disassemble the original regulations Table1 into 4 new Tables according to specific models, including Table1 (passenger cars), Table2 (buses), Table3 (trucks), and Table4 (motorcycles), which is convenient for understanding the technical requirements of the corresponding models.
Change 2. The charging sockets requirements have been changed. In 2019 version regulation, the European standard (Combo 2)/American standard (Combo 1)/Japanese standard (Cademo)/ AC3 phase are acceptable but Combo 1 is recommended. But now, only Combo 1 can be used.
Change 3. Changes in the requirements of driving range by one-time charging for passenger car. The requirements for trucks and buses remain unchanged, while for passenger cars, the requirement become stricter.
Passenger Car Driving Range by One-time Charging in 2021 Version
| | | | |
| --- | --- | --- | --- |
| Driving Range by One-time Charging at room temperature | | | |
| | 70% or more | 75% or more | 80% or more |
| 300km or more | 65% or more | 70% or more | 75% or more |
| 400km or more | 65% or more | 65% or more | 70% or more |
| 500km or more | 65% or more | 65% or more | 70% or more |
Description of the implementation of the regulations:
This regulation was released on December 31, 2021, and took effect immediately after its release.
However, for the second point update (change of charging sockets requirements which only Comb1 are acceptable), the implementation is allowed to be delayed for 1 year, that is, from December 31, 2022, it will be required that the only Comb1 sockets be used.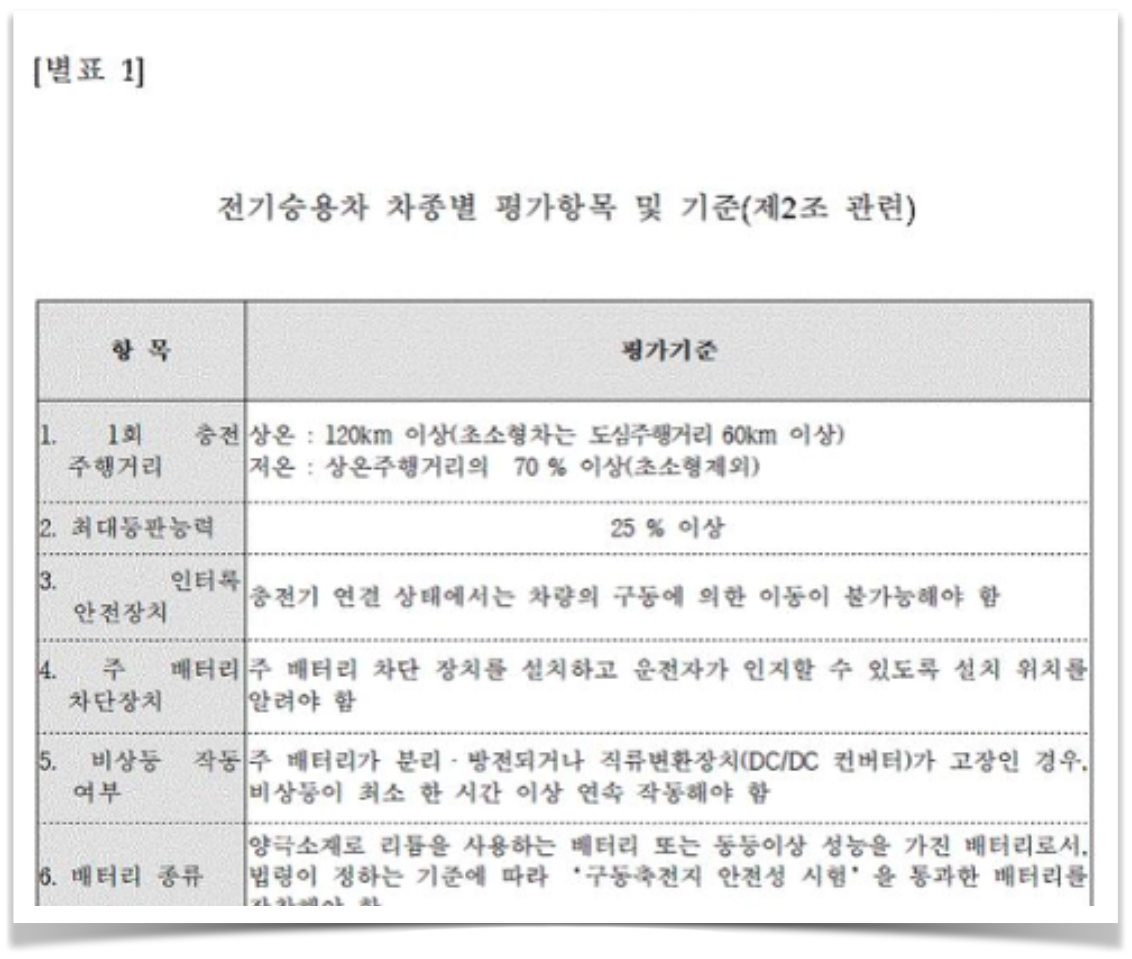 *For more information, please contact ATIC
LINKS TO PREVIOUS ARTICLES
ATIC SOUTH KOREA HOMOLOGATION SERVICES
As the first technical service company in China to carry out Korean automotive certification, ATIC has successfully provided services for many native EV OEMs. ATIC set up technical exchange mechanism and/or partnership with Korea Automotive Testing and Research Center (KATRI), Korea Transportation Pollutant Research Center (TPRC), and Korea Automotive Parts Association (KAPA). ATIC is capable to serve throughout the whole process in safety certification, environmental certification, fuel consumption label testing, subsidy evaluation testing, and KC certification.
ATIC GLOBAL HOMOLOGATION RESEARCH AND VEHICLE CERTIFICATION DEPARTMENT
ATIC Automotive Regulation Research and Vehicle Homologation Product Line is dedicated to global automotive regulation research, homologation procedure research and WVTA homologation project management.
Based on ATIC digital platform, our team provides a series of automotive compliance services including market access solutions, technical review, regulation interpretation, regulation database and update, training and Q&A, etc.
ATIC homologation experts are nominated by European technical service and authorities covering all EU/UN regulations for M/N/O/T/L/NRMM category vehicle, system, component and separate technical unit. Authorities includes Netherlands (e/E4), Sweden (e/E5), Luxembourg (e/E13), Ireland (e/E24) and Cyprus (e/E49).
ATIC is long-term compliance and homologation service provider for GWM, GEELY, SAIC MOTOR, BYD, XPENG, NIO, RIMAC etc. top domestic and international OEMs, and HUAWEI, CATL, SVOLT, FINDREAMS etc. system and component manufactures.
SOUTH KOREA
CERTIFICATION PLEASE CONTACT
Luara Yuan
Regulatory Researcher
Laura graduated from Xiamen University with MSc degree in the major of Analytical Chemistry.
In ATIC she is responsible for global automotive regulation and homologation system research,
focus on components global homologation solutions.
Email: laura.yuan@atic-cn.com