RELEASE DATE:

2021-03-24 11:20
Brief:
According to the regulations of the Ministry of Science and Technology, manufacturers and importers of electrical and electronic appliances on the list required to be subject to regulation conformity certification and declaration must carry out necessary procedures. to certify products in accordance with National Electrical Safety Standards QCVN 4: 2009 / BKHCN and / or QCVN 9: 2012 / BKHCN on electromagnetic compatibility. On the basis of the Certificate of Conformity, the enterprise should continue to carry out the procedures of Conformity Announcement at the local Department of Standards and Metrology and affix the regulation conformity stamp (regulation conformity stamp) before selling the product to the market.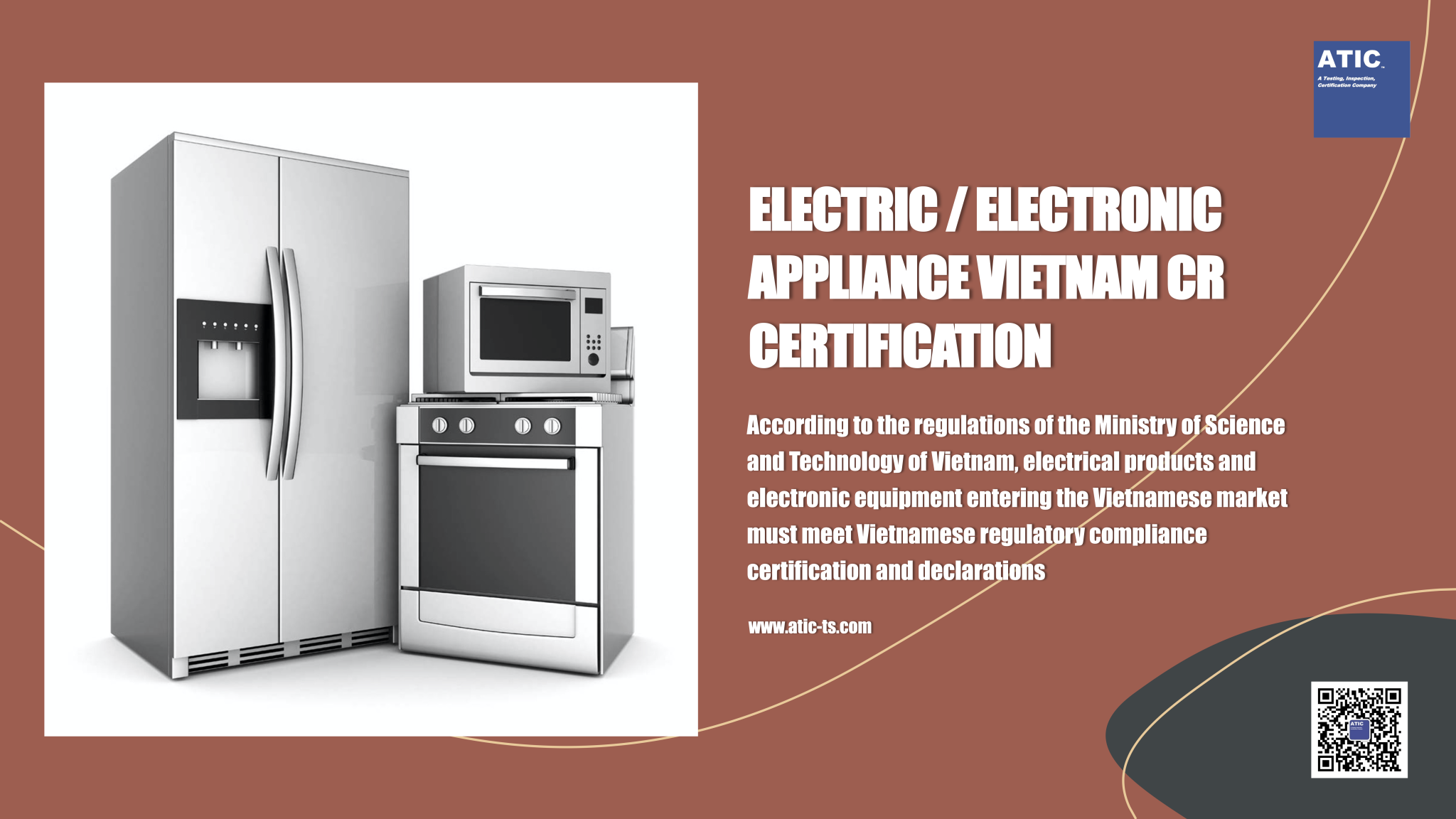 PRODUCT SAFETY CERTIFICATION
According to QCVN 4: 2009 / BKHCN, electric and electronic products below are required to certify electrical safety regulation conformity: Instant water heater, Hot water heater and hot water tank, Hair dryer and hairdressing tools, Kettle (electric kettle), Electric cooker, Electric fan, Electric irons, Microwave, Electric oven and portable electric grill, Low voltage power cable, Dipped type hot water heater, Tea and coffee making tools, Hand dryer.

The product safety certification of household appliances is generally mandatory for Type-V Certification, which includes factory audit and designated or recognized laboratory testing. CR product safety certificate valids of 3 years. Batch certification can also be conducted to evaluate the qualification of each batch of products and obtain a batch certification certificate, which is only valid for each batch of products.

According to QCVN 9: 2012 / BKHCN of the Ministry of Science and Technology, electrical and electronic equipment below must be certified for conformity: Electric tools heat water instantly, The hand drill is powered by an electric motor, Bulbs with built-in ballast, Vacuum cleaner, Washing machine, Refrigerators, freezers, Air conditioner, Meat grinder, egg beater.

The EMC certification of household appliances is not required by factory audit. After passing the type test conducted by a designated or approved third party laboratory, the EMC certificate will be obtained, and the certificate will be valid for 3 years.
VIETNAM CR CERTIFICATION PROCEDURES
1. Submit application materials and documents
2. Samples testing
3. Review the validity of the quality management system certificate
4. Evaluate the production process
5. Issue the certificate
6. Sign up and paste labels
SERVICES PROVIDED BY ATIC
1. Full set of LED lamp testing, CR certification in Vietnam
2. Test and prediction of Vietnamese TCVN standard and international standard
3. Vietnam VR certification, CR certification, ICT certification services
4. VR certification for vehicles and components
5. Preparation and translation of a complete set of application documents
6. Factory audit guidance, accompanied by translation throughout
7. Cooperate closely with certification body without communication barriers
ATIC is a young technical service company from China, established in 2015. ATIC is committed to integrate domestic and international regulations, testing and certification resources with a global perspective in the context of globalization, and establish a new, specialized regulation research, testing and certification platform. With innovative Digital Reporting System (DRS), Customer Service Platform (CSP) and self-developed Global Vehicle Regulation Database (GVRD), ATIC's compliance service covers more than 54 countries/regions globally, testing and certification service covers more than 30 countries/regions worldwide. ATIC serve more than 3,300 manufactures each year.
VIETNAM CR CERTIFICATION PLEASE CONTACT
Jimmy Liang
Asia Homologation Department
Jimmy graduated from South China Normal University and has experience in internationally renowned testing and certification organizations.In ATIC he is focused on Asian automotive and consumer product regulation and homologation system research.
Phone: +86 020-82510156
Mail: cs@atic-cn.com