RELEASE DATE:

2020-12-15 15:55
Brief:
LED lighting products (including LED bulbs with built-in balast, LED tube, LED luminaire, LED spot light, and portable LED lamps) entering Vietnamese market will be mandatory to carry out registration procedures for state quality control and certification form January 1, 2021.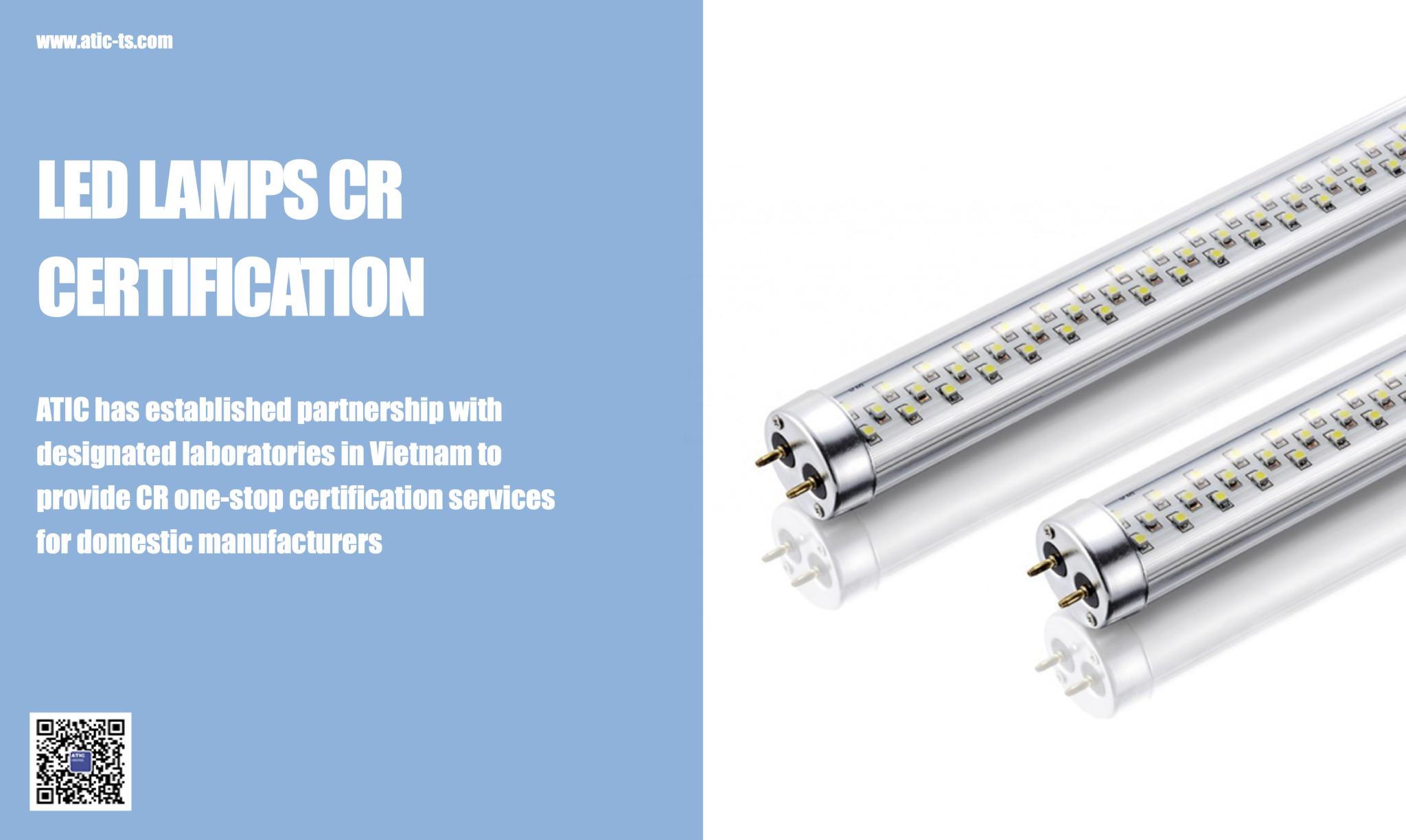 LED LAMPS CR CERTIFICATION
Certification of CR conformity to electrical safety, electromagnetic compatibility, bio-optics according to QCVN 19: 2019 / BKHCN Regulation of the Ministry of Science and Technology, the implementing details are as follows:
• Electrical safety and EMI: mandatory from 01/01/2021
• EMS and biophotographical safety: mandatory to apply from 01/01/2022
List of LED lighting products must meet the requirements according to QCVN 19: 2019 / BKHCN
Light emitting diode (LED)

85395000

- Self-ballasted LED lamp for general lighting working at voltages greater than 50V.

- Fixed common LED lamp.

- Mobile common LED lamp

- Double-headed LED tube designed to replace straight fluorescent tube.

Spotlight

94051091

- Fixed common LED lamp

Others

94052090

- Portable LED lamp
CR CERTIFICATION PROCEDURES
• Review the validity of the quality management system certificate
• Evaluate the production process
• Sign up and paste labels
SERVICES PROVIDES BY ATIC
• Full set of LED lamp testing, CR certification in Vietnam
• Test and prediction of Vietnamese TCVN standard and international standard
• Vietnam VR certification, CR certification, ICT certification services
• VR certification for vehicles and components
• Preparation and translation of a complete set of application documents
• Factory audit guidance, accompanied by translation throughout
• Cooperate closely with certification body without communication barriers
ATIC is a young technical service company from China, established in 2015. ATIC is committed to integrate domestic and international regulations, testing and certification resources with a global perspective in the context of globalization, and establish a new, specialized regulation research, testing and certification platform. With innovative Digital Reporting System (DRS), Customer Service Platform (CSP) and self-developed Global Vehicle Regulation Database (GVRD), ATIC's compliance service covers more than 54 countries/regions globally, testing and certification service covers more than 30 countries/regions worldwide. ATIC serve more than 3,300 manufactures each year.
CR CERTIFICATION PLEASE CONTACT
Jimmy Liang
Asia Homologation Department
Jimmy graduated from South China Normal University and has experience in internationally renowned testing and certification organizations.In ATIC he is focused on Asian automotive and consumer product regulation and homologation system research.
Phone: +86 020-82510156
Mail: cs@atic-cn.com