RELEASE DATE:

2021-07-20 18:34
Brief
:
Recently, UNECE published two new regulations UN R158 and UN R159, while UN R151 blind zone monitoring system has been revised. These three regulations are proposed to expand the direct and indirect vision of commercial vehicles, more conducive to the monitoring of vulnerable road users (VRU) and improve the safety of commercial vehicles on the road.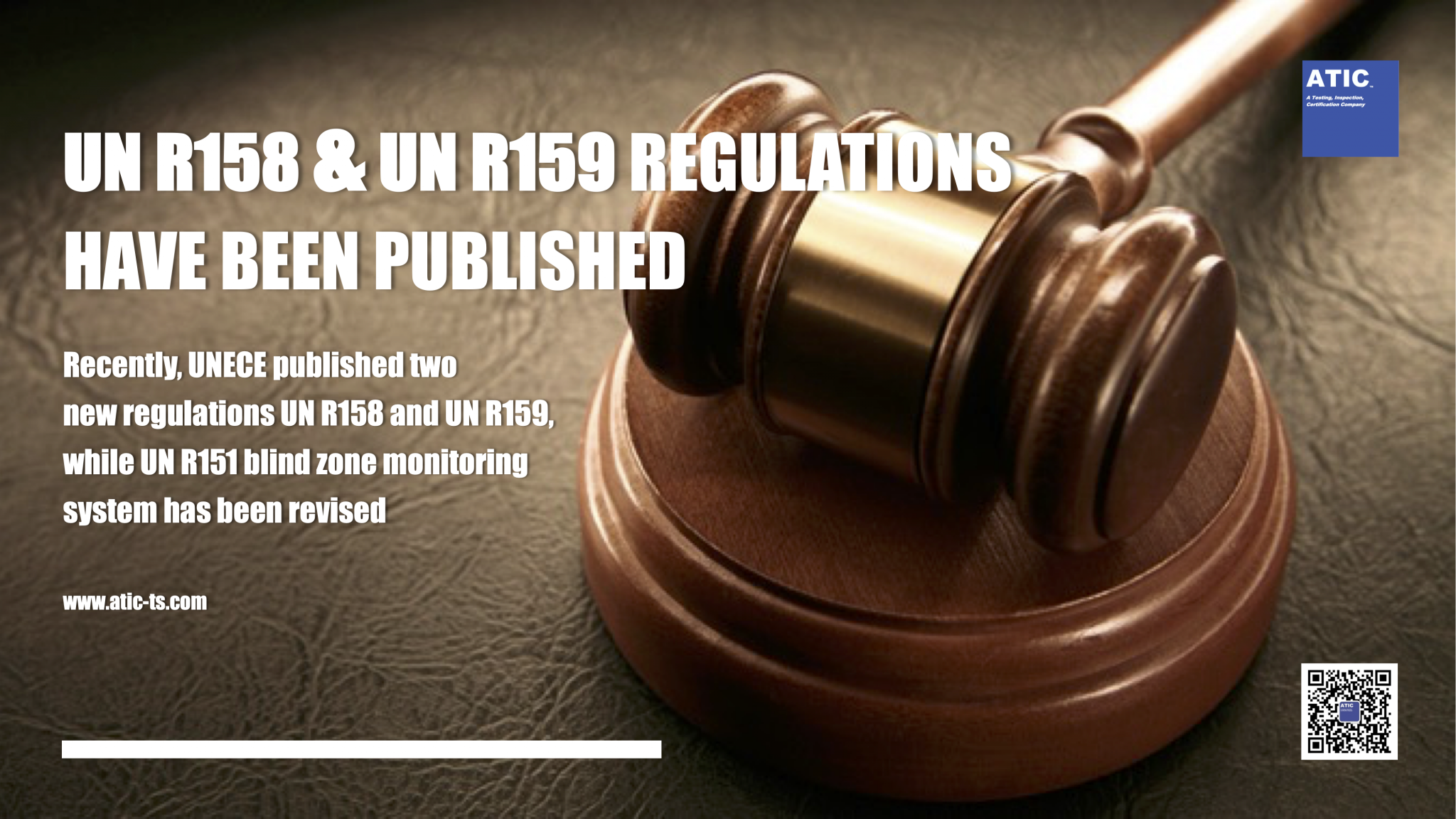 REGULATORY UPDATES
UN R151 Blind Spot Information System(BSIS)
On November 15, 2019, the Blind Spot Information System BSIS regulation UN R151 officially came into force, and its addendum Amendment 1 officially came into force on September 25, 2020, and recently on July 6, 2021 the United Nations has issued a new addendum Amendment 2, Amendment 2 has officially come into force on June 9, 2021, the document officially revised the scope of application of the blind spot information system, expanding the scope of application from vehicles of categories N2 (> 8 t of technically permissible maximum mass) and N3 to M2, M3, N2, and N3. The regulation will be mandatory for M2, M3, N2, N3 new models on July 6, 2022. It is recommended that customers in need can deploy in advance for certification. ATIC has the complete certification program for Blind Spot Information System.
UN R158 Devices for Reversing Motion
The purpose of this Regulation is to provide the provisions for reversing motion concerning on awareness of vulnerable road users proximity. UN Regulation No. 46. provides the provisions for indirect vision of motor vehicles. This Regulation expands driver's vision or awareness for vehicle rear direction when in reversing motion. Therefore, some requirements of this Regulation may be satisfied by devices complying with UN Regulation No.46. The regulation has entered into force on June 10, 2021 and will be enforced on July 6, 2022.
UN R159 Moving-Off Information Systems (MOIS)
"Moving Off Information System (MOIS)" means a system to detect and inform the driver of the presence of pedestrians and cyclists in the close-proximity forward blind-spot of the vehicle and, if deemed necessary based on manufacturer strategy, warn the driver of a potential collision. The regulation has entered into force on June 10th, 2021 and is applicable to M2,M3,N2,N3. The regulation will be mandatory for M2, M3, N2, N3 new models on July 6, 2022.
SIMPLE COMPARATIVE ANALYSIS OF UN R151 AND UN R159



M2,M3,N2,N3

M2,M3,N2,N3

Cyclist:ISO [CD] 19206-4

Pedestrian :ISO 19206-2:2018

Cyclist:ISO [CD] 19206-4

Dynamic test

Static test

Automatic deactivation test

Failure detection test

Optical failure warning signals verification test

Electro Magnetic Compatibility (EMC)(UN R10.04)

Verification of signals test

Static Crossing Tests

Longitudinal Stopping for Moving Off Cyclist Tests

Longitudinal Moving Off with Cyclist Tests

Failure detection test

Automatic deactivation test

Electro Magnetic Compatibility (EMC)(UN R10.05)
ABOUT ATIC
We are a young technical service company from China, established in 2015. We have a professional and passionate team, we strive to create the best environment to attract the best experts, returnees and outstanding graduates to join us. We are committed to integrate domestic and international regulations, testing and certification resources with a global perspective in the context of globalization, and establish a new, specialized regulation research, testing and certification platform. We serve more than 4,500 manufactures each year.
ATIC AUTOMOTIVE REGULATION RESEARCH AND AUTOMOTIVE HOMOLOGATION TEAM
ATIC Automotive Regulation Research and Automotive Homologation Team is dedicated to global automotive regulation research, homologation procedure research and homologation project management. Based on ATIC digital platform, our team provides a series of automotive compliance services including market access solutions, technical verification, regulation interpretation, regulation database and update, training and Q&A, etc. ATIC automotive experts are nominated by European technical service and authorities covering all EU/UN regulations for M/N/O/T/L/NRMM category vehicle, system, component and separate technical unit. Authorities includes Netherlands (e/E4), Sweden (e/E5), Luxembourg (e/E13), Ireland (e/E24), Cyprus (e/E49) and San Marino (E57).
ADR
CERTIFICATION PLEASE CONTACT
Emily Shui
Global Vehicle Regulation Research Department
Emily is Researcher in ATIC, she holds a Master's degree from Chongqing University of Technology.
Emily is specializing in cross-disciplinary compliance and certification solutions,
as well as ATIC regulation database development
Phone: +86 020-82510156
Mail: cs@atic-cn.com